The top two teams in the Western Conference go head-to-head for a berth in the NBA Finals, starting Sunday night. Who has the upper hand? Our team breaks down the big questions awaiting us in this best-of-seven series.
1. Which is more true?
A. The Spurs can win an NBA title with offense.
B. The Spurs' defensive shortcomings might be fatal.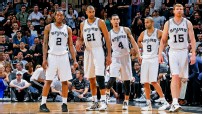 J.A. Adande, ESPN.com:
A. They can win it all with offense because their defense isn't all that bad. It might not be up to the old Spurs standards throughout the game, but they can still clamp down when they need to finish off quarters or games. In the last round, for example, the Clippers scored four points in a three-minute stretch near the end of Game 3 and seven points over the final five minutes of Game 4.
Kevin Arnovitz, ESPN.com: A. Gregg Popovich goes out of his way to point out this is not the San Antonio defense of yore, but the Spurs' D was markedly above league average in the regular season and was stifling against Utah and the Clippers. So much of sound half-court defense is about decision-making, and the Spurs' judgment can be trusted. OKC might torch them at least once in this series on athleticism alone, but the Spurs' discipline will make them tough to score against.
Israel Gutierrez, ESPN.com: B. The Spurs' defense has been better since the trade deadline, but the Boris Diaw and Stephen Jackson additions still don't make San Antonio a defensive heavyweight. At some point, Tony Parker will find getting in the lane more difficult, and the Spurs will have to grind out wins against the Thunder or in the Finals. That requires elite defense.
Marc Stein, ESPN.com: A is a more correct answer than B based on what's listed here, but don't get sucked into this nonsense that the new Spurs don't guard. They can still execute a defensive game plan with precision (in spurts) and take things away from a high-powered offense, especially when they're looking at the same opponent for a couple of weeks straight. These Spurs can play any style, America. It's one of the reasons they haven't lost a game in 45 days.
Justin Verrier, ESPN.com: B. With "might" being the key word here. The Spurs rank right up there with the Bostons and Miamis in postseason D, but only one team in the past decade (the Heat in '06) has won a title with a defense ranked outside the top seven in regular-season efficiency. With two potent offensive teams -- OKC and, most likely, Miami -- left in their path, the defensive performances of these offensive juggernauts will likely be the difference from here on out.
---
2. Who means more to his team: James Harden or Manu Ginobili?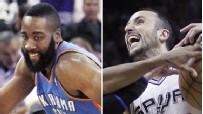 Adande: James Harden. Neither player shot well during the conference semifinals, but Harden's the one who will need to come through in this round for his team to advance. The Spurs can get by without great games for Ginobili because they have so many other players who can score. Remember, the Spurs had the best record in the West even though Ginobili missed 22 games.
Arnovitz: Manu. Their offensive plus-minus stats from the regular season are eerily similar, as Harden and Ginobili rank among the league leaders in that metric (and only two of four players in the NBA to post a true-shooting percentage of 66 percent or above). They're both essential to what their teams do offensively and each essentially assumes the role of shot-maker for considerable stretches. Edge goes to Ginobili, because of his pedigree.
Gutierrez: Harden. No slight to Ginobili, but Harden is the most consistent creator on his team. Not only does Harden have explosive scoring ability, which Ginobili also still possesses, but the Thunder need his scoring more often than San Antonio needs Ginobili's. Manu's team is too balanced to require that of him.
Stein: I can't believe I'm saying this, as a long-time Manu devotee, but in this series? It's Harden. Because the Spurs have so many guys contributing these days, they can win the odd playoff game with a muted Manu. Which is something I can't ever remember saying. The Thunder, by contrast, have to get top-shelf work from their three studs to keep up.
Verrier: Harden. This one comes down to basic math: Thunder offensive options < Spurs offensive options. San Antonio has stockpiled above-average reserves and midseason castoffs on its bench for a doomsday scenario like losing Manu, but who's providing the scoring punch for OKC with Harden off the floor? Derek Fisher is both the joke answer and the legitimate one.
---
3. How important is the difference in coaching experience?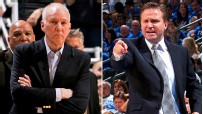 Adande: It's a factor, just not The Factor. The schemes the Spurs used to neutralize Chris Paul in the second round were impressive; they stood out more than any maneuvers the Thunder used to beat the Lakers. But remember, last year the Heat got past the Celtics even though Doc Rivers had two Finals trips to Erik Spoelstra's zero at the time. Talent will prevail.
Arnovitz: It shouldn't be interpreted as any kind of insult to Scott Brooks to say that Popovich is in a rarefied group of coaches who can almost win a game with their individual performance. Is that advantage worth a full game in a best-of-seven series? Hard to say. But there will be times when the Spurs are able to fall back on a system in a way the Thunder just can't, and that's an expression of Popovich's value.
Gutierrez: It could matter. But it would be more so because of the Spurs' experience overall. Popovich could devise schemes to frustrate the Thunder's young trio of stars who haven't reached the Finals before. Brooks is no slouch, though.
Stein: Important, yes, but something that doesn't register as one of my keys to the series because the Spurs have the coaching advantage in every series they play. As everyone knows, Popovich is the best coach in the game. It doesn't mean he's absolved of all blame, but Brooks isn't supposed to outcoach Popovich.
Verrier: As the Clippers watched their postseason slip away, their players began describing the Spurs more as some machine built for basketball destruction than a collection of mere mortals; even Nick Young, never one to show must interest in ball movement, said he plans to queue them up on League Pass from now on. That alone won't correlate to wins, but having to face some unstoppable force, with a title pedigree to boot, surely has its psychological advantages.
---
4. What's the key for OKC to win?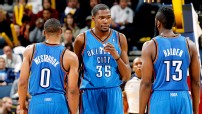 Adande: I've been around them enough to know Scott Brooks' answers would be defense and turnovers. Serge Ibaka needs to find a way to protect the rim despite the Spurs' spacing and ball movement. Russell Westbrook needs to protect the ball the way he did last series, when he committed only four turnovers in five games.
Arnovitz: The Thunder have been superb at protecting possessions in the playoffs, a departure from their worst habit during the regular season -- so that's first. Second, they're going to have to gamble a little bit with their athleticism. Strike early in possessions and use speed to make defensive plays, even if you risk a (reasonable) few lousy shot attempts or get burned by the Spurs' precision.
Gutierrez: Lots of things. Westbrook and Durant will need to keep up the consistent shooting. Someone other than their Big Three will have to produce regularly, because there will be some big scoring games. OKC will have to trust its rim protectors and stick a little closer to the Spurs' shooters. Oh, and make life difficult for Parker. No big deal, right?
Stein: The Thunder quite simply have to guard the pick-and-roll better than they ever have. The Spurs are the closest thing to the D'Antoni-and-Nash Suns with as much as they go to it. And their collective smarts have often exposed OKC's lack of defensive precision. The Thunder have some great athletes defensively, but they're prone to breakdowns against a team that can pass and move like San Antonio. And I fear that the Spurs will continue to big-brain their younger, more spectacular rivals.
Verrier: Play to their age. The best way to rage against a machine is to create chaos, and OKC's athletic bunch can do just that by playing like risk-oblivious 20-somethings. The Thunder's best shot is entrusting its young trio to overwhelm its opponent, even if it means living with the costs (turnovers, etc.) that come with it. There's always next year for OKC. Can't say the same for San Antone. Use that.
---
5. Who wins?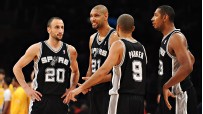 Adande: The Spurs in six games. They're in too good a rhythm, this matchup is too favorable, the home-court difference is too sizable.
Arnovitz: San Antonio in seven in one of the better high-stakes series in recent memory. There will be a moment when the Thunder have the experience, craftiness, poise and self-awareness to topple a team like the Spurs. We're close … but I'm not sure we're quite there yet.
Gutierrez: Thunder in six. It's slightly easier to adjust to Parker and the Spurs' offense in a seven-game series. The Jazz were no competition, and the Clippers were broken, so that theory hasn't really been tested. But the Thunder can defend, and they have the scoring ability to keep up with the Spurs if necessary.
Stein: San Antonio in six. I can confidently predict that the Spurs will not record their third successive sweep … but I can also reveal that I was tempted to go for Spurs in five, like Professor Hollinger. That's how well they're playing. Better, perhaps, than in any of their four previous title runs. The two factors that nudged me to six instead of five? 1. OKC hasn't exactly played shabby basketball in these playoffs with a record of 8-1 against the two teams (Mavs and Lakers) that won the NBA's last three championships. 2. Who knows what happens when the Spurs actually lose a game for the first time since April 11? It's been so long, that one L (wishful thinking alert) might generate a morning's worth of Miami-level crisis talk.
Verrier: Thunder in seven. Perhaps I'm just stubborn. Because even in light of San Antonio's late-season tear through the league, a streak that almost seems like an intentional attempt to erase all doubts about how far their creaky legs can carry them, I still can't see these Spurs and not be reminded of the average age (33.3) of the Triforce at the heart of everything (and also the relatively easy postseason path up to this point). Won't that matter now, in a series in which much more will be asked of said trio, against a young, spry and powerful opponent? We'll find out for sure. But in the meantime, I'm sticking to my ways. Call me old-fashioned.


ESPN.com and the TrueHoop Network
J.A. Adande, Kevin Arnovitz, Israel Gutierrez and Marc Stein cover the NBA for ESPN.com. Justin Verrier is an NBA editor for ESPN.com.
• Follow the NBA on ESPN on Twitter | On Facebook | On Google+