The East finals begin tonight (ESPN, 8:30 p.m. ET) with the Heat and Celtics set to get reacquainted. Can Boston avenge last year's playoff defeat to Miami? Or will the Heat end the Celtics' season for the second year in a row and get back to the Finals? Our five experts break down the must-see matchup and make their series predictions.
1. Fact or Fiction: LeBron and D-Wade will continue their scorching play.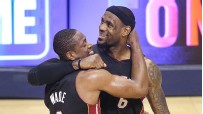 Chris Forsberg, ESPN Boston: Fact. The loss of Avery Bradley (shoulder surgery) leaves Boston scrambling to find someone who can defend Wade. (Might the team lean on Mickael Pietrus more with Ray Allen struggling on defense due to his balky ankle?) The Celtics will likely take their typical approach and let James and Wade get theirs, then hope to contain the supporting cast.
Tom Haberstroh, Heat Index: Fiction. What's slightly less than scorching? Toasty? I'll say that. I believe the smart folks at the Elias Sports Bureau found this scoring streak hadn't been done in over half a century since Elgin Baylor and Jerry West in 1966. I expect greatness from the James-Wade duo, but historical greatness may be asking too much. They're talented enough to prove me wrong, though.
David Thorpe, ESPN.com: Fact, though neither may ever put together better games than they did in Games 4, 5 and 6 in the last round. Still, what they will do will rate as "scorching."
Michael Wallace, Heat Index: Fact. While I don't see them reaching a combined 70 points every game, I certainly expect them to get to around 60. The question -- as is always the case with Miami -- is where will the other 25 or so points come from for the Heat to be in position to win?
Brian Windhorst, Heat Index: Fiction. I just don't believe those numbers are sustainable, especially against a Celtics team that knows all the tricks of how to slow the pace. Wade and James will likely decide this series and I expect them to continue to have moments of greatness. But those three games against the Pacers were incredible and the Celtics will help remind us of that.
---
2. Fact or Fiction: For Boston to beat the Heat, Rajon Rondo is the key.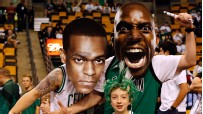 Forsberg: Half fact. Rondo absolutely needs a monster series, but the other half of the equation is Kevin Garnett, who was the best player on the floor against the 76ers in the East semifinals. You know Garnett will anchor the defense, but Boston needs another dominant offensive series from the Big Ticket to have any chance of beating the Heat.
Haberstroh: Fiction. Rondo always brings his best against the Heat. In that sense, he's the metronome, but the Celtics need someone to step up and pound the Heat in their sore spot: the paint. That burden will fall on Garnett. Between his elite defense and necessary post presence, I think he's the key for the C's.
Thorpe: Fiction. He is super important, but this game is more complex. All three of Boston's best players (Rondo, Garnett and Paul Pierce) need to play well in four of the games for the Celtics to win this series. Two probably need superlative efforts in those games.
Wallace: Fact. Miami hasn't been able to get a handle on Rondo. But just as big of a factor for the Celtics is Garnett. His play both inside and outside the paint has been huge. With the uncertainty surrounding Chris Bosh's status, Garnett's play could determine the outcome of the series.
Windhorst: Fact. It's been all about Rondo for two years now for Boston as far as I'm concerned. The Celtics scored two impressive wins over Miami in the regular season and both times it was Rondo's dominance that was the key. The Heat have yet to prove they can control "good" Rondo or "two working elbows" Rondo. But how often will he be "good" Rondo? It'll have to be every night.
---
3. Fact or Fiction: Ray Allen's injury means more than Chris Bosh's injury.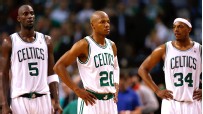 Forsberg: Fiction. While Allen's injury has crippled his ability to be the Hall of Fame player we expect, he's at least still on the floor and stepping up in key moments (like the fourth quarter of Game 7 vs. the 76ers). The Heat need their supporting cast behind James and Wade to step up to beat Boston, and not having Bosh -- at least early in the series -- forces others to step up on a team thin on depth.
Haberstroh: Fact. The Celtics can't score. They posted the worst offensive efficiency of any playoff team during the regular season and they're scoring about 10 points less in efficiency than the Heat, Spurs and Thunder in the playoffs. To combat that, they desperately need Allen to be Allen, but statistically so far, he's shooting more like Ronnie Brewer. Yikes.
Thorpe: Fiction. Bosh is still an All-Star and far tougher to replace.
Wallace: Fiction. Unless this changes, Allen's injury hasn't taken him completely off the court recently. Bosh, despite his workout Sunday, hasn't been able to do much basketball work the past two weeks. A limited Ray would be more productive than an absent Bosh if all remains the same.
Windhorst: Fiction. Allen is playing, even at a reduced capacity; Bosh is not. Allen hit a few big shots Saturday night; Bosh hasn't even been on the sideline because sitting isn't great for ab strains. We'll see by the end of the series, but for now Bosh's situation is more costly.
---
4. Fact or Fiction: Miami wanted to face Philly, not Boston.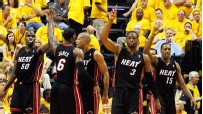 Forsberg: Fact, but I don't think it mattered that much. Sure, the Heat wouldn't balk at facing an inexperienced No. 8 seed that they had beaten four times during the regular season instead of battle-tested Boston. But after beating the C's in five games in last year's East semifinals, it's unlikely Miami was overly concerned with the draw.
Haberstroh: Fact. Wade called it "inevitable" that they would face the Celtics, but deep down, they wanted the Sixers. I don't believe in the notion that the Heat preferred the Celtics over the Sixers so they could "prepare" for a tough Finals. Teams want to win and the Sixers gave the Heat the best chance to do that.
Thorpe: Fact. Miami players are smart. Why wouldn't they want to play the weaker team?
Wallace: Fiction. Would the Sixers have potentially been an easier team to handle? Likely so. But come on, man. I haven't seen the Heat reluctant to face any team. There's really no such thing as a shortcut to a championship.
Windhorst: Fact. There's more honor in trying to take out the Celtics. But the Heat own Philly. Maybe it would've been different in this setting; we'll never know. The Heat do know what it's like to play Boston in the playoffs and it's nothing nice.
---
5. Fact or Fiction: Miami knocks out Boston for the second straight year.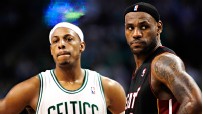 Forsberg: Fact. Rondo and Garnett will carry Boston to a couple of wins to make things interesting, but the Celtics simply aren't healthy enough to grind this out (despite all the resiliency they've shown this season). The loss of Bradley, who really emerged at the end of the regular season, hurts far more than many might realize. For the fourth straight year, the Celtics will be left wondering what could have been if not for injuries. Heat in 6.
Haberstroh: Fact. The Heat are better, younger and more rested. The Celtics may have more rings, but jewelry won't mean much when James and Wade are flying up and down the court. Heat in 5.
Thorpe: Fact. Miami in 6, although the series could easily end in four games. Boston looked exhausted throughout much of the Sixers series against a team whose best player averaged 13 points per game this season. Miami is a huge upgrade in talent even without Bosh. Boston will fight with every last breath but ultimately lose.
Wallace: Fact. But I've got a strange feeling about this series, one that tells me it'll be played to the extremes. It could either be a sweep or go seven. No in between. In that case, I'll take the Heat in 7.
Windhorst: Fact. My respect for the Celtics runs deep. I thought they would get the still unsteady Heat last year. I was very wrong. Going to try not to make that mistake again.


ESPN.com and the TrueHoop Network
David Thorpe writes for ESPN Insider. Chris Forsberg writes for ESPN Boston. Tom Haberstroh, Michael Wallace and Brian Windhorst write for ESPN.com's Heat Index.
• Follow the NBA on ESPN on Twitter | On Facebook | On Google+