Just like that the series is tied. What to make of the thrilling back-and-forth battle between the Thunder and Spurs so far? Who will win the pivotal Game 5 (ESPN Radio, 8 p.m. ET)? We turn to our 5-on-5 crew for answers.
1. Fact or Fiction: The Spurs are not living up to your expectations.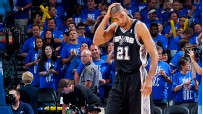 J.A. Adande, ESPN.com: Fact. It's not so much that they lost both games in Oklahoma City, it's the way they lost. The 21 turnovers in Game 3. The lack of urgency for much of Game 4. Neither were signs of a veteran team poised to grab the series by the throat.
Kevin Arnovitz, ESPN.com: Fiction. I expected a band of crafty vets and skilled role players who pop the ball around the court with surgical precision, but are occasionally vulnerable to the athletic forays of a younger opponent. Sounds about right. Sometimes we forget that teams are never as good as their best basketball and never as lousy as their worst.
Marc Stein, ESPN.com: Fiction. The Thunder just played the two best T-E-A-M games I've ever seen them play. Everybody was involved. I know that the Spurs had a 20-game winning streak, which kept them unbeaten for nearly 50 days, but I've come to praise the guys who ended all that as opposed to tying the weekend's monumental momentum swing to what the Spurs couldn't get done on the road. When Serge Ibaka, Kendrick Perkins and Nick Collison shoot a combined 22-for-25, it's probably time for some hat-tips.
David Thorpe, Scouts Inc.: Fiction. This just in: The Thunder are very, very good. Perhaps even great. This is exactly why I expected the series to go seven games.
Justin Verrier, ESPN.com: Fact, if only because the Spurs, after rolling off 10 straight in the playoffs and 20 consecutive wins overall, had begun to elicit KG-spittle-flying-anything's-possible-type of fantasies for what they could accomplish the rest of the way here. That the young Thunder, led by their formidable complementary players, could ding the San Antonio machine twice in a row is surprising. But that's simply a product of how good the old guys looked to begin with.
---
2. Fact or Fiction: The Thunder are exceeding your expectations.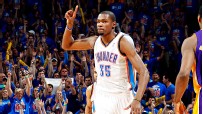 Adande: Fact. I would not have expected them to beat the Spurs at half-court execution, but they have. Kevin Durant has figured out the Spurs more than they've figured him out. And, like the Spurs, I didn't count on Thabo Sefolosha, Serge Ibaka and Kendrick Perkins winning games with their shooting, but they've responded to the Spurs' daring them to do so.
Arnovitz: Fact. I'm not surprised the Thunder have played the Spurs even through four games, but did we really expect this kind of evolution on such a short turnaround? The defensive maturity the Thunder showed in Game 3, the ball movement to the weak side, this general level of refinement to their game -- it's all come together a bit ahead of schedule.
Stein: Fact. Because, as stated, these last two games have been the two best T-E-A-M performances from the Thunder that I can ever remember seeing. It's as if they watched America swoon over the way that the Spurs played those first three quarters in Game 2 and decided: "Maybe this letting-everybody-touch-the-ball thing really is the way to go."
Thorpe: Fiction. See above.
Verrier: Fiction. Any major setback in OKC is usually chalked up to age and inexperience. (There's always next year, right?) But its grip on the "elite" tag has been too tight for too long for that to be an excuse, especially in its second straight trip to the West's final rodeo. That the Thunder are finally sticking with the veteran-laden Spurs merely reaffirms the perception this team has worn longer than Russell Westbrook has worn lenseless glasses.
---
3. What has been the most important matchup thus far?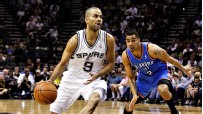 Adande: Thabo Sefolosha guarding Tony Parker. Maybe it's not as big as it has been made out to be, but it has played a role in the Thunder's ability to neutralize Parker the past two games. Even worse for San Antonio, no role players have come through with a podium-worthy game to make up for Parker's subpar performances.
Arnovitz: The Game 3 matchup between Thabo Sefolosha and primary playmakers for San Antonio reset the tone for the entire series. After Oklahoma City got shredded in Games 1 and 2, Sefolosha was the first guy on the Thunder defensively to look across the court and say, "Wait a minute. This is doable."
Stein: I've got to go with Thabo Sefolosha on Tony Parker. With Manu Ginobili having suddenly gone quiet and the Spurs' famously deep bench starting to look a bit thin for the first time all season, Parker's production dip these past two games has been a huge problem for San Antonio. I've never bought into the whole "this is Tony's team now" stuff, but he can't be this quiet if the Spurs want to make it back to the Finals. San Antonio has to find a workable counter.
Thorpe: Matchups are overrated at this level. So much defensive help is available. But the success of Kendrick Perkins and Serge Ibaka on offense has been huge for OKC, as has all of the Thunder's athleticism to challenge the Spurs' precision. It has disrupted their rhythm.
Verrier: So far, it's Thabo versus Tony. Parker, an MVP candidate this regular season, keeps the gears grinding for this team, and the defense of Sefolosha, and the rest of the Thunder, has managed to gunk up San Antone's beautiful game. But keep an eye on the bigs: The Spurs now have to be on red alert when Serge Ibaka catches in the midrange, and the Thunder will have to worry about noted OKC killer DeJuan Blair pulling more minutes.
---
4. Fact or Fiction: Game 5 will decide the series.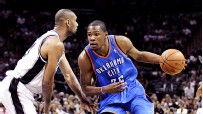 Adande: Fact. The Thunder need a win in San Antonio to take the series, and this is the one they have to get. As far as they've come, I don't think they're ready to win a Western Conference finals Game 7 in San Antonio. Right now, they've got the momentum and surging confidence. It's the opportune time to strike.
Arnovitz: Fiction. The NBA has this nagging way of demanding that one team win four games before the outcome of a seven-game series is decided. And if we decided the series in Game 5, I suspect you'd have a lot of angry people in Oklahoma City who have tickets for Game 6 on Wednesday night.
Stein: A qualified "fact." Because I'd struggle to imagine San Antonio recovering from a Game 5 defeat ... but I'm suddenly gun-shy to say that the Thunder are finished with a loss Monday after the levels they just hit at home.
Thorpe: Likely fact, but it won't be written in stone.
Verrier: Fact. If the Spurs can't put an end to this two-game skid, on a court where they've lost only five times this season, that will signal some fundamental obstacle they just can't combat. The Thunder's tool box has always been filled with better raw materials. Now they're deploying them better, too? Scary stuff.
---
5. Who wins Game 5?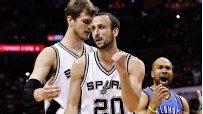 Adande: The Spurs. They can't lose three in a row after winning 20 straight, can they? Their role players will do better at home, right? At some point, Gregg Popovich has to counteract Scott Brooks' moves, right? Right?????
Arnovitz: San Antonio has the home floor and it's hard to believe they don't have the strength and savvy for a firm counterpunch, both tactically and psychologically.
Stein: San Antonio. Not that I say it with a lot of conviction, though. The Spurs haven't lost three games in a row all season ... and OKC still has to show us it can flow on the road when it really matters. Those are pretty much the best arguments I've got to back a Spurs pick Monday night.
Thorpe: Edge to the Spurs. But I still see three great games coming.
Verrier: San Antonio. Because I don't want to live in a world where offensive explosions by Thabo Sefolosha and Kendrick Perkins serve as the death knell of a Gregg Popovich-run team.


ESPN.com and the TrueHoop Network
J.A. Adande, Kevin Arnovitz and Marc Stein cover the NBA for ESPN.com. David Thorpe is an analyst for Scouts Inc. Justin Verrier is an NBA editor for ESPN.com.
• Follow the NBA on ESPN on Twitter | On Facebook | On Google+