The Celtics won two games at home to even the series. Will the possible return of Chris Bosh help the Heat regain control of the Eastern Conference finals? (Game 5 on ESPN and WatchESPN.com, 8:30 p.m. ET.)
Time for a Fact or Fiction 5-on-5.
1. Fact or Fiction: The Heat should bring Chris Bosh back.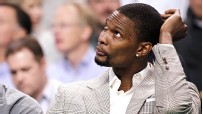 Chris Forsberg, ESPN Boston: Fact. Let's face it: Neither of these teams is overflowing with depth, particularly Miami in the frontcourt. In a series in which Kevin Garnett is dictating Boston's success, the Heat absolutely have to dust off anyone who can counteract that, particularly if he's of the All-Star variety. The question is whether Bosh is healthy enough to deal with 40 minutes of crazy intense Garnett.
Tom Haberstroh, ESPN.com: Fiction. If I'm the Heat, I'd rather gamble on winning Game 5 on the home court and then bring him back for Game 6. There's always a chance he could aggravate his injury no matter when he comes back, but I get the sense emotions are coming into play. Erik Spoelstra did not deny that Sunday's loss will have an effect on his decision to activate Bosh, and that's telling.
Zach Harper, Daily Dime Live: Fiction. I find it hard to believe that he's truly healthy enough to play. If the Heat win Game 4, is Bosh being activated for Game 5? Is this simply a way to give the team a jolt of adrenaline? Are the Heat hoping for a Willis Reed moment in Miami? I think there is too much to risk with this injury to make this a good idea, even if it works out.
Justin Verrier, ESPN.com: Fact if he's ready, fiction if he isn't. The Heat are in desperate need of a competent player over 6-foot-9 and someone who can at least feign shot-creation, and Bosh, even in limited minutes, would greatly aid their cause. But if he's not ready, rushing him back -- even with his consent -- sets a bad standard that only hurts every player in the long run.
Michael Wallace, ESPN.com: Fact. Only if it's a pain-tolerance factor and he's at no real risk to actually tear his abdominal muscle. But two things to keep in mind about Bosh. First, he's not going to be anywhere near 100 percent if he can go. And second, he has a history of struggling against the Celtics and Garnett even when he's healthy. So even if he plays, I'm not exactly sure what type of impact he'll have.
---
2. Fact or Fiction: The Celtics have solved the Heat.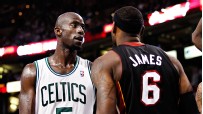 Forsberg: Fiction. If the Celtics had "solved" the Heat, they wouldn't have been chomping on their collective fingernails in the fourth quarters of Games 3 and 4. Boston already knew it could hang with the Heat entering the series and now Boston has figured out how to win against them in the postseason, at least at home. The Celtics still have to win on the road and close out this series before they've solved anything.
Haberstroh: Fiction. Maybe they've solved the Games 1-4 version of the Heat. But the imminent return of Bosh throws a monkey wrench in their game plan. As Doc Rivers said Monday, doubling Dwyane Wade at every opportunity won't work as easily when Bosh is lurking. Of course, we have no idea how effective Bosh will be, but Bosh could give the Celtics a new set of problems.
Harper: Fact. Just because you solve a team doesn't mean you automatically end up beating it. I think they've figured out a way to take Wade out of the game for huge chunks. The way they trap him and take away his spacing when he has the ball is impressive and it mucks up the Heat offense. It's still going to come down to execution, though, so solving a team and finishing a team are two different things.
Verrier: Fiction. Rivers has done a great job of exploiting the Heat's weakness, particularly in the paint, after looking overmatched in the teams' first meeting. But the Heat were one possession -- and one friendly roll -- away from winning Game 3 and drastically altering our perception of this series. Sloppy play from Miami hasn't exactly helped its cause, either. Nor has Wade, who needs more time to warm up than the 1995 Dodge Caravan I drove in high school.
Wallace: Fiction. The Pacers thought they did the same thing after getting their second victory against Miami to take a 2-1 series lead. But this is a best-of-7 situation, which requires you to win four times. Until the Celtics prove they can stop LeBron and Wade for four games, nothing's solved. But does Boston have the experience and big-play personnel to beat the Heat if healthy? That answer has always been yes.
---
3. Fact or Fiction: Rondo is the most important player in this series.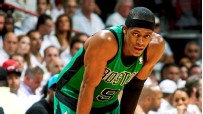 Forsberg: Fiction. He's really, really important, but Garnett is more important. When KG is on the floor in the playoffs, the Celtics are plus-164. When he's off, Boston is minus-116. It's impossible to ignore how important Garnett is defensively for Boston, and Miami tends to score at will when he's not out there. Rondo fuels the Boston offense, but if Boston is a defense-first team, the key cog is Garnett.
Haberstroh: Fiction. As marvelous as Rondo has been in this series, the Celtics don't stop James and Wade without Garnett. Don't believe me? Check that scoreboard again: The Celtics are plus-164 with Garnett on the floor and minus-116 with him on the bench. That screams importance.
Harper: Fiction. I still think it's Wade. If he can figure out how to not crowd LeBron and everything that's happening inside, the Heat can take the next two games. LeBron is the driving force of the team but he needs Wade going nova in stretches to make it all work. We know Rondo is going to be really good the rest of the series, but we don't know if Wade will show.
Verrier: Fiction. Rondo has the rare ability to captivate an audience like few other players, a true feat given that he's sharing the court with the world's best athlete. But for his team, the answer is Garnett, whose plus-34 the past two games doesn't truly emphasize the difference he's made. And for the series, the answer is a familiar one: James, who, despite having 3/4 of a big two by his side, is averaging 32.3 points (52 percent shooting), 9.3 rebounds, 4.5 assists and 1.8 blocks per game this series. Who else in the world could provide that?
Wallace: Fiction. LeBron is of equal importance in the grand scheme of things. Miami absorbed a historic game from Rondo in Game 2 and still managed to squeeze out an overtime victory. LeBron put up solid numbers against the Celtics, particularly in Game 3, and it wasn't enough. Both players have a remarkable ability to get their teammates involved. LeBron is the better overall player. But from an importance standpoint, it's a wash.
---
4. Who wins Game 5?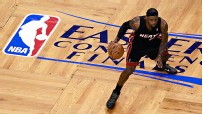 Forsberg: Our friends at ESPN Stats and Info remind us that Boston is 8-0 in Game 5s of tied series during the Big Three era. Clearly, these Celtics have thrived in big-game situations. But even though Boston has the momentum, I think Miami finds a way to win at home, so long as getting Bosh back proves to be more of a boost than a liability.
Haberstroh: Heat. I'm foreseeing another nail-biter and I don't mean James. If Bosh suits up and gets back on the floor, I expect some rust and jitters, but eventually I think Garnett finally shows his age after playing at least 43 minutes in two of the last three games. Garnett's 36 years old, right? Right?
Harper: Heat. Even though the Thunder just proved me wrong with this theory, I have a hard time going against the home team in a Game 5 scenario. It wouldn't shock me if the Celtics pull together and eke out a win, but I expect Miami to have a lot more energy and comfort at home. I don't think we'll see the early defensive lapses that Miami showed us in Boston.
Verrier: Miami. The Thunder broke our neat little pattern for these conference finals, but it's hard to imagine this series following suit. Even if Bosh can't go, the Heat may have found a patchover in Udonis Haslem (12 points, 17 rebounds in Game 4). And because, well, LeBron.
Wallace: Heat. Even when pushed to overtime, there's no reason to think the home team won't continue to hold serve in this series. And that's especially the case considering the way these games have been officiated in such an inconsistently consistent way.
---
5. Who wins this series?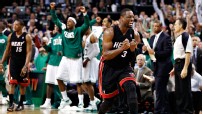 Forsberg: Whoever wins Game 5 wins the series. I said Heat in 6 before the series, so I'm going to stick with it. Boston has displayed insane amounts of mental resolve this season, but trying to finish off this rally from a 2-0 hole may be its most daunting task yet.
Haberstroh: Heat in seven. I originally had the Heat winning in five games, so I underestimated the Celtics coming into this series. Or perhaps I just underestimated the 76ers. Either way, I get the feeling that Boston's age and injuries will catch up to it as the series grinds along. But as the then-newly crowned Garnett said, "Anythiiiiiing is possiiiiiiiiible."
Harper: Before the series started, I had the Heat in five. That clearly isn't happening, but I also think Boston has exhibited more fight than a lot of us assumed it had -- especially on offense. I'll take the Heat in seven and hope we get three more games like we saw in Game 4. It would be fun for all of these to come down to the wire.
Verrier: Miami, in six. The Heat need only a little push forward in order to regain control of this series, and Bosh, even in his dinged-up state, likely gives them that. It's also hard to imagine the injuries that tormented the C's aching vets early on not flaring up the rest of the way.
Wallace: Heat. I said from the start that I had a strange feeling about this series. I'm on record as saying it would either be a sweep or would go seven -- with no in-between. The Celtics have shown that they're here to fight, so I see this going seven. Miami will likely have to close this out at home under big-time pressure.


ESPN.com and the TrueHoop Network
Chris Forsberg writes for ESPN Boston. Zach Harper is an editor for Daily Dime Live. Tom Haberstroh and Michael Wallace write for ESPN.com's Heat Index. Justin Verrier is an NBA editor for ESPN.com.
• Follow the NBA on ESPN on Twitter | On Facebook | On Google+