After being down 2-0, the Thunder have won three straight games and have a chance to close out the Spurs in Game 6 (ESPN Radio, 9 p.m. ET). Is OKC headed to the Finals? Is this San Antonio's last best chance at a title? Our experts chime in:
1. Fact or Fiction: The Thunder are who we thought they were.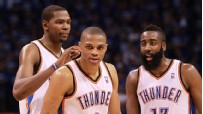 Henry Abbott, ESPN.com: Fact. People have been calling this team "next" since it was the Sonics in 2007. It was entirely unfair -- almost no teams that bad get this good. They're contenders now and, in Vegas, now the favorites. Hats off to Sam Presti, who is one of the first GMs in history to truly build a contender through the lottery.
J.A. Adande, ESPN.com: Fiction. They're more poised, better balanced and smarter coached than we've given them credit for. They have only 58 turnovers to the Spurs' 81 in this series. None of these were advantages they were supposed to have, and they've all supplemented what we did know about them: They're younger and more athletic than San Antonio.
Kevin Arnovitz, ESPN.com: Fact, although I'd use the conditional tense: "The Thunder are who we thought they would be." We knew they had the individual talents to dominate, but did we know they'd be able to assemble them into championship-quality basketball this quickly?
Beckley Mason, ESPN.com: Fiction. At least, they aren't who I thought they were! OKC's players and coaches have shown an ability to adjust on the fly that I was not sure either possessed before this series. I've been especially shocked by their ability to maintain defensive discipline and turn the Spurs over as much as they have.
Marc Stein, ESPN.com: Fiction. I thought they were still at least a year away. And I never thought I'd turn on "SportsCenter" on the eve of Game 6 and see a clip of Spurs coach Gregg Popovich talking about how the Thunder are making the extra pass better than the Spurs are.
---
2. Fact or Fiction: The series so far is about the Spurs' shortcomings.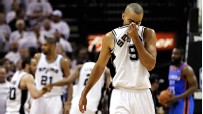 Abbott: Fiction. I don't see shortcomings on that team. I see surplus on the other team. Youth is to basketball as money is to life. If you have a ton of it, it's a cinch to squander. But if you have a ton of it, and you're strategic enough, look out. The Thunder don't do anything perfectly. But since Game 3 they have demonstrated enough strategy, mostly on defense, to make their youth (and all the things that come with it -- athleticism, enthusiasm, hustle, spring) the series' dominant asset.
Adande: Fiction. It's about what Oklahoma City is doing to the Spurs. The Thunder are neutralizing multiple players defensively. They're making San Antonio pay for what is a sound strategy of forcing the ball away from Russell Westbrook. Those aren't Spurs deficiencies. And Tim Duncan's inability to dominate single coverage shouldn't be that drastic, because that's not the player he is or the way the team operates at this stage of his career.
Arnovitz: Fiction. Maybe we're too willing to give the Spurs a pass, but unless we want to chide them for their lack of athleticism relative to OKC's, it's hard to indict them for this three-game losing streak. The Spurs have turned the ball over too much, but more than anything, they've found themselves in the path of a buzz saw.
Mason: Fiction. The Spurs are good enough to win a title, and it's not a shortcoming to be less athletic than the Thunder, who may be the most athletic team ever. The Spurs just haven't been able to get their role players going against a team that's firing on all cylinders.
Stein: Fiction. San Antonio's shortcomings certainly have been exposed in ways we never imagined after that 10-0 start to the postseason -- since we all started believing that the Spurs were robotically perfect -- but the series so far is about the Thunder's ability to completely change the tenor of the series midstream. By changing their own personality on the fly. Wild.
---
3. Fact or Fiction: James Harden is a max-contract player.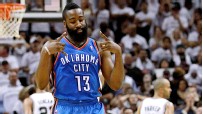 Abbott: Fact. Absolutely. But not because of that shot, nor because of his big scoring burst against the Mavericks. He's a max player because he started well and gets better every year -- perfect proof of hard work. He's an underrated defender who gave Kobe Bryant fits ... and did you see him fighting Duncan in the post? If he had the ball in his hands all night, you would never even ask this question. He's tremendous.
Adande: Fact, which sadly could mean he won't be a Thunder player for life. The new collective bargaining agreement makes it too punitive to pay every player what he's worth to one team. And if it comes down to picking one guy to give the next big contract to, I'd give it to Serge Ibaka, because he's so vital to the Thunder's defense (and is developing offensively as well). Harden will parlay his skills into a starting job and a significant raise with another team.
Arnovitz: Fact-ion: Depends on how much money you have to spend and how much luxury-tax penalty you're willing to incur. Considering the amount of cap room floating around the league this summer, it would be shocking if Harden isn't offered the max by someone somewhere. The question for OKC is whether his talents, which might be a teeny bit redundant on the Thunder's roster, warrant that commitment. Whatever the case, it would be a shame to see the core in Oklahoma City broken up.
Mason: Fact. He's going to be a superstar, if he isn't already. Most NBA teams would love for Harden to take 20 shots a game for them rather than the 10 per game he took for the Thunder this season, and pay him max money to do so.
Stein: Fiction. But you can rest assured that the interest Harden gets when he hits restricted free agency will drive his price up higher than it should be. One of the keys to San Antonio's longevity is management's ability to persuade Tony Parker and Manu Ginobili to take less money to stay with the Spurs than they could have earned had they signed with the highest bidder. Looks as though pulling off the same trick will be a lot harder for OKC, because everyone knows how expensive it'll be for the Thunder to try to keep Harden and Ibaka after giving max deals to Kevin Durant and Westbrook and will be trying to steal them.
---
4. Fact or Fiction: This is the Spurs' last best chance at a title.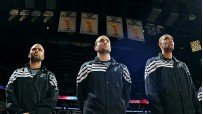 Abbott: Fact. But that has been a fact for the past five years. I also believe it to be fact that pigs don't fly. But pigs are flying right now ...
Adande: Fact. If they can't beat the Thunder now, how are they going to do it when Westbrook and Durant are actually, you know, in their prime years? Will that even be a fair fight to pit them against a team that will require Popovich to manage his key players' minutes even more judiciously as they get older? This series doesn't just have implications for the Spurs, it also has to be scary for the Lakers, Mavericks or anyone else whose stars are on the north side of 30.
Arnovitz: Fiction, only because we engage in this exercise every single season. Each time the argument seems rational -- then the Spurs go out and drain the death pool. I'm through playing.
Mason: Fact, probably. Although I would have said the same about Boston last season or even the season before. All it takes is one twist of fate or tear of an abdominal muscle to radically alter a team's title chances.
Stein: Fiction. Good try. The scariest part for everyone in the West is the Thunder's youth and what looks like years of forthcoming title contention, but I dismissed the Spurs with unwavering conviction before this season started, and look where it got me. I understand where you're going with the question. This is (was?) a glorious championship opportunity. But I'm not getting sucked into writing them off again. Sorry.
---
5. Fact or Fiction: The Thunder will close out the Spurs in Game 6.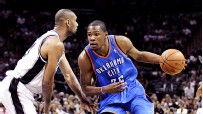 Abbott: Fiction. Let's be clear: Any darned thing could happen. And if the Spurs win Game 6, of course they'll be heavily favored in Game 7 at home. So you can see Game 6 as must-win for both teams. But I have a weird feeling this won't play to form. I'm going to stick with my bizarre original prediction. A series that started with four straight home victories I say will end with three straight road wins. Thunder in 7, not 6.
Adande: Fact. It just seems the Thunder have figured out the Spurs and know exactly what they need to do to beat them. San Antonio needs more from its bench players, and it's asking a lot for them to exceed their usual production in a road game. We entered this series talking about the Spurs' winning streak, but the Thunder's unbeaten playoff home record is now the more relevant one.
Arnovitz: Fact. It's really, really hard to beat a team that didn't lose a game for seven weeks for a fourth time in seven days. But that home-court environment in OKC -- always electric -- could be the most frenzied pep rally in NBA history. If any team can stifle it, the Spurs might, but the Thunder appear ready to close. It's not about the Thunder's momentum or the idea that Durant has arrived. It's about the collective brand of basketball the Thunder have embraced on both ends.
Mason: Fact. The Thunder have played so loose and with so much confidence in the past few games, I don't expect them to falter now. Their key adjustments have been minor and look sustainable. Still, a big game from Tony Parker would go a long way toward bringing the series back to San Antonio.
Stein: Fact! (Exclamation point included for full sarcastic effect.) The first two rounds of the playoffs served up disappointment after disappointment, but the conference finals have shredded every script. So would anyone really be surprised if the Spurs rise up off the mat now? Just as Professor Hollinger tweeted the other day: As much as all of us know-it-alls would love to get every prediction right, sports is so great when the consensus is shattered.


ESPN.com and the TrueHoop Network
Henry Abbott, J.A. Adande, Kevin Arnovitz, Beckley Mason and Marc Stein cover the NBA for ESPN.com.
• Follow the NBA on ESPN on Twitter | On Facebook | On Google+