It's time for Game 7 of the Eastern Conference finals (ESPN, 8:30 p.m. ET Saturday), with the winner advancing to the NBA Finals.
Can LeBron James duplicate his stellar Game 6 performance, or will the Celtics figure out a way to get another victory on the road?
Our experts weigh in with 5-on-5.
1. Give 45 words on what LeBron's assertiveness in Game 6 means.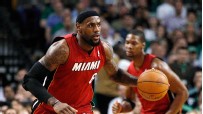 Chris Forsberg, ESPN Boston: It means there's a Game 7. And if Miami wins on Saturday, James' 45-point, 15-rebound effort will likely be remembered even more fondly. That said, if the Heat drop Game 7, that performance will be regarded as just another outlier in James' perceived inability to win the big game -- fair or not.
Israel Gutierrez, ESPN.com:
It means his desire for a championship might be even greater than we give him credit for. LeBron had every excuse available to him if the Heat lost that game, including shaky teammates and coaching. But he took it upon himself to make sure they weren't necessary.
Tom Haberstroh, ESPN.com: I think back to LeBron's MVP speech last month when he wrapped up with a cold assertion: "I want that championship. That's all I care about." He's playing like it, and I'm referring not just to his virtuoso Game 6. He's not just talking; he's walking the walk. Game 6 was a realization of his potential and his word. Game 7 has to be a continuation of his playoff momentum, or he has to start all over again from square one.
Michael Wallace, ESPN.com: It confirms what we knew about LeBron all along -- he has it in him to enter that zone when nothing else matters and no one else is on his level. The problem is we don't see that kind of start-to-finish dominance from him enough to satisfy our over-the-top expectations of him.
Brian Windhorst, ESPN.com: It means he's capable of it. It means the bar is raised. It means he has reminded us why everyone holds him to an outrageous and sometimes unfair standard. It means he has no excuses not to give that focus and effort even when the jumper isn't as pure. It means more pressure.
---
2. Fact or Fiction: LeBron has to do it again in Game 7.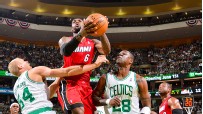 Forsberg: Fiction. It doesn't matter whether it's James, Dwyane Wade or Terrel Harris knocking down those jumpers. If Boston is unable to generate consistent stops, it is not going to win Game 7. James was 7-of-20 in Game 2 (albeit for 34 points), and Miami still found a way to win (spoiling Rajon Rondo's 44-point outburst). It doesn't have to be all on LeBron.
Gutierrez: Fiction. He doesn't have to score that much, that efficiently, but he still needs to get to at least his averages in this series, about 31 points and 10 rebounds. There's no indication Wade is going to have a breakout scoring game. And relying much on Chris Bosh this soon wouldn't be smart. That'll leave LeBron carrying much of the weight again.
Haberstroh: Fiction. It's absurd that people think he has to repeat Game 6 to validate his cause. Does a guy who just threw a no-hitter have to do it again just to prove himself? Of course not. What the Heat need, above all else, is for Wade to show up for all four quarters, not just the final two. In other words, LeBron doesn't have to do it again; Wade has to not do it again.
Wallace: Fiction. No way should anyone "expect" a 45-point, 15-rebound game that includes playing the first 44 minutes without a blow. But what likely will be needed from LeBron is another ultra-aggressive start to set the tone for his team. He'll need his teammates to do some of the heavy lifting.
Windhorst: Fiction. The Heat should be able to win a home game without LeBron needing to shoot 70 percent. At least they better hope so, because it won't happen like that again. He's going to need to put points up because the Celtics likely will continue to double-team Wade. His scoring drop-off against that system must be replaced, but it's hard to realistically count on James to replace it by himself every night.
---
3. What's your read on the Celtics going into Game 7?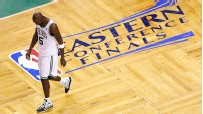 Forsberg: This is a confident group that's been in this position before (4-2 in Game 7s during the Big Three era). Boston knows it can win in Miami and knows it can bounce back from tough losses. The theme this season has been overcoming adversity, and the Celtics are hoping this is just another late chapter and not the one that closes the book on a gritty 2011-12 season.
Gutierrez: That they're still perfectly capable of a vintage performance in Game 7. Nothing about the Celtics has been predictable this postseason, so to assume their only chance to close out the Heat was in Game 6 would be unfair.
Haberstroh: They might need to find the fountain of youth along the eastern seaboard. Or they just need to hit 3-point shots. Either one, and they'll be right back in it in Game 7. They can't shoot 1-for-14 from deep again.
Wallace: That they are at the end of their rope but still have enough pride and experience to put up one more fight. It's not like it was two years ago that they won a big playoff game in Miami. It was just a few nights ago.
Windhorst: They won't be rattled; they've played a bunch of Game 7s together. They were disappointed that they allowed themselves to get out of rhythm in Game 6 after LeBron's hot start. So I expect them to go back to their basics. Pound the ball into Kevin Garnett, run Ray Allen around screens and get Rajon Rondo in the open court. Plus fight LeBron for position more, even if it means whistles.
---
4. What's your read on the Heat going into Game 7?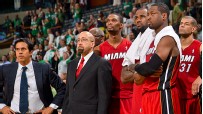 Forsberg: Bosh's return and James' eruption have to leave Miami feeling extremely confident about its chances in Game 7. Heck, the fact that Wade hasn't exactly erupted yet might bode well for the Heat, too. If the role players get a boost from playing at home Saturday, this team will be incredibly tough to beat.
Gutierrez: That they have the exact same attitude they did entering Game 6. LeBron didn't feel like a player satisfied with his accomplishment. He could very well come out and take over Game 7 also, and not smile a single time while doing it.
Haberstroh: They're going to be tough to beat if Bosh can stay on the floor. The biggest benefit of Game 6 was that the big lead allowed Erik Spoelstra to keep Bosh's minutes at a reasonable level. The Heat will need him in Game 7. And I think they'll get a big game from him.
Wallace: They know the pressure is still firmly on them to get this done and advance to the Finals. Boston is playing with house money. If the Celtics lose, you pat them on the back for making one more strong stand at the end of their Big Three era. If the Heat lose, they've failed miserably to accomplish their goal in what they themselves said is a championship-or-bust season.
Windhorst: In addition to LeBron's great game, the Heat found a couple of other areas in Game 6 that they probably will stick with. One is Wade spending a lot of time guarding Rondo; that worked reasonably well in the second half. Another is more traditional defense on Garnett, not as much fronting him to invite the lob. Overall, though, I think the Heat are expecting Boston to try to be what Doc Rivers calls the "first hit" team. Lots of aggression, especially early in the game.
---
5. Who wins Game 7?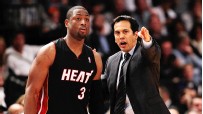 Forsberg: Heat. Gotta stick with the pre-series prediction (even if it'd be a game late). Yes, this is exactly the situation in which Boston plays its best basketball, but you can't help but wonder whether James spoiled the Celtics' best opportunity to win this series with his exploits in Game 6.
Gutierrez: The Heat. Forget all the postseason trends and percentages. Just look at the Heat's 6-0 record in home games after a home loss. Miami's average margin of victory in those six wins was 21.5 points. Short of another Rondo takeover, this might not be close.
Haberstroh: The Heat. But that's only because they're on their home court. And the coin I just flipped came up heads.
Wallace: Heat. Even though the road team won the past two games in this series, this sets up to be a winner-take-all game for the Heat at home. But if the Celtics are in striking distance with three minutes left, I wouldn't necessarily want to be in the Heat's shoes.
Windhorst: I should be disqualified. I've constantly gotten this matchup wrong for the past two years. My head defaults to promises I made to never kick dirt on the Celtics until it truly is over. But I also know the percentages of what home teams do in Game 7s. Push to shove, I guess I begrudgingly pick the Heat with the belief that the difference is an unsung hero such as Mario Chalmers, Shane Battier or Udonis Haslem.


ESPN.com and the TrueHoop Network
Chris Forsberg writes for ESPN Boston. Tom Haberstroh, Israel Gutierrez, Michael Wallace and Brian Windhorst write for ESPN.com's Heat Index.
• Follow the NBA on ESPN on Twitter | On Facebook | On Google+