Heat versus Thunder. LeBron versus Durant. Miami's Big Three versus OKC's Big Three. The NBA Finals should be special. With Game 1 tipping off Tuesday (ABC/ESPN3, 9 p.m. ET), our writers preview the star-studded matchup in this championship edition of 5-on-5:
1. The most important player in the Finals is _____________.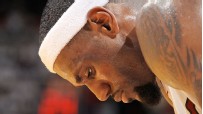 J.A. Adande, ESPN.com: LeBron James. The Thunder have more assets than the Heat, but Miami has the ultimate weapon in LeBron, who won a road playoff game on his own last week. Miami can win with the 2012 Eastern Conference finals version of LeBron. It can't win with the 2011 NBA Finals version.
Kevin Arnovitz, ESPN.com: LeBron James, for reasons both dramatic and tactical. It's not as if James won't have additional opportunities to capture a title or that there aren't other compelling players in the series, but for better or worse, he has been the NBA's crossover star over the past three years, the character driving the story, the one who makes us choose sides.
Marc Stein, ESPN.com: LeBron Raymone James. And something tells me, as I tap out these answers, that I'm not the only one of the five invitees to nominate him. Let's face it: LBJ's Heat teammates are going to be staring at him as much as the rest of us are, wondering what we're going to get in his third Finals even after his spectacular conference finals, wondering what kind of tone he'll set for the Heaters. Kevin Durant has been irresistible this postseason, but let's not overthink this. It all starts with No. 6.
Michael Wallace, Heat Index: LeBron James. As LeBron said when the Heat entered the critical stages of the fourth quarter of Game 7 against Boston in the conference finals: "It's time." No one else in this series carries the kind of burden that is on James' shoulders. He will have to prove why he is the MVP as well as the anchor of the NBA's All-Defensive Team in what will be the most amazing two-way challenge of his career.
Brian Windhorst, Heat Index: It will always be LeBron. Not just because the Heat need a huge series out of him to win but also to see how he responds to his substandard Finals last year. Few players in this series have the ability to control the game by themselves, but James can do it at both ends.
---
2. The most important matchup in the Finals is _____________.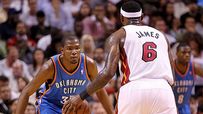 Adande: Russell Westbrook versus Mario Chalmers. This should be a huge advantage for the Thunder, similar to when Westbrook outscored the Lakers' Ramon Sessions by an average of 26 to 7 in the conference semifinals. The Heat prevailed against Boston even though Rajon Rondo won the point guard matchup, but Westbrook is a more consistent scorer than Rondo. OKC needs to not only win this battle but to dominate it.
Arnovitz: The Thunder's one-on-one offense versus the Heat's stifling pressure D. Too often, we overrate individual matchups in a series, and this one between the Heat and Thunder will tell us more about each team's schemes than the talents of any two players would. That said, Durant and LeBron are about to make one-on-one isolation basketball a whole lot more exciting.
Stein: LeBron versus KD. I don't know if it's the most important, but how about the most riveting? I found myself wondering a lot over the weekend how much the two guys on the marquee will be guarding each other. Coaches will always try to find ways to throw defensive specialists at the other team's top gun to spare their top gun from being overworked defensively. But the two studs are going to have to check each other some of the time, which is playoff gold.
Wallace: Chris Bosh versus Serge Ibaka/Kendrick Perkins. If anyone doubts what level of impact Bosh has on this Heat team, just look to how the series against the Celtics turned in Miami's favor once he returned from that ab injury. Bosh's ability to step out and hit jumpers, get to the rim and make frequent trips to the free throw line will be huge in his matchup with OKC's bigs. Bosh's play will determine the impact James and Dwyane Wade have on both ends.
Windhorst: LeBron-Durant. They both put a lot of stress on their defenders and are experts at getting to the line. We rarely get to see head-to-head superstar matchups. It'll be interesting to see how much the coaches let it happen.
---
3. The most important X factor in the Finals is _____________.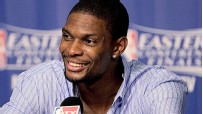 Adande: Chris Bosh. Was that Game 7 against Boston an aberration or is he really back, full time, ready to give the Heat 20 points a game? If so, that means that Chalmers, Shane Battier, Udonis Haslem and Mike Miller have to provide only a little scoring to help the Heat keep pace with OKC's playoffs-leading offense. And if Bosh keeps hitting 3-pointers, he'll bring Ibaka out of the paint, opening up the lane for something like this.
Arnovitz: Who besides LeBron James, Dwyane Wade and Chris Bosh are hitting shots for Miami, and who other than Kevin Durant, Russell Westbrook and James Harden are doing the same for Oklahoma City. Defensively, Thabo Sefolosha and Joel Anthony have the potential to be game-changers.
Stein: Chris Bosh's health. That's still top of the list of for me. If those 19 points and eight boards in Game 7 against the Celtics mean that Bosh is back, Miami can play this series on even terms. I tend to believe it'll actually help the Heat at the start of this series to be the underdog -- even if they're merely a slight underdog -- but they have no chance if Bosh backslides.
Wallace: The Heat's role players. We know James Harden is the best reserve in the league. His scoring and playmaking alone can negate the contribution of an opponent's entire bench. That's why Miami's role players have to come up big on a consistent basis in this series. Mike Miller, Udonis Haslem, Shane Battier and Mario Chalmers can't just be ordinary. At least one of them -- possibly two -- have to step up in a major way.
Windhorst: Which Dwyane Wade shows up -- the active, attacking, dominating Wade from the Pacers series or the frustrated, pinned-in, less explosive Wade from the Celtics series? The Heat will need more points against OKC, and Wade will have to provide some.
---
4. The first sign you'll be looking for in the Finals will be _____________.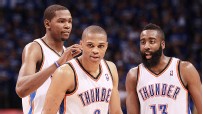 Adande: If the Thunder can pick up where they left off. They found their groove against the Spurs, but they will have had five days off and be facing a more athletic opponent when the ball goes up for Game 1. OKC has lost only three times in the playoffs; the Heat took that many L's in the conference finals alone. But as we saw with the Spurs, it doesn't take much to lose that equilibrium.
Arnovitz: Which team is moving the ball better in the half court. Both teams have a ton of shot creators, and there inevitably will be rallies by both teams fueled by individual exploits, the kind of shot attempts that will make analysts say, "The defense will take that all night!" But over 28 quarters, the team more willing to find opportunities on the weak side that aren't so obvious will be the better offensive machine.
Stein: How OKC handles the big stage in Game 1. If there's a doubt that persists about the Thunder kiddies, it's that for all they've achieved, running through the three teams that won four out of the last five championships, there is still nothing like actually stepping onto a Finals floor for the first time and dealing with a new level of pressure and expectation. We still have to see how smoothly OKC makes that step. Sometimes getting used to the Finals surroundings takes a game.
Wallace: Whether LeBron James is attacking from the outset or trying to pace himself. LeBron has to play with that same backs-against-the-wall focus and energy from the outset of this series. The Thunder are a far more explosive team than any the Heat have faced in this playoff run. This isn't a "pace myself/pick my spots" series for LeBron or Wade. The Heat must set the tone from the start, especially since they must win a game in OKC to win the series.
Windhorst: How the Heat deal with the Thunder's length, both in matchups and in execution. No team in the league creates so many issues with its length as OKC. It can be a shock to the system. The Heat have been getting away with playing small. That will be harder to pull off now.
---
5. The winner of the Larry O'Brien Trophy will be _____________.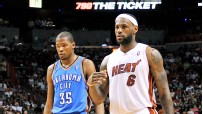 Adande: The Miami Heat. I'm going with the old NFL maxim of picking the team that needs it more. The Thunder are already a hit. Life for the Heat is more perilous, seemingly one bad loss away from having their entire makeup called into question. Not only do they have the experience of playing in the Finals, they've had the experience of losing in the Finals. They're not about to repeat it.
Arnovitz: Oklahoma City in seven, but I've never been less confident about a Finals pick.
Stein: OKC in six. If you've spent any time in close proximity to the Thunder as they've mowed through the Mavericks, Lakers and Spurs, it's impossible not to expect more of the same against a team that has so many holes beyond its three stars. The Thunder have more weapons at both ends of the floor. Something significant will have to desert OKC early to change things up.
Wallace: The Miami Heat in six games. It might be now or never for this version of the Heat. It's set up for them to have their breakthrough moment after so much heartache in the offseason after losing to Dallas. There is only one team that would be deemed a failure if it doesn't get the job done here. It's Miami. The Thunder's season is already a successful step forward regardless of what happens in the Finals.
Windhorst: The Thunder in seven. Whenever someone picks a series to go seven -- here's a little tip, readers -- it means it's a guess. I'm guessing the Thunder will have a little too much firepower and depth. But I'm nowhere near sure.


ESPN.com and the TrueHoop Network
J.A. Adande and Marc Stein are senior writers for ESPN.com. Kevin Arnovitz writes for ESPN.com and TrueHoop. Michael Wallace and Brian Windhorst write for ESPN.com's Heat Index.
• Follow the NBA on ESPN on Twitter | On Facebook | On Google+