Game 1 went to the Oklahoma City Thunder, which used a second-half surge to defeat the Miami Heat. What do LeBron James & Co. need to do differently going forward? How can KD's crew keep the pressure on the Heat? Our writers break down the series opener.
1. Which five words best sum up Heat-Thunder Game 1?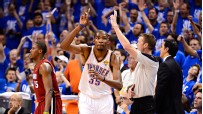 A. Heat jumped out, then faltered
B. Thunder were shaky, then soared
C. Where's the real Dwyane Wade?
D. KD and Russ too much
E. [Write your own headline here]
Kevin Arnovitz, ESPN.com: E. Heat fall to deeper team. While Erik Spoelstra struggled with a six-and-a-half man rotation, Scott Brooks had the luxury of keeping James Harden -- of the likely max contract offer in a few weeks -- on the bench because the Thunder's defensive ace, Thabo Sefolosha, was playing so well. What does that say?
Israel Gutierrez, ESPN.com: A. Heat jumped out, then faltered. The early going was way too easy for the Heat. This team has a history of coasting at the wrong time, assuming it'll be just as easy for the rest of the game. Defensively, the Heat played nothing close to their potential in the second half, while two of the OKC stars did exactly what we expect from them.
Marc Stein, ESPN.com: D. KD and Russ too much. Part of what made OKC's second-half surge so impressive was how Kevin Durant and Russell Westbrook stayed so aggressive without forcing things. Quite a luxury. The state of Wade's health will generate considerable discussion between games, but our focus should be more on what OKC did when we're summing Game 1 up.
Justin Verrier, ESPN.com: B. Thunder were shaky, then soared. For the second straight game, the Thunder unintentionally rope-a-doped their opponent before raining blows on them in the second half. Kevin Durant and Russell Westbrook alone beat the Heat after halftime, outscoring the entire Miami team 41-40 while totaling just as many field goals, one more made freebie and one more assist, according to ESPN Stats & Info.
Michael Wallace, Heat Index: B. Thunder were shaky, then soared. Russell Westbrook had an erratic start, Kevin Durant picked his spots early, and the Thunder got little from anyone else during what felt like a feeling-out process early for them. Then their role players, specifically Serge Ibaka and Thabo Sefolosha got them going in the second quarter. The stars followed after that.
---
2. Fact or Fiction: Game 1 hinted at which is the better team.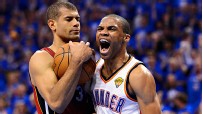 Arnovitz: Fact. The Thunder played with more energy, greater ease and better judgment. But hints aren't definitive, at least not until they bare themselves out four times in a seven-game series. Still, it's rare that we've seen the Heat lose a game over the past two seasons because they were simply the inferior team. That looked like the case in Game 1.
Gutierrez: Fiction. Only one of the two teams looked familiar last night. The Thunder, particularly in the second half, didn't appear overwhelmed, and their playmakers and scorers made plays. The Heat, after those fool's gold early 3s, looked ragged and relied far too much on Dwyane Wade, who lacked explosiveness.
Stein: Fact. When James Harden is stuck to the bench because of foul trouble and scores only five points in the biggest game in franchise history to date and OKC still wins, it certainly supports the idea that the Thunder deserve to be favored in this series.
Verrier: Fiction. The Thunder have a way of making veteran teams look old. But since it was these Thunderoos that just dug themselves out of a 2-0 hole last round, it's hard to call any race this early, especially since the Heat haven't had a chance to make adjustments.
Wallace: Fact. It hinted at which team was better on this particular night. There is still a lot of basketball left to be played in this series, but credit the Thunder for doing what they needed to do to protect their home court in Game 1. The home team is supposed to do at least that much in the NBA Finals.
---
3. Fact or Fiction: The Heat need more from LeBron James.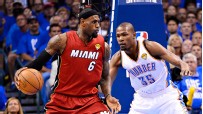 Arnovitz: Fact, but not because he didn't give them enough. The Heat are in a precarious place, a world where 30-and-9 from LeBron along with steady shooting performances from Mario Chalmers and Shane Battier still aren't enough. Unless someone else -- Wade, Chris Bosh, the player to be named later -- can contribute something more, the Heat might need another 45-15-5 outing from James.
Gutierrez: Fact: Maybe not necessarily in the final scoring total but definitely in the efficiency department. LeBron probably needs twice as many free throws than the nine he got in Game 1 to consider it an effective attacking game. If he isn't getting those extra free throws, then the Heat need more than four assists from him.
Stein: Fact and fiction. His seven fourth-quarter points were on the quiet side, and thus misleading, but I'm not sure that Erik Spoelstra can get away with asking for much more. LeBron covered all five positions in Game 1. If you ask him to guard Durant more than he did in Game 1, what's he going to have left for an offense that gasped and wheezed after halftime?
Verrier: Fact, because you can never have enough LeBron. James totaled more points than he ever has in a Finals game (30), and you were awestruck early on as the amorphous defender jumped from position to position like a bouncing ball. But this team has always relied on a surplus of production from its stars, and with Bosh still dinged-up and Wade often out to lunch, it'll take as much as it can get. You can rely on Shane Battier's 32 percent postseason 3-point stroke for only so long.
Wallace: Fiction. Not sure how much more LeBron can reasonably be expected to give at this point. He could be a bit more aggressive in the fourth quarter than he was in Game 1. But this isn't solely on LeBron. The Heat need more from Dwyane Wade and Chris Bosh if they're going to keep up with OKC in this series.
---
4. What can the Thunder do better?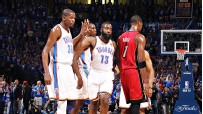 Arnovitz: Stay attuned to the weakside perimeter. The Heat got a few too many clean looks from beyond the arc by merely moving the ball inside-out, then over.
Gutierrez: Other than spread out some of that stellar play into both halves, not much. The box score says the Thunder should have run away from Miami, outrebounding the Heat by eight, getting nine more foul shots, shooting 51.9 percent from the floor and committing only 10 turnovers. Maybe James Harden can stay out of foul trouble, but that's about the only complaint.
Stein: As openly impressed as I've been with how unflappable these youngsters have been in their last two home games, I'd advise the Thunder not to stake the Heat a double-digit lead in Game 2. Can't keep playing from behind no matter how unruffled you are.
Verrier: You can maybe write-off the Thunder's slow start to Game 1 jitters this time, but doing so again is a dangerous proposition. And to pick a few nits: Ibaka needs to show better range (1-for-5 from outside the paint), Harden can't commit silly reaches, and OKC should attack a not-quite-right Wade more.
Wallace: Russell Westbrook and Kevin Durant admitted after Game 1 that their nerves might have gotten the best of them in the first half of their first Finals appearance. They overcame them pretty well in the second half and likely won't have those jitters again. What was stunning about their performance was that they won going away despite getting only five points from James Harden.
---
5. What must the Heat do differently?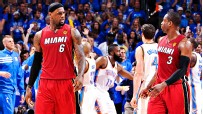 Arnovitz: Wade and James fell into that false dichotomy where they're either attacking or working within the offense; Wade said as much after the game. They must do both simultaneously. They might also want to roll up that welcome mat they laid down for the Thunder in the paint during the second half.
Gutierrez: Defend much better, particularly in one-on-one scenarios. Wade is too good a defender to let Russell Westbrook get by him with ease. All the switching the Heat do might not be so beneficial in this series, with Durant able to shoot easily over anyone not named LeBron. Offensively, more LeBron, not as much Wade.
Stein: No one enjoyed Battier's bombs-away shooting more than me as an unabashed Battier fan thanks to all his golden quotes over the years. But Miami has to get high-level play from Wade and Bosh -- in concert with LeBron -- to win this series. There is no alternative for the Heaters.
Verrier: Wade's the easy target here, but is he fixable? Even if his slump is injury induced, I doubt a second knee drain less than a month after the first would get the surgeon general's OK. It took an all-time performance by LeBron and a scorching-hot hand from Bosh to slay the Celtics. Given the state of their aching core, and that they actually got some scoring punch from two reserves this time, the Heat may need a dominant performance in each game to win from here on out.
Wallace: Miami must get Bosh more involved in the game to balance out the offense. They must buy LeBron James a few minutes of rest in the first half, especially if he's going to try to go the distance in the second half. Beyond that, Wade has to make shots. The Heat have no chance if he's simply ordinary. And it would help their cause defensively if they could avoid so many of those rotation breakdowns that are burning them.


ESPN.com and the TrueHoop Network
Kevin Arnovitz, Israel Gutierrez and Marc Stein cover the NBA for ESPN.com. Michael Wallace writes for ESPN.com's Heat Index. Justin Verrier is an NBA editor for ESPN.com.
Follow the NBA on ESPN on Twitter | On Facebook | On Google+