The Miami Heat jumped out to an early lead before faltering in the second half of Tuesday's Game 1 loss to the Oklahoma City Thunder. Can they bounce back and even the series in Game 2 (ABC/ESPN3, 9 p.m. ET) or will the Thunder keep rolling? Let's go 5-on-5:
1. Fact or Fiction: A four-game sweep is plausible.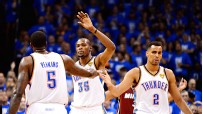 J.A. Adande, ESPN.com: Fiction. As well as the Thunder have played lately, it's hard to imagine the Heat rolling over at home. All three of Oklahoma City's playoff losses have come on the road, and their past two road victories were by a total of eight points. They can be had.
Beckley Mason, ESPN.com: Fiction. Not if everyone stays as healthy as they are today.
Chris Palmer, ESPN.com: Fiction. Simply no way Miami rolls over and dies. I'm nowhere near convinced the Heat don't turn this into a compelling series. They're too skilled, experienced, competitive and resilient. The Thunder are good enough to be NBA champs but not good enough to sweep Miami.
Marc Stein, ESPN.com: Fiction. Plausibility doesn't sound like such an out-of-reach standard, but I can't forget what happened the last time we posted the idea that sweepage was feasible. From a 2-0 lead against these very same Thunderites, San Antonio didn't win another game in that series.
Brian Windhorst, ESPN.com: Fiction. The Heat aren't as deep as the Thunder, and you can tell they are wearing down, but they're still an excellent team. There were several numbers the Thunder put up in Game 1 that likely will not repeat, especially the lopsided numbers on fast-break points. Overreacting to a Game 1 is usually a mistake.
---
2. Fact or Fiction: Game 2 is a must-win for Miami.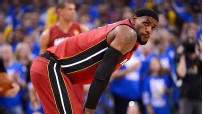 Adande: Fact. It is if they're going to win the series. Otherwise they're faced with pulling off the rare middle-three home sweep (it's happened only twice since the return of the 2-3-2 format in 1985) or the never-seen task of winning the final two games on the road. Don't see either of those happening.
Mason: Fiction. Dwyane Wade, he of 2006 championship lore, knows that it's definitely possible to come back from down 2-0 in the Finals. But realistically it's hard to imagine any defense limiting the Thunder offense four out of five games, which is likely what Miami would need to do should the Heat lose this one.
Palmer: Fact, in the sense that they'll begin to doubt themselves if they go down 2-0. The Heat say they don't pay attention to the chatter, but I've found this to be the opposite of the truth. The Heat players are very attuned to what's being said about them and the ramifications that come along with being down 2-0. Not that that's their motivation, but their goal is to steal a game in OKC. Their survival requires as much.
Stein: Fact. Maybe I'm not ready to entertain the notion of OKC winning four in a row ... but I am prepared to say that Miami can't win four out of five against the rolling Thunder. The Heat need a win badly Thursday night to remind the hosts what a little doubt feels like.
Windhorst: Fact. The Thunder are playing fantastically and it's hard to see them losing four out of the next five games if they're able to open a 2-0 lead. Also, with the 2-3-2 format it is somewhat rare for the home team to win the middle three games. If the Heat want to make it a series, they might want to win tonight.
---
3. Fact or Fiction: Dwyane Wade will play like a superstar in Game 2.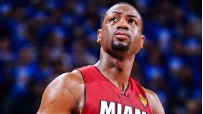 Adande: Fact. He has it in him. Not on a full-time basis, but we've seen it in these playoffs, most notably against the Pacers. Hmm, maybe he should have flown to Indiana to visit with Tom Crean on the off day. LeBron seems intent on bringing the best out of Wade, so he might even defer to him.
Mason: Fact. Dwyane Wade almost always plays like a superstar, meaning he gets to shoot whenever he wants and pretty much does so. Whether he'll be a superstar is another question, and to do that he's going to have to take on a more contained offensive role: fewer wing isolations, more post-ups.
Palmer: Fiction. I'm not sure Wade will play like a superstar at all in this series. Something is missing. Athletically and mentally, he just doesn't seem to be all there. This isn't 2006 Wade. Heck, this isn't even 2011 Wade. I think he'll have his moments, maybe even a half, but I'm not sure the superstar routine is his thing anymore.
Stein: Fiction. My doubts are growing that D-Wade is physically able to play superstar ball. The explosion just hasn't been there. Whatever he did at halftime of Game 4 of the Indy series to magically recharge himself, it's time to do that again.
Windhorst: Fiction. Though I guess it depends on your definition of a superstar. As Wade said himself, it's not 2006 anymore. But I do expect him to play better.
---
4. Fact or Fiction: This series is a referendum on the 2012 MVP award.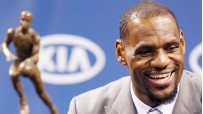 Adande: Fiction. The MVP is a regular-season award. You can't retroactively alter it. Kevin Durant couldn't stop OKC's late stumble, so LeBron was a worthy winner. But this is an evolved Durant in the playoffs, improving with each series. It's not a reflection on the voters if he's playing better now.
Mason: Fiction. It looks like both Durant and James are primed to play incredibly well all series. If anything, should Wade and Bosh continue to struggle, it would only confirm how valuable James is to his team.
Palmer: Fiction. LeBron's the MVP. He rightfully earned it. Now whether or not the series indicates who the best player in the game is could be another matter altogether. If the Thunder win and Durant outplays LeBron on the way to winning Finals MVP, then his case is obviously stronger for the game's best player. But I don't think you can just snatch it away from LeBron that easily. Need to best LeBron more than once.
Stein: Fiction. LeBron had the better regular-season resume. If the Thunder have enough juice left to win three more times, Durant should be able to live with Finals MVP honors and universal recognition as the game's most dominant offensive force and best closer.
Windhorst: Fiction. By any reasonable measure, LeBron has defended his MVP selection honorably throughout the playoffs.
---
5. Who wins Game 2?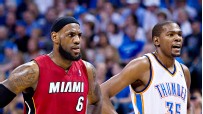 Adande: The Thunder. They've been unbeatable at home. They've got their first-Finals jitters out of the way. I could imagine them losing a home Game 6 after a week away, but not when they're in the groove that they're in at the moment.
Mason: Miami Heat. In my perfect world, at least. Who (besides the fan bases involved, which might prefer a more immediate victory) doesn't want to see this series go back and forth for six more games?
Palmer: The Thunder. They're just playing better and have to make fewer adjustments. The Heat have two or three very specific adjustments, like Chris Bosh going inside and Mario Chalmers leaking back to shut down fast-break opportunities. But another quality attack by Durant and Westbrook still might be too much to overcome. Remember the question about Wade being a superstar in Game 2? Whether or not he does will determine the outcome of Game 2.
Stein: OKC. Just a hunch, but something tells me that James Harden will score more than five points in Game 2. Something tells me that LeBron is going to have to be in three places at once defensively for Miami to take a 1-1 split home.
Windhorst: Heat. Just because I really want this to be a competitive series.


ESPN.com and the TrueHoop Network
J.A. Adande and Marc Stein are senior writers for ESPN.com. Chris Palmer writes for ESPN The Magazine. Brian Windhorst covers the Heat for the Heat Index. Beckley Mason contributes to ESPN.com.
Follow the NBA on ESPN on Twitter | On Facebook | On Google+