Heat. Thunder. Even. With Miami holding off a furious comeback from OKC, the series heads to Miami tied 1-1. Do the Heat now have the advantage in this series? Who's to blame for the Thunder's Game 2 loss? Our writers weigh in with another Finals edition of 5-on-5.
1. Fact or Fiction: The late no-call on LeBron was a decisive play.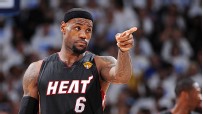 Tom Haberstroh, Heat Index: Fiction. It was a decisive play, but the no-call wasn't decisive. Sure, there was contact, but there's contact on practically every play in this game, and that was not a call that is made nine times out of 10. Blaming the officials for a loss is usually a crutch, and this is one of those times.
Zach Harper, Daily Dime Live: Fiction. Was it a big missed call? Absolutely. LeBron clearly fouled him. Do I think it decided the game? Absolutely not. I will never understand the feeling of 48 minutes of action coming down to one play. The Thunder scored two points in the first 7:27 of this game. Yes, they fought hard to come back and made it a one-possession game, but that first 7:27 of the game counts the same as the last 7:27 of the game.
Marc Stein, ESPN.com: Fiction. Huge talking point? Yes. Game-deciding? No way. The Thunder never led in this one, friends. Not for a second. Even if Kevin Durant got the call, as replays suggest he should have, OKC would need a stop at the other end just to get to overtime ... then would need to win in overtime with Durant trying to play with five fouls. Decisive is overstating it.
Justin Verrier, ESPN.com: Fiction. Decisive? Nah. Important? You betcha. Because although laboring over calls and officiating is a bit of a silly exercise, every play is important in a game as tight as this one, with stakes as high as this one. The odds were still stacked against the Thunder even if Durant had gone to the line to tie the game -- after all, Durant did have five fouls. Who knows if they would've found a way to win in the end?
Michael Wallace, Heat Index: Fact. It qualifies as a decisive play. Was it the definitive play of the game? Absolutely not. LeBron clearly got away with a foul there. It really should have been an and-1 situation for Durant, who is capable of making that shot regardless of contact. If Durant had executed and if the ref had blown his whistle in the appropriate fashion, the potential three-point play would have given OKC the lead at a critical moment. But there's just one too many ifs in that scenario.
---
2. Fact or Fiction: Russell Westbrook was a culprit in the OKC loss.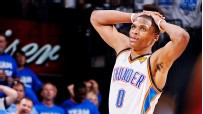 Haberstroh: Fact. Put it this way: Westbrook took 26 shots and scored 27 points; James Harden took 11 shots and scored 21 points. Westbrook isn't totally culpable for the loss, but the shots need to be better distributed to players who can score efficiently. And one of the game's efficiency monsters -- Harden -- wasn't nearly as involved as he should have been.
Harper: Fact, I guess? Everybody was a culprit in this loss for OKC. Westbrook had an awful start to the game in terms of making shots, going 2-for-10 in the first half. But Durant went 3-for-9 in the first half, too. And both shot well in the second half. Six of Westbrook's attempts in the first half were at the rim; he just couldn't finish. Can't pin this on just him.
Stein: Fact. You'd normally live with 27 points, 8 rebounds and 7 assists from your point guard. But this was one of OKC's worst offensive showings in the playoffs. And Westbrook, uh, led the way. This looked like last season's iso-obsessed Thunder taking a serious step back from the team ball they uncorked for the last four games of the San Antonio series. Not Westbrook's finest hour.
Verrier: Fact. Anytime you finish with almost as many shots (26) as points (27), you're gonna get some much-deserved blame. (Have fun at those off-day pressers, Russ!) But where's that help we heard so much about last series? The Thunder's big three did its thing, as per usual (80 points combined), but no other OKC player had more than two made field goals in Game 2.
Wallace: Fact. I guess if you have to put the blame on someone specific, Westbrook is as good a place as any to point the proverbial finger. But the bigger issue for the Thunder has been their inability to start games effectively and efficiently against the Heat. For the second time in as many games, the Thunder fell behind by double figures early. This time, the hole proved to be too steep to overcome. But Westbrook's 20-for-50 shooting in two games isn't helping the cause.
---
3. Which quarter made a bigger impression: Heat's first or OKC's fourth?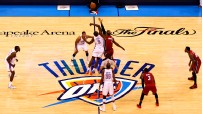 Haberstroh: Heat's first. Starting the game with an 18-2 lead on the road in an ear-splittingly loud arena after losing by double digits two nights before? Now that is impressive. Erik Spoelstra catches a lot of, um, heat for not making the proper adjustments from game to game, but starting Chris Bosh and sticking LeBron on Durant more showed he's not as stubborn as some think he is.
Harper: Definitely OKC's fourth. It was awesome to see the Thunder fighting back like that, and they really played incredible basketball in all aspects. The first quarter by the Heat was impressive, but the Thunder missed a lot of good looks. You can say the defense caused the misses, but it seemed like just a lot of bad rolls to me.
Stein: Can I go with OKC's first quarter? Stunned to see the Thunder come out flat for the third straight home game. This late in the season? Flat?!? The message obviously wasn't transmitted about how historically favorable it is to go up 2-0 in the NBA Finals.
Verrier: OKC's fourth. The Heat's opening stanza left a bigger impression on the final result, but for the second straight time, it felt like Miami was trying to hold on after halftime rather than taking control. And as a fan, these late chase-downs are as exciting as LeBron's blocks used to be ... only spread out for an entire quarter. Exhilarating stuff.
Wallace: I'll say neither and instead pick Miami's fourth quarter. The Heat had every opportunity to completely break down and let that game slip away. Instead, they showed the late-game resolve that has come to define this team over the past two playoff series. LeBron going 12-for-12 from the free throw line, including two to ice the game, was huge. Shane Battier's desperation bank shot was a big-time blow. So were Bosh's activity on the boards and blocked shot in the final minutes and Dwyane Wade's turnaround jumper. Miami made just enough plays to escape.
---
4. Fact or Fiction: The Heat have seized the advantage in the series.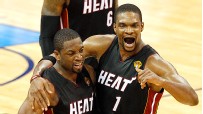 Haberstroh: Fact. But don't try telling that to the Spurs. The Thunder are talented and explosive enough to turn around any series deficit, but the Heat are humming right now offensively with Bosh starting and anchoring the paint. It would be silly to count the Thunder out so early, but the Heat's win in Oklahoma City neutralized the home-court advantage. With those rabid fans in Oklahoma, that's no small thing.
Harper: Fiction. I don't think you can say either team has a definitive advantage in this series. The Heat are heading home for three games, but they also lost key games at home against the Pacers and Celtics in the past two rounds. The Thunder are a formidable road team and fully capable of taking back control of this series.
Stein: Fact. Provided that LeBron, Wade and Bosh are going to keep meshing as well for the rest of this series as they did in Game 2. Battier's 3-point bombing obviously helps, too, but Miami's path to a championship rides on its three best players performing well. If the Heat can sustain that, they don't necessarily need to win three straight games at home, which as everyone knows isn't easy to do. Two home wins could be enough if Miami's Big Three keeps clicking.
Verrier: Fiction. Technically, it's a fact, since the Heat wrestled away home-court advantage and now, thanks to the Finals' quirky travel schedule, play three straight at home. But if there's such a thing as a feel to a series, it seems to currently favor the Okies. Maybe another performance in Durant's Masterpiece Theatre has led to some blue-colored glasses, but that switch he has is truly something to fear. Can't say the same about any of the fast-aging Heaters these days.
Wallace: Fact. Theoretically, the answer is yes. The Heat had the goal of winning at least one of the first two in OKC, and they accomplished that. They now have home-court advantage going back to Miami for the next three games. They also have the Thunder in full adjustment mode in terms of trying to match up with the Heat's rotation. OKC is the team searching for answers at this point. It's always funny how fickle a competitive playoff series can be with its ebbs and flows.
---
5. This series is ...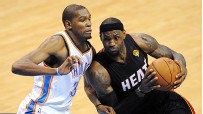 Haberstroh: Looking like a classic. Good versus evil. Kevin Durant versus LeBron James. Young versus old. However you want to frame it, the actual theater has outdone the hype. Somehow. This is basketball at its finest. Are we sure this series can't go best-of-37?
Harper: Giddy-inducing awesomeness. It's been only the first two games, and I'm having a blast watching this series. It's so fun watching the two best players in the world battle it out for their first NBA title. There are so many role players capable of stepping up, guys looking to come into their own, guys possibly losing a step before our very eyes. This series is exactly what I want out of the NBA Finals. I am BEAMING.
Stein: A series! The Internet quite possibly would have imploded had Miami found a way to blow Game 2 at the end, but I'd like to think that there are plenty of neutrals out there who will happily welcome the sudden uncertainty we've been presented with in terms of where this series goes from here as opposed to round-the-clock, red-alert Heat Crisis talk. There's plenty of time for that, if necessary.
Verrier: Everything we hoped it would be. We missed out on LeBron versus Kobe (and hours and hours of puppeteering). The basketball gods owed us LeBron versus Durant, and so far, it has lived up to (very high) expectations. And we haven't even gotten a pronounced back-and-forth duel between the two yet!
Wallace: Essentially just beginning. It's an old basketball cliché, but this thing is far from over. It certainly isn't out of the question that OKC can get Game 3 in Miami and turn the tide back in its favor. Let's just all sit back and accept that we're potentially blessed with an all-time classic Finals matchup. The only rooting interest I have in this series is that it goes to seven games.


ESPN.com and the TrueHoop Network
Marc Stein is a senior writer for ESPN.com. Tom Haberstroh and Mike Wallace write for the Heat Index. Zach Harper is host of Daily Dime Live. Justin Verrier is an NBA editor for ESPN.com.
Follow the NBA on ESPN on Twitter | On Facebook | On Google+