The Heat rallied from a 10-point deficit in Game 3 and now have a 2-1 NBA Finals lead. Did it all turn on Kevin Durant's fourth foul? Will the Heat chart a better course than they did after last year's 2-1 Finals lead? Our writers weigh in with another Finals edition of 5-on-5.
1. What went wrong for OKC in Game 3?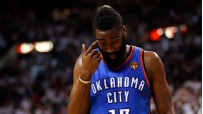 Kevin Arnovitz, ESPN.com: Basketball ballet turned into trench warfare, which is exactly what the Heat wanted. Defending the Thunder is usually a game of Whac-A-Mole, but when Kevin Durant and Russell Westbrook both went to the bench for the latter half of the third quarter, the clean looks disappeared and the Thunder became just an ordinary basketball team, and one that was fairly easy to defend.
Tom Haberstroh, Heat Index: James Harden went wrong. Remember, this is a guy who had a higher PER this postseason than Dwyane Wade and was playing like he was ready to take over as the league's top shooting guard. And then he was throwing the ball away at the most critical moments and looking completely gassed. Maybe the Thunder didn't need Harden in Game 1, but they desperately need him now.
Beckley Mason, ESPN.com: Missed free throws, James Harden couldn't abuse Shane Battier(?!), James and Wade were able to get deep position in the post, the Thunder lost the roller on pick-and-rolls and had some downright stupid turnovers in the last five minutes. Besides that, it was a pretty good game.
Marc Stein, ESPN.com: Let's start with the back-to-back fouls on 3-point shooters to throw away its third-quarter momentum … and all the missed free throws at a time when Miami suddenly can't miss from the line … and the worst fourth quarter of the playoffs for Kevin Durant after foul trouble forced him to take an extended break in the third and seemed to mess up his flow at last. James Harden's ongoing struggles are a growing worry, too.
Justin Verrier, ESPN.com: Fouls, particularly the mismanagement of Durant's in the third quarter. But where's the help? The Thunder's strength in numbers was supposed to be a, well, strength in this series, and so far, the reserves haven't given KD and Russ the type of backup they did against San Antone. Westbrook's not-so-pretty shooting lines come with the territory, but James Harden doesn't get the same pass. He has to make the most of limited shot opportunities. That's what he does … usually.
---
2. What went right for Miami in Game 3?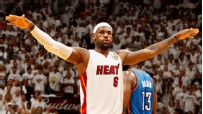 Arnovitz: The Heat generated 35 shots at the rim, far more than in either Game 1 or Game 2 -- and it's a good thing, too, because they couldn't buy a bucket from beyond the restricted area. Defensively, the Heat went into lockdown mode. They compensated for their lack of size with speed and anticipation, and pressured the ball while trusting their rotations on the back side. They also made life miserable for James Harden when he had the weight of the Thunder's offense on his shoulders.
Haberstroh: Certainly not their jump shot. The Heat put forth one of the worst shooting displays in NBA postseason history (an unthinkably bad 18 percent outside 10 feet), but still grinded out a win. How'd they manage to pull that off? By playing championship-caliber defense. The Thunder couldn't get a clean look at the rim all night long and Chris Bosh was in the middle of it all.
Mason: Bosh's defense was huge all game, and more generally, the Heat have really settled into a rhythm defending the pick-and-roll. LeBron James and Wade couldn't buy a jumper but both fought for position and free throws. Wade made a number a great passes out of pick-and-rolls and James continues to punish the Thunder with his strength. All repeatable.
Stein: Same thing as Game 2. The Heat managed to get four guys playing at a pretty high level: Wade, Bosh, Battier and, of course, LeBron. And that's been enough of a platform because Mr. James, having never scored more than 25 points in a Finals game before this series, is doing it at both ends at a really high level.
Verrier: LeBron and free throw shooting. The Heat shot under 40 percent from the floor and hit on just 1 of 19 shots taken between the 3-point line and the paint, but they got to the line and made their freebies and LeBron finished with the game high in points for the eighth time in Miami's past 10 games.
---
3. What's your take on Kevin Durant's foul trouble?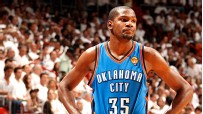 Arnovitz: We can debate whether the foul-out rule should be abolished, but as long as it exists, a coach has to manage risk in the most sensible way. When you have an offense dependent on Kevin Durant, you have to think twice before banishing him to the bench for a dozen possessions, then compounding the problem by yanking the team's other primary shot creator, Russell Westbrook. Why pay in advance for an eventuality that might never happen?
Haberstroh: That probably cost them the game. If you're blaming the officials for some dubious foul calls (and I think it's somewhat justified), you also have to assign equal blame to Scott Brooks for keeping Durant and Russell Westbrook on the bench for half of the third quarter. The Heat went on a 16-7 run during that time and more than anything, the coach's stubbornness contributed to the Heat's rally.
Mason: Perhaps an iffy call against Wade, but that's what happens when you let Wade get to the hoop. Durant still played 39 minutes, the same amount he played in Game 2. The Thunder missed (and allowed) too many free throws with Durant sitting, and that's not Brooks' fault. Down the stretch, bad turnovers, LeBron's work to deny KD the ball and Bosh's help defense were bigger factors.
Stein: We've seen more than one questionable call go against Durant in this series, but OKC has fallen short in too many other areas these past two games to pin its plight on refereeing. Among them: I'm sure Scotty Brooks wishes now that he didn't keep Westbrook on the bench for as long as he did once Durant picked up foul No. 4.
Verrier: Pretty fluky, since Durant has averaged fewer than two personals a game in his career. It's hard to cut him as much slack this time after having it hover over his second half in Game 2, but it's even harder to back Brooks' conservative decision to sit him in the third since KD (A) isn't foul-prone, (B) is necessary to have on the court and (C) didn't foul out in a similar situation three days earlier. Bizarre.
---
4. Miami is up 2-1 for the second straight Finals. Which is true?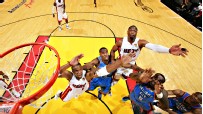 A. This year feels different.
B. Miami is one bad loss away from being in trouble.
C. [Your take here.]
Arnovitz: C. Stay tuned for more plot twists ahead. Seven-game series always seem linear the morning after, headed toward a logical conclusion based on the previous night's events. But somewhere in a parallel universe, the Thunder sustained the offense that vaulted them to that double-digit lead early in the third quarter. If OKC can re-establish that rhythm, then it's the better offensive team going forward.
Haberstroh: A. This year feels different. Because LeBron James is playing differently. After scoring just 18 points in the fourth quarter of six Finals games combined last season, James has already scored 21 points in three final frames this time around. Entering this series, he hadn't broken the 25-point plateau ever in the Finals and he's done that in all three games so far. There's still plenty of ball left, but James looks nothing like the James of last year.
Mason: A. This year feels different. Not only does it feel different, it is different! LeBron James is the reason. He's got a plan every time down the court and is consistently executing it with confidence. The plan: Get close to the hoop, do work.
Stein: A. This year feels different. Because LeBron is different. He's more aggressive, more determined, more impactful. Unlike last season, when he thrived in the conference finals and couldn't sustain it, James is playing as well as he did against Boston. Maybe better given the stakes.
Verrier: A. This year feels different. When's the last time LeBron's supposed fourth-quarter struggles were broached? Maybe I'm not looking in the right places, but I honestly can't remember. The Thunder can easily swing this the other way, but LeBron alone is averaging more than 12 more points per game in these Finals and Shane Battier's consistent production has done wonders. (Read that last part again. Bizarro world, indeed.)
---
5. Is this series going back to Oklahoma City?
Arnovitz: Yes. There are three potential outcomes for Games 4 and 5 in Miami: (1) The Heat win both. (2) The Thunder win both. (3) The teams split. Credit the Heat for some smart problem-solving in Game 3, but they haven't exactly cracked the code -- which means the field is a good bet against option No. 1.
Haberstroh: Yes. As awful as the Thunder looked in Game 3, I can't see them fumbling through four straight games. Not with how they completely dismantled the Spurs, Lakers and Mavericks. Remember, they were down 2-0 against the Spurs and then looked like the 1992 Dream Team thereafter. The Thunder will be back.
Mason: Yes. This series is incredibly close and it seems unwise to assume two very close wins predict two more wins -- especially with all that OKC has left on the table in the past two games. I still think it's going seven.
Stein: Yes. You don't really think the Thunder are going to lose four in a row after winning four straight against mighty San Antonio, do you? Miami's got to win Game 4 before we can ask this question. There's still a long series feel here.
Verrier: Most likely. This next game will probably go a long way in determining that, but you have to believe that the Thunderoos will steal at least one game in South Beach after coming within one possession with less than 20 seconds left and the ball in each of the past two games.


ESPN.com and the TrueHoop Network
Marc Stein is a senior writer for ESPN.com. Tom Haberstroh writes for the Heat Index. Kevin Arnovitz and Beckley Mason write for TrueHoop. Justin Verrier is an NBA editor for ESPN.com.
Follow the NBA on ESPN on Twitter | On Facebook | On Google+