With Game 5 of the NBA Finals at hand and Miami up 3-1, the Thunder-Heat series could be coming to an end. Our writers weigh in with another Finals edition of 5-on-5.
1. What does Game 5 mean for LeBron James?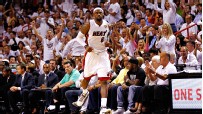 Henry Abbott, ESPN.com: If it's the game that gets him his first ring, it means that whole "Witness" campaign isn't a joke anymore. It means he enters the conversation as one of the best players ever. It means some, but nowhere near all, of his critics have been proved wholly wrong. It also validates his chosen approach, to answer critics by adding skills, working hard and staying almost silent on such topics.
Israel Gutierrez, ESPN.com The final hurdle. Whether it happens in Game 5, 6 or 7, it's the last step of a lifelong climb. Unlike other megastars like Michael Jordan or Kobe Bryant, who were doubted at some point in their basketball careers, LeBron was projected to be hoisting the Larry O'Brien Trophy since he was a freshman in high school. It has to be quite the intense feeling to be this close.
Zach Harper, Daily Dime Live: It means progression. It's not progression with him as a player. If he wins Game 5 or loses Game 5, I don't think it changes what he's done in this league or what he does in the future. A win would just mean he doesn't have to answer "will he?" any more and now moves on to "how many?" We'd finally get to have a new conversation about him.
Rob Peterson, ESPN.com: For the media, if the Heat win, it means a change in his legacy, which obviously concerns us more than it does him. We love to discuss this, especially in the NBA, where one player can influence an outcome more than in any other team sport. For James, it would be the final validation of his otherworldly talent and probably a huge weight off his shoulders. And if the Heat lose? It means Game 6.
Marc Stein, ESPN.com You know what? I see this as one of the last true sources of suspense in the 2011-12 season. I can confess that I'm totally torn on how to forecast this one. On one hand, I get the sense that LeBron is starting to win over a lot of my colleagues during this playoff run and that one ring, for now, is going to be enough to bring him a shower of praise probably none of us (LeBron first and foremost) thought possible when the lockout haze engulfed us all on July 1, 2011.
On the flip side, just imagining LeBron with his hands on the trophy is still somehow hard, even though he couldn't be much closer than he is now. My own sense is that one ring is going to bring him only a temporary respite from the madness, because he's got to win three or four to cement his status as an all-time great, but I'm really looking forward to seeing this all unfold in real time. It's going to be GREAT reality TV to watch just how much LeBron's life changes ... if the Heat finish this off as they should.
---
2. Would a Miami win redeem the events of July 2010?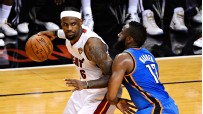 Abbott: I didn't see any great crimes in July 2010. I was more struck by the ferocity of the response. So, rather than validating what was blatantly a solid basketball move for a free agent, I would see it more as invalidating a hysterical response.
Gutierrez: It will officially justify his decision to play in Miami, at least to those who thought the duo of James and Dwyane Wade couldn't work. But in terms of the backlash he received from "The Decision" and the Big Three's now infamous introduction to Miami, there's no need to seek redemption for that. A championship for LeBron would mean so much more than just that.
Harper: I guess it does in a way. Teams are constructed to win championships, or at least that SHOULD be the reason. That's what Miami's efforts were, and if the Heat close this out within the next three games, it makes it a success relatively quickly. People might move the goalposts to say they need multiple titles, but that first one still has to happen before the others can.
Peterson: Yes. The Heat needed redemption, especially after predicting multiple titles, then following with one of the greatest face-plants in NBA history. Winning is the best disinfectant and the stench of '10 would fade. People who despise the Heat will still bring it up, but with a title, a member of this year's team could hold up his bejeweled ring finger, hold it to his lips and go, "Shhh!" to end the conversation.
Stein: Nothing will ever justify the pre-championship parade ... but there is zero reason for the Heat to ever regret signing LeBron and Bosh. Even if the LeBron-Wade-Bosh trio collapse from here, blow this series and never win a title, how could you second-guess Miami for trying this experiment? No team, two summers ago, would have turned away the opportunity to sign these three.
---
3. What have we learned after four games of the Finals?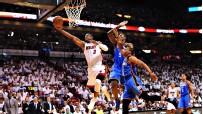 Abbott: When the Heat play the Thunder, it is good for basketball. Neither Kevin Durant nor LeBron James has important flaws keeping them from the top of the mountain. And this matchup could define the NBA for a number of years.
Gutierrez: That LeBron can compartmentalize and not get caught up in the big picture. There's no way to prove it, of course, but that had to be what happened to LeBron in last year's Finals. The enormity of the situation just froze him because so much was at stake. In these first four games, LeBron looks like himself, which is all the Heat ever wanted him to be.
Harper: We've learned that the NBA is really fun when its stars face off in the NBA Finals. We could have had plenty of entertaining matchups in the Finals this June, but getting the two best players in the world is pretty special. Seeing firsthand that the game is in LeBron and Durant's grasp gives you a good feeling about the future of the league.
Peterson: We've learned that as impressive as the Thunder's run through the West was, they've finally met a team that's as spry and as athletic as they are. We've also learned that Finals experience counts, not necessarily in terms of the level of play, but playing under the pressure of great expectations. On their journey to the Finals, the Thunder have failed one season, progressed the next. This Finals may be one Finals failure before greater success.
Stein: I know what I've learned. I've learned that maybe, just maybe, I got this one wrong, and that there's still another significant step to take for a first-time Finals team even after they mowed through the Mavs, Lakers and Spurs consecutively.
---
4. If the Thunder win Game 5, will they win the series?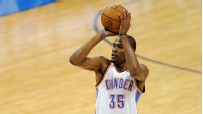 Abbott: I see every single game as a toss-up, no matter where it's played. Four games in, with two games on each court, the cumulative score is 389-384 Miami. Hardly a blowout. From here forward, the Thunder could have two of three at home, if they last that long. The basketball is as close as can be, even if the game count isn't. Which means, to me, that no one game predicts anything about the next one. Every game is anybody's game.
Gutierrez: No. The Heat have the experience of winning in Oklahoma City and the ability to do it again. It's just too difficult a task to fend off the Heat for three straight games, regardless of where they're played.
Harper: A 50-50 chance, I suppose. Winning three games in a row against Miami is really tough to do, although we saw Dallas accomplish this a year ago. Winning four straight against the Thunder is also hard to do, but Miami is within reach of accomplishing that. If the Thunder win, they live to answer the same questions in Game 6. Can't think they're able to win the series unless Game 7 happens.
Peterson: No. As intimidating and as loud as the crowd is in OKC, the Heat have proved they can win there. If the series goes back to OKC, we may return to the narrative of the Heat not being able to close out, not having heart and not having the mettle to be champions, but if anyone remembers what LeBron did to the Celtics in Boston, it's not guaranteed the Thunder will prevail.
Stein: I'd have to give them a solid 30 percent chance to win the series if the Thunder can steal Game 5. And I'm fully expecting Professor Hollinger to tell me that the actual probability number should be even higher if Miami fails to close this thing out on the first attempt. Think about it. Think about the one-of-a-kind pressure and scrutiny LeBron and Co. would be facing if this series gets dragged to a Game 7. Imagine that the series score line is suddenly 3-2 and a "yes" answer doesn't seem like an outrageous reach.
---
5. Who wins Game 5?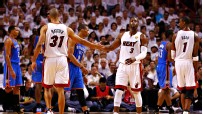 Abbott: No idea! But a guess, in the spirit of the game: Kevin Durant had a soul-searching look on his face at the end of Game 4. That may mean less than nothing. But it also just might mean he'll be a man possessed in Game 5. I can picture the remarkably focused Thunder, with no choice but to let it all hang out, doing something special in Game 5.
Gutierrez: The Heat. There will certainly be some tense moments, and it will be fun to watch how the Heat respond to them, but with everything sitting in front of them, you have to assume the Heat will not allow this chance to slip away.
Harper: I originally had Miami in six games and I'll stick with that. It's not so much that I don't believe in Miami closing it out, or that I do believe in OKC pulling this one out. It just seems this is too good of a matchup to see it end in five games. These have been an incredible five games, but it feels like this series isn't ready for bed yet.
Peterson: Miami. As amazing and electric as the Thunder can be, I think LeBron gets the look -- the thousand-yard stare which goes right through an opponent -- he had in Game 6 against the Celtics. Around midnight ET, David Stern is handing over the Larry O'Brien Trophy to Heat owner Micky Arison and the Bill Russell Finals MVP Award to LeBron.
Stein: Miami. The Heat know they can't afford to give OKC any life. Have to believe they'll be ready.


ESPN.com and the TrueHoop Network
Henry Abbott is the editor of TrueHoop. Marc Stein and Israel Gutierrez are senior writers for ESPN.com. Zach Harper hosts Daily Dime Live. Rob Peterson writes for the TrueHoop Network.
Follow the NBA on ESPN on Twitter | On Facebook | On Google+