After a brutal end to their first trip to the NBA Finals, the Miami Heat's Big Three bounced back big time in 2012, beating the Oklahoma City Thunder in five games to earn LeBron James his first ring.
Where do we stand now? Our team breaks things down.
1. LeBron James is ...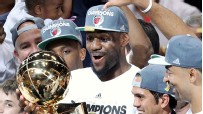 Kevin Arnovitz, ESPN.com: Now in full command of his ever-expanding, boundless game -- and has been rewarded with his first NBA championship. We can now retire any questions about his competitive makeup and any petty complaints about the manner in which he goes about his work. All that versatility and vision was realized with one of the most dominant postseason runs in NBA history.
Beckley Mason, ESPN.com: Living a dream come true. As much as this means to the conversation about where LeBron ranks among the greatest players to ever touch a basketball, this is a special, personal moment for James.
Chris Palmer, ESPN The Magazine: A world champion.
Marc Stein, ESPN.com: The best player in basketball. He won three titles Thursday night: NBA championship, NBA Finals MVP and "King" of the NBA after winning this head-to-head duel with Kevin Durant. Pretty good week for him. And something tells me that one ring will be plenty for a while. No matter what any of us on the outside think. One year removed from the 2011 Finals, you can't do better than one championship.
David Thorpe, Scouts Inc.: So much better mentally and emotionally now than he was a year ago. And he's a more consistent jumper away from having a chance to be one of the best five players ever.
---
2. The Miami Heat are ...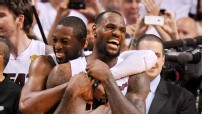 Arnovitz: A much more self-aware group than they were this time last year. Last season, Miami's stars alternated possessions. This season, they shared them -- a quality on full display in the Game 5 clincher. On a broader note, the Heat will go down as one of the first teams in pro sports assembled in large part by its stars.
Mason: A team in the most genuine sense. The same might not have been true last year, but their cohesive defense and sharp ball movement speak to the way this team has grown over the past two seasons. Nothing was handed to the Heat.
Palmer: Not done yet. Forget four, five, six, whatever. Let's focus on two or three. If they reach that, everything will have been worth it. And don't even think about putting an asterisk on this title because of the shortened season. A title is a title.
Stein: A better team of sponges than I anticipated. They learned from not only what happened in the 2011 Finals but also their Eastern Conference finals grind with Boston. They've been together for only two playoff runs, but they have toughened up significantly. And don't underestimate how much it helps to be as hungry as these Heaters were. Hunger drove Dallas last June, and gave Miami that extra gear needed to deal with the team that had just KO'd the Mavs, Lakers and Spurs this postseason.
Thorpe: Primed to win numerous titles. They can upgrade at center and find more athletic reserves. Bron and Chris Bosh will get better, too.
---
3. Kevin Durant is ...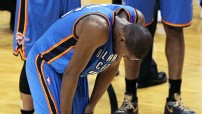 Arnovitz: Learning on the job -- and he's a quick study. As mortifying as Game 5 was for Durant, he'll bottle it up and use it for fuel. It's astonishing that, at age 23, he's led a team this far this fast.
Mason: Worthy of every bit of praise he's received and still has plenty of room to grow. It won't be long before Durant is ready to take on defending the other team's best player and contribute in every facet of the game the way James does now.
Palmer: Right where he needs to be. At 23, he's the second-best player in the NBA and only getting better. Tough to be young and patient, but it's just not his time yet. He'll take this hard, but the best is yet to come.
Stein: Going to be just fine. As sad as he looked in that hallway outside the visitors locker room, KD is going to be just fine. If there's a worry with him, it's that he'll overpractice this summer after the Olympics to try to avenge this loss before he even gets to training camp. But I have no doubt he'll keep adding to his game -- maybe even gradually develop a post game, as Rick Barry suggested Thursday in our pregame story -- and use this as fuel like the Heat just did.
Thorpe: Challenged to grow his overall game and persona the way LeBron did after losing to Dallas. He is the world's best scorer but still has to get better overall to help his team beat Miami in the coming years.
---
4. The Oklahoma City Thunder are ...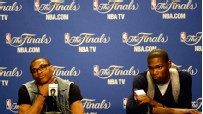 Arnovitz: Going to play a whole lot of June basketball in the coming years. In the interim, they'll need to figure out how they want to organize themselves defensively, but that's something they'll be able to accomplish in short order.
Mason: Only getting better. Imagine this core, even if it's not entirely intact, in five years. The Thunder are going to be contending for titles for the next decade.
Palmer: Not done with this Finals thing. They'll be back. Like, next year. Their core will remain intact for at least two years. Few adjustments need to be made. Listen to Erik Spoelstra, guys. Stay the course.
Stein: Going to get no sympathy from anyone in the league. They're set up so well for the future, even when you factor in all the tough decisions to come with James Harden and Serge Ibaka and filling the other holes on this roster, that they just have to grit through this pain. And they will. I have no doubt.
Thorpe: Only going to get better from this experience. Pain is the best motivator at this level.
---
5. The 2012 NBA Finals are ...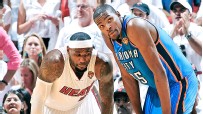 Arnovitz: The start of a new golden age for the NBA. Excellence, not parity, should be the goal of any sports league, and the NBA looks like it has a couple of titans -- and a few other interesting squads -- in its ranks.
Mason: The start of a special rivalry, hopefully. These were the two perfect teams to represent the league in a lockout-shortened season, and we'll be lucky if we get a few more of these matchups.
Palmer: A stage for James' greatness. It'll forever be remembered as the platform on which he began to shape what will be his lasting legacy. A little touchy feely, I know, but ask LeBron what it means.
Stein: Over too soon. As good as the first few games were, I think all the neutrals in the basketball universe were rooting for seven games. It won't go down as a classic now. It'll be remembered as a teaser. An appetizer that makes us want more LeBron-versus-Durant showdowns for the title.
Thorpe: Proof that the business of the NBA is thriving thanks to superstar players who play the right way and train harder than most adults in any profession. The lockout seems so long ago.


ESPN.com and the TrueHoop Network
Kevin Arnovitz, Beckley Mason, Chris Palmer, Marc Stein and David Thorpe cover the NBA for ESPN.com.
Follow the NBA on ESPN on Twitter | On Facebook | On Google+