Editor's note: Read 1-5 for free. Join Insider to view the rest of the rankings.
When it comes to historic player performances, the conference playoffs get no love. You can name and debate the best regular seasons and the best NBA Finals efforts, but the best overall postseason run doesn't spark the imagination quite the same way.
The same is true in terms of awards. The best regular seasons are rewarded with the MVP and there's an MVP of the NBA Finals, but save for the award Bill Simmons invented in "The Book of Basketball," there's nothing to honor the best playoff runs.
Which is what brings us here. Using my wins above replacement player (WARP) metric, we've ranked the best overall postseason performances dating back to 1978, the first year the NBA tracked a full box score including player turnovers.
WARP is up to the task because it considers both quality and quantity of performance. For example, Tim Duncan was better on a per-minute basis in the 2007 playoffs (when he had a 27.4 PER) than in 1999 (25.1). But the 23-year-old Duncan was able to log 43.1 minutes per game in the 1999 postseason as opposed to a relatively cushy 36.8 minutes per game in 2007, when he was already 31. Those extra six minutes a game Duncan kept backup Will Perdue on the bench mattered to the San Antonio Spurs, and using WARP credits him for it.
I did make one adjustment to the overall WARP totals. It's unfair to give players credit for playing more games in each series simply because they needed more time to eliminate their opponents. For example, Duncan and the Spurs played 24 games en route to the 2003 title, while Shaquille O'Neal and the Los Angeles Lakers needed 16 to win in 2001. Both teams get the same trophy, so they should get equal credit. To do that -- and also adjust for best-of-five and best-of-three series in previous decades -- I prorated each series to an average of six games.
Since the goal of a postseason run is the title, I also added one WARP for champions. And, though it doesn't always go to the player who was best in the playoffs, I also awarded a 0.5 WARP bonus to each year's Finals MVP.
With that, we have a ranking of the greatest individual playoff runs in modern NBA history.
1. Michael Jordan, Bulls, 1991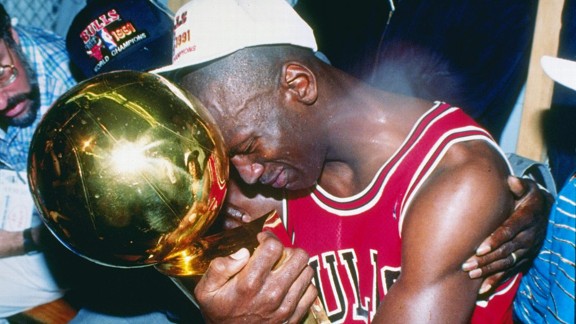 ---
PELTON'S RATING
Position: SG | Age: 28
Result: Won NBA Finals | Finals MVP
It's no surprise that one of Jordan's six championship runs would rise to the top of these rankings. That Jordan's first title rates as his best individual performance -- and comfortably so -- is a bit unexpected. Remember that, as detailed in "The Jordan Rules," the Bulls were still finding the right balance between being "Michael and the Jordanaires" and a team as late as the fourth quarter of their NBA Finals-clinching Game 5 win over the Lakers in L.A.
After easily dispatching the New York Knicks (3-0 sweep) and Philadelphia 76ers (4-1), Jordan and the Bulls dominated their nemeses, the Detroit Pistons. Jordan shot 53.5 percent from the field as Chicago swept the Bad Boys and conquered the biggest obstacle to a championship. But Jordan saved his greatest moments for the Finals, recording four point-assist double-doubles in five games and averaging 31.2 points, 11.4 assists and 6.6 rebounds against the Lakers.
The Bulls' 15-2 record in 1991 was actually their most dominant postseason of their six title runs. And it easily could have matched or even beaten the 15-1 run by the 2001 Lakers; Chicago's two losses came by two points each, and both times an opponent made the winning 3-pointer in the final 20 seconds (Game 3 at Philadelphia, Hersey Hawkins, and Game 1 vs. the Lakers, Sam Perkins). The Bulls outscored their opponents by an average of 11.7 points, good for second in modern playoff history.
Photo credit: Ken Levine/Getty Images
2. LeBron James, Heat, 2012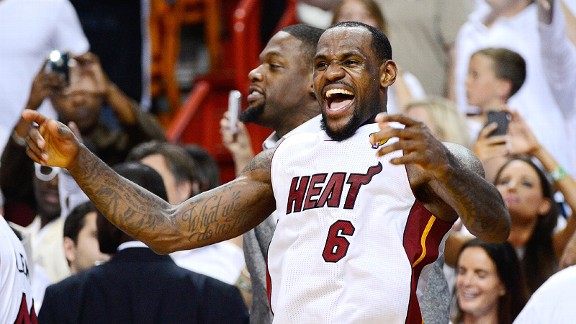 ---
PELTON'S RATING
Position: SF | Age: 27
Result: Won NBA Finals | Finals MVP
There's something about the first title run. Like Jordan, James quieted the critics and earned a coveted championship with a historic playoff performance. Unlike the Bulls' romp to the title, however, James' postseason saw him rise to the moment when the Heat appeared to be in trouble.
With Miami trailing the Indiana Pacers 2-1 and down at halftime of Game 4 in the conference semifinals, James exploded for 21 of his 40 points and 13 of his 18 rebounds in the second half as Miami outscored Indiana 55-39 and went on to win the series, 4-2. In the conference finals, the Heat faced elimination in Game 6 at Boston, but James responded with a performance for the ages, making 12 consecutive shot attempts and scoring 30 points by halftime en route to 45 in a win. He topped it off with 31 at home two nights later, clinching the series and sending Miami to a second straight Finals.
No such comebacks were needed in a 4-1 rout of the Oklahoma City Thunder in the next round, but James delivered two free throws in the closing seconds to seal Game 2 and gave the Heat the lead for good with his 3-pointer in Game 4 while battling cramps.
James' overall dominance is tough to deny. He came within six boards of joining Oscar Robertson (in 1963) as the second player to average at least 30 points, 10 rebounds and five assists in a playoff run.
Photo credit: Ronald Martinez/Getty Images
3. Tim Duncan, Spurs, 2003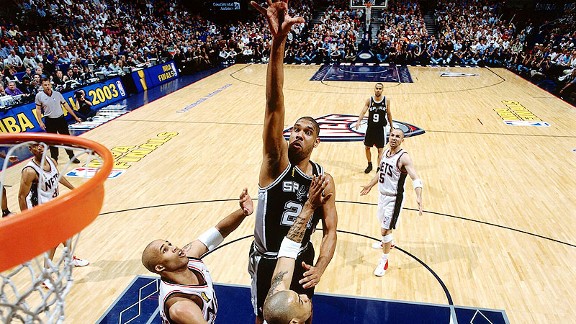 ---
PELTON'S RATING
Position: PF | Age: 27
Result: Won NBA Finals | Finals MVP
In terms of raw playoff WARP, Duncan's 2003 playoff run (8.0) tops the list because the Spurs, as noted in the introduction, needed 24 games to win the championship -- playing exactly six games in every series. Don't blame Duncan. No superstar has done more to drag an undermanned team to the title.
The 2003 Spurs were a team in transition, with David Robinson on his farewell tour and the backcourt of second-year point guard Tony Parker and rookie shooting guard Manu Ginobili yet to grow into co-stars. In the playoffs, Parker (14.7 PPG) and a young Stephen Jackson (12.8) were the only other San Antonio players to average double figures. Yet the Spurs still dispatched of the three-time defending champion L.A. Lakers and a 60-win Dallas Mavericks team (with a little help from Dirk Nowitzki's knee injury) to reach the Finals.
There, against a New Jersey Nets team making its second consecutive Finals appearance, Duncan took over to an unprecedented degree. He averaged 24.2 points, 17.0 rebounds, 5.3 assists and 5.3 blocks, capped by a 21-20-10-8 performance in the closeout Game 6 that came close to becoming the first quadruple-double in playoffs history. Duncan settled for the only 20-20-10 in the past 27 Finals, his second championship and the third spot on this list.
Photo credit: Nathaniel S. Butler/NBAE/Getty Images
4. Shaquille O'Neal, Lakers, 2000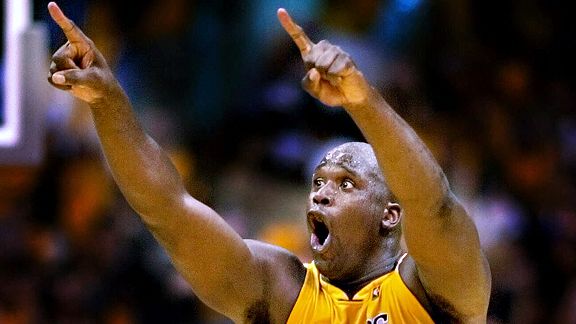 ---
PELTON'S RATING
Position: C | Age: 28
Result: Won NBA Finals | Finals MVP
Peak domination by the center who could call himself "Big Champion" for the first time at the end of this run. Coming off a regular season in which he was one first-place vote away from a unanimous MVP, O'Neal extended his position atop the league over an even 1,000 playoff minutes, a career high and good for ninth in modern NBA history. His 15.4 rebounds per game rank decimal points behind Duncan for the second-highest post-merger total for anyone who reached the NBA Finals, and he grabbed better than 20 percent of all available rebounds, the best of his playoff career.
O'Neal was particularly dominant coming off extended rest at the start of each series: In four Game 1s, he averaged 41.8 points per game on 60.7 percent shooting. But O'Neal left something for the clinchers, too. He had 32 points and 18 rebounds in the deciding Game 5 in the opening round against Sacramento. Though O'Neal's overall stat line (18 points, nine boards) from Game 7 against Portland was pedestrian, he came up with half of those points during the 28-7 run that brought the Lakers back from a 15-point deficit. And O'Neal clinched his first ring with a 41-point outing in Game 6 against the Indiana Pacers -- his third 40-point game of the NBA Finals.
Photo credit: AP Photo/Mark J. Terrill
5. Michael Jordan, Bulls, 1993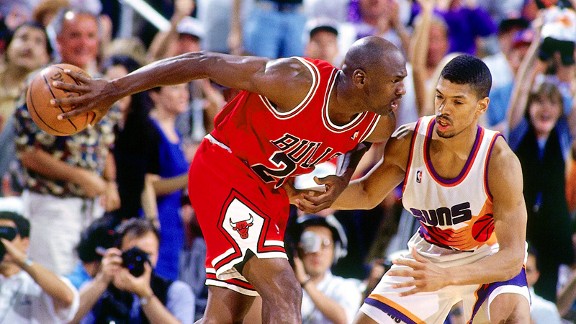 ---
PELTON'S RATING
Position: SG | Age: 30
Result: Won NBA Finals | Finals MVP
While the highest-scoring of Jordan's six championship runs didn't produce the kind of iconic memories as other years, it was plenty productive. Despite the growth in his supporting cast, Jordan used 38 percent of Chicago's plays during the postseason, the highest figure of any player ever to win a championship. (In fact, until Carmelo Anthony produced a 38.3 percent usage rate this year, it was the most of any player in multiple series.) Yet Jordan maintained his efficiency by making a career-high 28 3-pointers at nearly a 40 percent clip.
Having breezed through the first two rounds 7-0, Jordan and the Bulls ran into a tough New York Knicks defense with home-court advantage. After he was spotted at an Atlantic City casino in the wee hours before Game 2, Jordan shot 12-of-32 as the Knicks took a 2-0 series lead. He responded with 54 points back home in Game 4, then a triple-double (29 points, 14 assists, 10 rebounds) in a series-changing Game 5 win at Madison Square Garden. Against Charles Barkley and the Phoenix Suns in the NBA Finals, Jordan averaged 41 points, dropping 40-plus three times, highlighted by a 55 on 21-of-37 shooting in Game 4.
Photo credit: Nathaniel S. Butler/NBAE/Getty Images