Russell Westbrook is out indefinitely and set to have surgery on his right knee. Where does Oklahoma City go from here? We asked six experts to chime in on the injury shocker.
1. Your first thoughts on hearing of Westbrook's impending surgery?
J.A. Adande, ESPN.com: Impossible. Someone's Twitter feed must have been hacked, like with that fake White House bomb story. Russell Westbrook doesn't miss games. He's not about to miss playoff games. Wait … this is coming from the Thunder? Oh man.
Rahat Huq, Red 94: I have yet to pick my jaw up from off the floor.
Ramona Shelburne, ESPN.com: Sadness. But that's always my first thought when I hear one of the NBA's most dynamic players is going to be out a while after surgery. I'm sad for him, sad for Kevin Durant, sad for the Thunder and sad for all of us, because the NBA playoffs are better when guys like him are in them.
Ethan Sherwood Strauss, ESPN.com: I believe my hair leapt from my scalp as though I'd been electrocuted. That might be an exaggeration, but it's easy to get hyperbolic when discussing such a huge (and hugely unfortunate) basketball event. I did grasp for a silver lining in the form of, "I guess we'll see Kevin Durant tested in a new context."
Marc Stein, ESPN.com: Total shock. Russell Westbrook doesn't get hurt. Ever. Not the news I was expecting on this Friday.
Royce Young, Daily Thunder: That I woke up in some alternate reality in which up was down, day was night and Russell Westbrook could get hurt. We all saw the collision, we all saw him go down, we all saw him in pain. But he played on -- and played well -- so the possibility that he could legitimately be injured wasn't even a thought.
---
2. Was the Westbrook-Patrick Beverley play dirty?
Adande: No. A player has the right to go for the ball until the whistle blows … and sometimes even afterward if he's already in motion. We've seen players fake the timeout and go to the hoop, and we don't call that dirty. There's a difference between sneaky and dirty. Beverley didn't cross that line.
Huq: Not at all. In fact, I fail to even understand the rationale behind such a charge. That it resulted in such an unfortunate consequence doesn't make it a dirty play. It was a clean swipe at the ball, within the rules, and it's something every point guard does and has done since the beginning of time.
Shelburne: No. I was sitting 10 feet away from the play Wednesday night, and it was nothing more than two guys going hard after a loose ball. Yes, Beverley didn't have position on Westbrook, but there was a chance for a steal, and he went for it. At worst, it was a questionable decision. But it's the playoffs, you go for everything. When Westbrook slammed the scorers' table afterward, I took it as a sign of him being frustrated that he'd hurt himself, not anger at Beverley.
Strauss: Not at all. Blaming Beverley for this is as logical as blaming Westbrook for this, and I'm of the opinion that you should blame neither. This incident was a little like how Moises Alou's rage pegged Steve Bartman as the scapegoat. If a pained, peeved Russ hadn't reacted with such anger, Beverley's swipe would have been dismissed as the mundane basketball play it was. Instead, Westbrook's reaction put the spotlight on Beverley and gave fans a vessel for their aggravation.
Stein: Reckless is a better word than dirty. But it was definitely over the line. Reckless and regrettable. Westbrook's reaction when it happened tells you as much.
Young: Not at all. Because, to me, "dirty" implies that there was intent. And I don't think Beverley was doing anything other than just playing hard and playing to the whistle. Unfortunately, he played a little after the whistle blew. While it was dumb, over-aggressive and reckless, I don't think it was dirty in the slightest.
---
3. Does this change how the James Harden trade looks?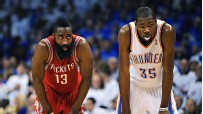 Adande: Yes, in addition to changing how the whole Thunder master plan works. The Thunder have always been about the future and the long term. This serves as a stark reminder that the long term brings more variables and introduces more risk. One play can undo years of planning. If the Thunder had Harden they'd still have two U.S. Olympians on the active roster. That could at least keep them in the championship conversation. Now, the discussion will likely be had without them.
Huq: Not really. It's not like having Harden alone would have made up for this loss. Sure, he could have picked up the playmaking and ballhandling duties, but what made last season's Thunder team so scary -- and theoretically would have continued to make them scary had they not traded Harden -- was the multitude of weapons. Just Harden and Durant, without Westbrook, isn't enough to topple the Heat.
Shelburne: Not for me. The James Harden trade looked bad then and now. But I'm from Los Angeles where folks are used to the Lakers owner spending way too much to keep players (like Lamar Odom in 2010) who are vital to a championship run. Losing Harden's playmaking and scoring off the bench didn't hurt the Thunder as much during the regular season as some predicted, but now that teams are going to load up on Durant the rest of the playoffs, pulling an extra punch could be very damaging to OKC's title hopes.
Stein: Don't think so. I'm sure some folks out there will presume that the Thunder might still have been able to contend for the 2012-13 championship if they had Harden next to Kevin Durant, but I don't see it that way. I tend to believe OKC will now be spared judgment this season, no matter how it turns out, with the referendum on the trade that these playoffs were supposed to be pushed to a later date. Major injuries tend to change the equation in a big way.
Strauss: It certainly could. If Westbrook can't come back, it's hard to survey the field and not conclude that OKC would be Western Conference favorites with a healthy Harden. Apologies to the Spurs, but a Harden-Serge Ibaka-Durant core is more impressive than San Antonio's regulars. It's playing the result, but the refusal to wait a year on the Harden trade might equal a lost season.
Young: Well, I suppose it does. But you can't plan for these types of things. There's just no way to know. You can't hang on to Harden trying to anticipate one of your key players going down at some point. It's just bad luck. Plain and simple.
---
4. Who wins the series?
Adande: The Thunder still win. They have enough to win two out of five games, even if it's only the two home games.
Huq: I still think Oklahoma City takes this in five or six. Teams respond to these sorts of events with emotion, and I fully expect that to be the case here. Durant will also likely average 40 PPG the rest of the way (though it's going to be harder getting open looks). This would have been different, though, had Houston held on in Game 2.
Shelburne: The Thunder should still win this because Durant is really that good. I've always felt Durant defers to Westbrook more than he should. He's capable of more, and he'll do more now that Westbrook is out. The Rockets offered a good challenge in Game 2 by pulling some tricky stuff out of the bag -- going with a small, three-guard lineup most of the time and throwing a zone defense at OKC in the fourth quarter -- but they still lack the depth and talent to beat the Thunder.
Stein: The Thunder still win in five. Six games, tops. For sure. They've got some players (Serge Ibaka, Kevin Martin, even Reggie Jackson) who can step up and do more than they're typically asked to do. It's a team that's uniquely equipped to try to compensate for Westbrook's absence offensively. The question is how they will handle it emotionally as a team. The Thunder have pretty much no experience playing without one of their two stars. They'll finish off Houston without Westbrook, but OKC's second-round degree of difficulty -- whether it's the Clippers or the Grizzlies -- just spiked significantly.
Strauss: Who has Kevin Durant still? Who's up 2-0, a position from which teams rarely lose? You could sell me on a possible Rockets upset if this series was tied up. At 2-0, it's just too tall an order for a team as defensively deficient as Houston is.
Young: If this happened in Game 1, the Rockets might have a serious chance, but the Thunder have a 2-0 series lead, and the emotion they're going to play with in Game 3 will be extremely strong. I think OKC still moves on, it might just take a little longer.
---
5. How far will the Thunder advance?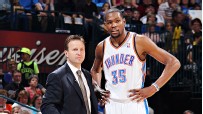 Adande: They won't get past the next round. Even if Westbrook is only out for a couple of weeks, that's enough time for the Clippers or Grizzlies to grab control of the series.
Huq: The winner of Memphis-L.A. Clippers will now likely dispose of the Thunder with ease. It's unfortunate; these injuries have really ruined this sesson's playoffs.
Shelburne: I'm just a huge believer in Durant, so I still like their chances of making it to the Finals again. Beating Miami in the Finals? That I don't know unless Westbrook can pull a Metta World Wolverine and bounce back in 12 days. If I had to guess, Westbrook could be back in some form or fashion by the conference finals or Finals. But for at least the next two or three weeks, the Thunder are very vulnerable. That second-round series against the Clippers or Grizzlies just got very interesting.
Stein: Getting to the Finals is actually still not out of the question because almost everyone else in the West that's realistically in their path has health issues, too. It looks like another huge break for a San Antonio team currently engaged with the Kobe-less Lakers, but let's see. Let's not get crazy here, though. Forcing a rematch with Miami is the absolute best they can hope for. The Thunder, as currently constituted, weren't beating Miami with Westbrook. They're not beating the Heat without him …… or with a Westbrook coming off knee surgery for a late-season return.
Strauss: I'll go out on a limb and predict a Finals trip for OKC. I'm not sure if Westbrook's coming back, so between that possibility and the possibility that the Thunder just might soldier on with a Durant-Ibaka pick-and-roll, I like OKC's chances. The difference between today and yesterday is that yesterday I loved OKC's chances.
Young: I think they're still in position to make it to the Western Conference finals. Teams overcome injuries and, while Westbrook is undeniably important, we've never seen this Thunder team without him. Literally. And don't forget: They still have that Durant guy.


ESPN.com
J.A. Adande, Ramona Shelburne and Marc Stein cover the NBA for ESPN.com. Ethan Sherwood Strauss contributes to ESPN.com. Rahat Huq and Royce Young contribute to the TrueHoop Network.
• Follow the NBA on ESPN on Twitter | On Facebook | On Google+