The Celtics, Rockets, Clippers and Hawks all face elimination in Game 6 on Friday night. Our 5-on-5 experts weigh in on each team's chances.
Fact or Fiction: The Celtics will be eliminated in Game 6.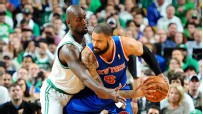 Kevin Arnovitz, ESPN.com/TrueHoop: Fiction. There's a grain of truth in Carmelo Anthony's contention that it's not the Celtics' defense -- but rather the Knicks' inability to make shots -- that has reversed this series. Still, the Knicks' stubbornness is baffling. They know how Boston likes to apply pressure defensively and have the personnel to deal with it, yet still choose the path of greatest resistance.
Andrew Han, ClipperBlog: Fact. Boston has put up an admirable effort in the series, but it took a horrific shooting night from Carmelo Anthony in Game 4, with J.R. Smith suspended, and a combined nightmare performance from Anthony and Smith in Game 5 for this to even get to Game 6. And the games were still close. A good showing by the Celtics, nonetheless.
Brett Koremenos, HoopSpeak: Fiction. Boston is at home and playing much better after tweaking both its rotation and its offensive approach. Combine that with New York's sudden insistence on playing isolation-heavy basketball with no ball movement, and there will be a second Game 7 in the East.
Brian Robb, Celtics Hub: Fiction. The Celtics have lost just two games at TD Garden in the past three months when Kevin Garnett has played. Combine that with the added pressure the Knicks have to be feeling from their tortured fan base, and I like our chances of seeing a Game 7 at Madison Square Garden on Sunday.
Tom Sunnergren, Hoop76: Fact. While the 2013 Celtics as 2004 Red Sox analogy has proved irresistible, the tidy "plucky Boston team storms back from a 3-0 deficit against a favorite from Gotham" narrative obscures the salient thing: Those Red Sox could actually play. The creaky, offensively challenged Celtics -- who finished the regular season with a negative scoring differential -- will see their luck run out Friday.
---
2. Fact or Fiction: The Rockets will be eliminated in Game 6.
Arnovitz: Fact. By every measure, the Rockets are the more fun and watchable product right now, and it would be a thrill to see this series go the full distance. But there was a certain rock-bottom nature to Game 5 that suggests Kevin Durant has spent every waking hour, and a few sleeping ones, plotting how he's going to consolidate the disparate pieces that form his team and win a basketball game.
Han: Fiction. Should this already be penciled in as the "Harden Strep Game"? After struggling all series, James Harden muted the critics with an effusive and efficient performance in Game 5. But the reason Houston will live to see a showdown in OKC is because the Rockets have been slowly improving through four games. And the Thunder haven't shown any adjustments to stymie their foe.
Koremenos: Fiction -- if Jeremy Lin is still out. Houston has been the beneficiary of injuries to both starting point guards in this series. The loss of Russell Westbrook crippled the Thunder, while Lin's absence has unleashed the Rockets' two superior point guards, Aaron Brooks and Patrick Beverley. Unless Thunder coach Scott Brooks gets his act together, there's a good chance this series heads back to Oklahoma City.
Robb: Fact. It's been a fun ride for Houston, as we've watched James Harden earn some satisfying payback against his former squad. Kevin Durant is still far and away the best player in this series, though, against a talented but flawed Rockets team. As long as Oklahoma City dumps its questionable strategies (hack-a-Asik), it'll finish off the Rockets in six.
Sunnergren: Fact. While I'm inclined to give James Harden the benefit of the doubt -- what he did Wednesday while fighting off the beginnings of a strep-throat infection was remarkable -- if OKC tightens its defense a notch or two and Kevin Durant plays a Game 6 that resembles his work in Games 1-5 (33.6 points, 7.8 rebounds, 6 assists a game), the Thunder advance.
---
3. Fact or Fiction: The Clippers will be eliminated in Game 6.
Arnovitz: Fact. Setting aside the bloated racquetball that's attached itself to Blake Griffin's ankle, the Grizzlies are playing winning basketball right now. They're controlling the interior and finding matchups that work in their favor on both ends. The one saving grace for the Clippers could be a prolific night from the perimeter -- but the Grizzlies have that covered, too.
Han: Fact. It's looking like instead of taking a flight back to Memphis for Game 3, Zach Randolph hopped into Blake Griffin's time-traveling Kia and returned to 2011 form. Heading into this series, the Clippers were theoretically versatile and talented enough to smash the Grizzlies' grind machine. But Griffin got hobbled and adjustments were scant in three games, so that may not be the case.
Koremenos: Fact. Coach Vinny Del Negro has made a mess of things and now is dealing with a severely limited Blake Griffin. The Clippers are far too dependent on Chris Paul, while the Grizzlies are riding a balanced attack led by a reinvigorated Zach Randolph.

Robb: Fact. Blake Griffin's ankle injury serves as the true X factor. Whether he plays in Game 6, he's likely not going to be at full strength for the remainder of this series. I don't see how the Clippers grind out a win on the road against the Grizzlies' tenacious defense without their full complement of offensive weapons.
Sunnergren:
Fiction. There are plenty of sound reasons to pick the Grizzlies in Game 6. They've won three straight, each by double figures. Zach Randolph has been a terror inside. Blake Griffin, hobbled by a high-ankle sprain, will be a game-time decision and should be less than 100 percent even if he gets the green light. This series was always headed to seven, though. I say it gets there.
---
4. Fact or Fiction: The Hawks will be eliminated in Game 6.
Arnovitz: Fiction, and I say this with no great faith in Atlanta's ability to win this series. Yet year after year, the Hawks somehow are able to generate energy in a vacuum. They win huge games after rolling over just two nights before. They'll be emboldened by one of the lamest crowds in pro sports (disclaimer: More than 300 attended at the Omni). And they'll take a better team to seven games before bowing out. That's how it works in Atlanta.
Han: Fiction. Is there any series that feels more comfortable in siding with the home team than this one? There's been no indication that either team travels well, and there's no reason to start believing that now. That may mean the Pacers cruise in Game 7, but Atlanta gets to run away with Game 6 first.
Koremenos: Fact. Though the Pacers struggle mightily on the road, it's still hard to imagine they can lose a third straight game away from home against a Hawks team that was painfully mediocre during the regular season. This one may be a wire-to-wire close game, but Indiana should be able to close out the series.
Robb: Fact. Part of me thinks this prediction is foolish, especially when you consider the Pacers haven't won a game in Atlanta since 2006. I still trust Frank Vogel's squad much more than Larry Drew's inconsistent Hawks. The Pacers will need stout defense to close out the series on the road, but they have enough veteran experience to get the job done.
Sunnergren:
Fact. If you remove the goofy Game 3 from the equation -- where the Hawks caught the Pacers off-guard by going with a bigger lineup and blew the visitor out by 21 -- Indiana has outscored Atlanta in this series by an average of 104-93. Though home court has been decisive, that sounds about right for a Game 6 final.
---
5. Fact or Fiction: An NBA finalist will come from one of these series.
Arnovitz: Fiction, which is saying a lot because I rarely bet against the field. If the Grizzlies win Friday night, they have a puncher's chance, and the Thunder still have time to problem-solve. But the Heat and Spurs have emerged as the smart play.
Han: Fact. It's exceptionally unlikely that Miami will be usurped in the East, and the Spurs seem to be the biggest beneficiary of an injured West. Still, if the choice is between San Antonio and the field of Oklahoma City, Houston and Memphis, chances are the field's odds slightly outweigh the old-guard contender's.
Koremenos: Fiction. Memphis has as good a chance as any of coming out of the West, but San Antonio, or even Golden State, should it spring another upset, still belongs as the favorite. And out East, no team has a chance of toppling the Heat, so the Eastern Conference finals is as far as any of the teams above will advance.
Robb: Fact. I still don't think you can count out the Thunder from taking home their second straight Western Conference crown, despite Russell Westbrook's season-ending injury. If they fail to get the job done though, look for the emerging Grizzlies to ride their stout front line and suffocating defense to their first NBA Finals berth.
Sunnergren: Fact. While the Spurs are probably a slight favorite out West -- the ease with which they put down the wounded Lakers was eye-opening -- the conference is so wide open that my money is on the field. The Thunder, Clippers and Grizzlies are each plausible finalists. And out East, no one's beating Miami.


ESPN.com and the TrueHoop Network
Kevin Arnovitz covers the NBA for ESPN.com. Andrew Han, Brett Koremenos, Brian Robb and Tom Sunnergren contribute to the TrueHoop Network.
• Follow the NBA on ESPN on Twitter | On Facebook | On Google+