It all comes down to this. Deadlocked after six games, the Brooklyn Nets and Chicago Bulls go head-to-head for a shot at the top-seeded Miami Heat in Round 2. Who will move on?
1. What do you make of the Nets after the first six games?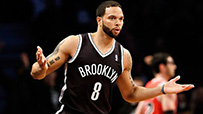 Bradford Doolittle, ESPN Insider: Same team that finished the season. Brooklyn is solid offensively when it keeps the offense focused where it needs to be but is not very good defensively. The Nets are a bunch of implacable personalities, which can make them maddening to watch when things aren't going well.
Nick Friedell, ESPN Chicago: There is talent on this team, but the Nets are nowhere near a championship contender. They might end up winning this series, but they don't play well enough together to do any kind of real damage in the playoffs.
Jeremy Gordon, Brooklyn's Finest: Burdened with obvious talent that doesn't quite fit together, the Nets still vacillate between cohesion and discombobulation. Artful sequences are followed by artless breakdowns filled with too many isolations and blown layups. When they're on, they play like a real Eastern Conference elite; when they're off, you wonder whether they could beat the Bobcats. Which team will show up?
Mike Mazzeo, ESPN New York: No idea. I don't think anyone has any idea. Let's be honest: If not for a 14-point collapse in Game 4, the Nets would've wrapped this series up. Instead, they're facing a Game 7. Brooklyn is the more talented team, but it has to play with passion and put it together for 48 minutes.
Matt McHale, By The Horns: An intriguing but flawed team that lucked into a matchup against an injury-riddled squad that played an entire season without its best player.
---
2. What do you make of the Bulls after the first six games?
Doolittle: You can't say they aren't leaving it all out on the floor. Everybody on the roster knows his role and executes it with precision. Unfortunately, they just don't have enough healthy playmakers to put the necessary points on the scoreboard. Injuries have really undermined this team in the three years since Tom Thibodeau took over.
Friedell: It's like "Groundhog Day" for this team. For the past two years, they have come to the finish line all banged up. The Bulls have a lot of heart, but heart and hustle take you only so far. Usually talent wins out, and the Bulls have too much injured talent right now.
Gordon: These Bulls are trained like a military unit carrying one directive: Fight until the mission succeeds or everyone is dead. They're flu-riddled, fascia-carrying, spinal-tap-receiving and otherwise banged-up -- yet they're still swaggering into Game 7 with full confidence as Thibodeau performs high-level coaching triage to keep them alive and kicking.
Mazzeo: They've got heart and gut; see: Robinson, Nate, and Noah, Joakim. It's healthy players they lack. And that should be the difference Saturday. It's unfortunate that Kirk Hinrich is dealing with a calf injury and Luol Deng is extremely sick.
McHale: Tough. Determined. Resolute. But, ultimately, we'll never know what this team might have accomplished with a little more good health.
---
3. If he played, would Derrick Rose help the Bulls in Game 7?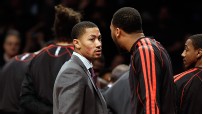 Doolittle: I doubt it. There's the uncertainty of how his knee would react in game situations, and he'd be rusty at everything: His shot would be in preseason form, and he'd be two steps slow on defense. Thibodeau probably would use Rose exclusively in the two-man game with familiar faces such as Carlos Boozer and Joakim Noah, which could work.
Friedell: Hell yes. The emotional lift would be big for the Bulls. But he's not going to play, so let's move on to something else.
Gordon: Of course. It might take a moment, but, if he's fully healthy and mentally comfortable after months of informal practice, Rose automatically returns to being one of the NBA's top 10 players, capable of penetrating Brooklyn's slow-to-recover transition defense and providing a huge spiritual boost. Plus, Nate Robinson is currently the starting point guard.
Mazzeo: Given how decimated they are at point guard, I think so. Even Rose at 50-60 percent would be nice. The Bulls could use as many bodies as they can get at this point.
McHale: He couldn't hurt. The Bulls are running out of warm bodies.
---
4. Whom should the Heat be rooting for in Game 7?
Doolittle: Brooklyn, easy. Although the Heat don't have a great answer for Brook Lopez, Miami will destroy the Brooklyn defense. Unless the Nets completely dominate the boards and control the pace, Miami will average 110 points against the Nets.
Friedell: Brooklyn. The Bulls might be banged-up, but Miami wants no part of them. Even if they sweep, LeBron & Co. know every game against a Thibodeau team would be a battle. Having watched the Nets play for the past two weeks, they know games against them wouldn't be nearly as physical.
Gordon: Brooklyn. The Nets might be more talented on paper, but they lack the singular hate toward Miami that's been bred in Chicago the past few seasons. Health and the Rose gap year aside, the Bulls are still capable of disrupting the Heat more than any other East team. Remember, it was the Bulls who broke the winning streak.
Mazzeo: Chicago. The Bulls had more success against them in the regular season, but their injuries are piling up. Despite losing three straight this series, Brooklyn still has arguably the best point guard-center tandem in the NBA in Deron Williams and Brook Lopez.
McHale: Not applicable. The Heat are way beyond hoping for a favorable matchup. Every matchup favors them.
---
5. Who'll win Game 7?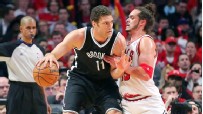 Doolittle: The Nets should win and probably easily. Home teams dominate Game 7s in general, and we could see Brooklyn get off to an emotional burst early as it did in Game 1. There is also the little matter of the Bulls simply not having enough healthy bodies to piece together a coherent rotation.
Friedell: The Nets have more talent, and I think they'll squeak this game out. But I wouldn't be surprised at all to see the Bulls win this one. They have too much pride to roll over, and they thrive off situations in which people count them out.
Gordon: It's a question of latent potential versus survival instinct. If the Nets play to their upper limit, they should handily win with the Barclays crowd fully behind them. But the Bulls won't go easily, and they'll play with maniacal confidence befitting a team depending on Robinson for its instant offense. That said, I have faith in the Nets getting it together.
Mazzeo: The Nets. I picked them to win the series in seven. No reason to change now. They have home court; they're healthier; and they've had success against the Bulls' defense. I think Williams will rise to the occasion and deliver late.
McHale: The Nets. The Bulls have played as bravely as any team could play through all the injuries and misfortune they've faced. But you can only go to the well so many times before it's dry.


ESPN.com and the TrueHoop Network
Bradford Doolittle writes for ESPN Insider. Nick Friedell covers the Bulls for ESPN Chicago. Mike Mazzeo covers the Nets for ESPN New York. Jeremy Gordon and Matt McHale contribute to the TrueHoop Network.
• Follow the NBA on ESPN on Twitter | On Facebook | On Google+