Who has the edge heading into Round 2? Our 5-on-5 panel breaks down the Eastern Conference semifinal matchup between the Miami Heat and Chicago Bulls.
1. Who faces the most pressure on the Bulls?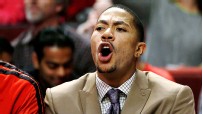 Nick Friedell, ESPNChicago.com: Joakim Noah. He's the leader of this team and he's the guy from whom the rest of his teammates take their cues. He has to play at a very high level for the Bulls to have a chance in this series. He loves facing the Heat, but will he have enough gas in the tank to will his team the way he did against Brooklyn?
Tom Haberstroh, ESPN.com: Derrick Rose. But that doesn't mean it's fair. The last thing the Bulls need is their franchise player jeopardizing his career against the overwhelming Heat. Sitting out would be the right move if there's a psychological hitch. Simply put, the risk isn't worth the reward. We don't want another Penny Hardaway situation on our hands.
Matt McHale, Bulls By The Horns: Derrick Rose. He's already taken a lot of criticism for not playing to this point. I imagine that criticism will only increase during this series. Of the players who are actually playing, probably Luol Deng, who will be tasked with trying to contain the league's MVP.
Danny Nowell, Portland Roundball: Is it too cute to say Derrick Rose? With obligatory nods to their guts and defense, I'm giving the Bulls very little chance of pulling the upset, and I suspect that every game they are outclassed by the Heat will turn up the pressure on Rose to return. This off-court issue has more drama than any on-court issue likely will.
Michael Wallace, ESPN.com: Derrick Rose. Of course, this probably shouldn't be the case because Rose has earned the benefit of any doubt. But neither Rose nor the Bulls are doing their franchise player any favors by refusing to announce he's shut down for the playoffs. If they do so and he comes back, fine. No biggie.
---
2. Who faces the most pressure on the Heat?
Friedell: Isn't it always LeBron James? All eyes are always focused on James -- especially after he collected another MVP trophy Sunday. Coach Tom Thibodeau will have his defense focused on slowing down James at all times, and the Bulls have a history of playing the Miami superstar tough. Given the Heat's recent history with the Bulls, James will surely try to break Chicago's will early.
Haberstroh: Chris Bosh. Keeping Joakim Noah off the boards and off his game will be the Heat's No. 1 priority. It's never a one-on-one ordeal, but Bosh's presence underneath will be breathlessly scrutinized if the Bulls steal a game or two on the back of Noah.
McHale: Honestly, at this point, it feels like the Heat are beyond facing pressure on an individual basis. They're eyeing a place in history ... not individual matchups.
Nowell:
Dwyane Wade. If Wade is healthy, and is capable of playing like it, the Heat have a shot at a really special playoff run. That's not to say they don't if his knee problems are a severe limitation, but if Wade can play something close to pain-free, the Heat don't have a serious challenge left in the field.
Wallace: Chris Bosh. This series will be physical, and that means Bosh must step outside of his comfort zone a bit and get dirty in the paint. He hasn't had many great games against the Bulls, but now is as good a time as any to deliver a few. Or, he stands to be exposed by Joakim Noah and Carlos Boozer.
---
3. What's the most intriguing matchup in this series?
Friedell: Jimmy Butler vs. LeBron James. Luol Deng is usually the guy who draws this defensive assignment for the Bulls, but with his health a major question mark heading into this series, Butler figures to get plenty of time on the MVP. The second-year swingman has proven he is one of the better defenders in the East, but he's never had a challenge quite like this on such a big stage.
Haberstroh: Erik Spoelstra vs. Tom Thibodeau. Do the Heat go big to match up with the Bulls underneath, or will they go in the opposite direction and go small with Shane Battier? For two of the brightest minds, the coaching chess match will be the game within the game.
McHale: Joakim Noah versus anybody and everybody. Noah was always the team's heart and soul, and with Rose still out, he has become the undisputed leader of this team. As he goes, so will the Bulls.
Nowell: Chicago versus the injury report. The Bulls who are listed day to day right now are a five-man playing unit, and they have achieved the towering accomplishment of lasting as long as they have. If their health woes persist, this could be a sweep; if a few of their mainstays get right, the Bulls could make this tough.
Wallace: Dwyane Wade vs. Jimmy Butler. Consider this Marquette-on-Marquette madness here. Wade is working through soreness in his right knee and won't be close to 100 percent. Butler was the unsung hero of the Bulls' upset that snapped Miami's 27-game winning streak and has emerged as a true two-way player. Both have plenty to prove.
---
4. Who or what is the X factor in this series?
Friedell: Nate Robinson. The Bulls are banged up and need someone to help carry them offensively. Robinson has that ability but he has to make sure he is taking good shots, instead of taking just any shots.
Haberstroh: Nate Robinson. They'll need him to score like Derrick Rose to have any shot in the series. With all of the injuries up and down the roster, shot-creation duties fall on this veteran minimum-contract player.
McHale: The heart of the Bulls. Obviously, Miami has a significant edge in talent. Chicago will need sheer force of will to make this series competitive. And based on what they've done so far, it's hard to bet against them putting up a bitter fight.
Nowell: Joakim Noah. When Chicago's firebrand defensive anchor is capable of gutting out maximum effort, the Bulls have an ability to outpunch their weight for stretches. Noah can cause several problems for Miami, and his team feeds off his zeal, no matter what his box score contributions are.
Wallace: The injury bug. Forget about Rose or the very slight possibility he might return. The Bulls have more pressing matters with the status of Kirk Hinrich (calf) and Luol Deng (illness). Chicago will be tough, but it doesn't stand much of a chance against Miami in this series without those two.
---
5. Who wins this series and in how many games?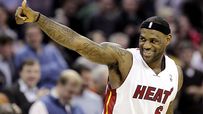 Friedell: Heat in 6. The Bulls have plenty of heart ... they just don't have enough healthy talent. They have enough to make the series interesting, but not enough to win four games.
Haberstroh: Heat in 5. Just like 2011 -- only with an alternate ending.
McHale: Heat in 5. They seem unstoppable right now. But the Bulls have enough pride -- and enough fight in them -- to steal a game.
Nowell:
Heat in 5. I'm giving the Bulls a game here out of respect for their fanatical determination, but this would be a short series even if the current Chicago roster were healthy. With nearly every one of their main contributors ailing, I just don't see the Bulls keeping pace with the Heat.
Wallace: Heat in 5. But it will probably be the hardest-fought five-game series since these teams met two years ago in the Eastern Conference finals.


ESPN.com and the TrueHoop Network
Tom Haberstroh and Michael Wallace cover the NBA for ESPN.com. Nick Friedell covers the NBA for ESPN Chicago.com. Matt McHale and Danny Nowell are part of the TrueHoop Network.
• Follow the NBA on ESPN on Twitter | On Facebook | On Google+