Who has the edge heading into Round 2? Our 5-on-5 panel breaks down the Western Conference semifinal matchup between the San Antonio Spurs and Golden State Warriors.
1. Who faces the most pressure on the Warriors?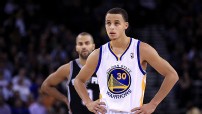 J.A. Adande, ESPN.com: Stephen Curry.
Now that he has been anointed a star he needs to deliver. The Warriors aren't expected to beat the Spurs, but he's expected to give them a chance. And if I were Curry I'd have cold sweats thinking about the way the Spurs shut down Chris Paul in last year's playoffs.
Graydon Gordian, 48 Minutes of Hell: Whoever is guarding Tony Parker. In recent years Parker has gotten what he wants when he wants on the offensive end of the floor. Whoever ends up covering him needs to hamper Parker's control of the court for the Warriors to pull off their second upset in a row.
Andrew McNeill, 48 Minutes of Hell: Andrew Bogut. Stephen Curry is expected to perform, sure, and Bogut has to do enough offensively to keep San Antonio from overloading against Curry, but the Warriors need Bogut to play impeccable interior defense against the Spurs' penetration. How effective Bogut is at keeping Tony Parker away from the rim could be the difference between a short series and a long one.
Ethan Sherwood Strauss, ESPN Insider: Jarrett Jack will be a free agent next season, and he now has quite the stage to prove his mettle. The issue for Jack is that his play has been erratic and often irrational. In totality, he's a good player and a vital one for this version of the Warriors. But Jack's worst moments are loud, and can cost him a lot of money on the open market should they happen in nationally televised playoff games.
Jack Winter, Warriors World: Stephen Curry. Curry's limitless range, crafty playmaking and frequent bursts of shot-making serve as the fulcrum of Golden State's offensive success. Should he struggle from the field or those nagging ankles issues resurface, the Warriors just aren't good enough to make this series competitive.
---
2. Who faces the most pressure on the Spurs?
Adande: Tony Parker.
He looked healthier toward the end of the first round, and with a full week off to heal even more there's no reason for him not to play like the MVP candidate he was before he got hurt. Tim Duncan has been a steady contributor, but Parker is the difference-maker.
Gordian: Whoever is guarding Steph Curry. Over the course of the series, Tony Parker, Danny Green and Kawhi Leonard may all get a chance to cover the Warriors' rising star. Limiting Curry's efficient production even slightly will be essential for San Antonio.
McNeill: Manu Ginobili. After a season battling injuries and inconsistency, Manu Ginobili looked like himself in the Spurs' first-round series. When Ginobili is performing, the Spurs are again one of the most dangerous offensive teams in the league, and the scoring burden is lifting off Kawhi Leonard, who can focus on making plays off the ball.
Strauss: Tony Parker has underwhelmed in three consecutive playoffs. Should the Spurs get upset (again), people might start to take notice of how Parker struggles when schemed for over the course of a series. Against the Warriors, Parker should be OK. He just happens to to be the San Antonio guy with the most to prove.
Winter: Tony Parker. His offensive burden isn't anything new; Parker's proven so adept at taking the reins of San Antonio's varied attack that his success is basically assured. But he'll be tasked with checking Curry at times, an annoying, arduous chore to say the least. How Parker manages his energy will go a long way in determining how long this series lasts.
---
3. What's the most intriguing matchup in this series?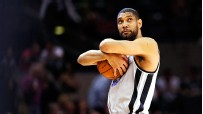 Adande: See Questions 1 and 2. The game's best shooter against one of the best at driving the lane. Should be fun.
Gordian: Andrew Bogut vs. Tim Duncan. The score-first guards are going to get all the publicity, but down in the paint the battle between the greatest power forward of all time and one of the league's most underrated big men is going to be something to behold.
McNeill: Danny Green vs. Stephen Curry. I fully expect Green to start out defending Curry. And while it's an impossible task, any success Green has bothering Curry will go a long way in this series. If Green can't keep up with the Warriors' gunner, expect Kawhi Leonard to bring a bigger, more physical style to the task.
Strauss: Klay Thompson vs. Tony Parker should be fun. Thompson is the kind of wing player who tends to guard Parker, and he's a good defender. Thompson's also a bit young to go up against a veteran of Parker's caliber and experience. That should be an entertaining matchup, as will Danny Green's defense on Curry.
Winter: Tim Duncan vs. Andrew Bogut. The Bogut we suddenly and surprisingly saw against Denver -- in Game 6 especially -- is capable of moving mountains. It'll take an effort of similar herculean proportions on both ends to limit Duncan's impact in this series. On the flip side, the Aussie's renaissance will test Duncan, too; the latter rarely meets a foe who can match his combination of size and intelligence, and Bogut comes close.
---
4. Who or what is the X factor in this series?
Adande: Jarrett Jack.
Will he be the player who began and ended the Warriors series with a combined 5-for-22 shooting, or the guy who scored 20-plus in the middle four games? With the Spurs' superior depth it's essential that Jack provide scoring support for Curry.
Gordian: Manu Ginobili. He played well against the Lakers' hobbled backcourt but four games is still too small a sample size to ensure that he's back. If he's truly healthy and in attack mode, the Warriors have a big problem. If he hasn't shaken off all the rust, San Antonio does.
McNeill: The Warriors' 29-game losing streak in San Antonio. Mark Jackson & Co. said that Golden State's inability to pull out a victory in the Alamo City since February of 1997 isn't their history, but how much do they believe that? The Warriors have to get at least one win, probably two, at the AT&T Center to win this series.
Strauss: Stephen Curry? Can a star be an X factor? My argument would be that, if having the best player in a series is so important, then the series hinges on whether Curry approaches that status. If the NBA's newest star gets outplayed by Parker or Duncan, the Warriors are sent home quickly. If Curry finds a way to rain fire on a savvy defense, well, that's another scenario entirely.
Winter: Three-point shooting. These days, the Warriors need production from beyond the arc more than ever -- the Spurs are one of the league's best at defending it. Golden State allowed more non-corner 3-point attempts than any team in the NBA -- San Antonio has the shot-makers to exploit that strategy. To have a chance in this series, the underdogs must out-gun the Spurs from deep by a healthy margin.
---
5. Who wins this series and in how many games?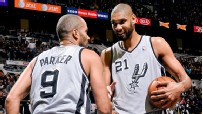 Adande: Spurs in six.
I'm giving the Warriors a shot in Game 1 because the Spurs might be a little rusty. But eventually the Spurs' experience and depth will prevail. San Antonio had to be laughing while the Warriors almost bobbled away Game 6 against Denver. The Spurs will feast on any similar case of nerves.
Gordian: Spurs in six. I could see the Spurs winning in five -- they're the more consistent team on both ends of the floor -- but it's easy to imagine Stephen Curry lighting up the scoreboard and stealing a game the Warriors had no business winning.
McNeill: Spurs in six. There will be at least one game where Stephen Curry goes supernova and the Warriors get enough offensive contributions elsewhere to beat the Spurs. I don't expect the Warriors to get a win in San Antonio, however, keeping the Spurs' home streak against Golden State alive.
Strauss: Spurs in five. The Warriors faced the perfect matchup in Denver, a team that poorly defended 3-pointers and couldn't take advantage of the Warriors' similarly porous perimeter defense. In contrast, the Spurs defend the perimeter well and shoot well from the perimeter. The prognosis isn't good for Golden State.
Winter: Spurs in five. The Warriors have lost their past 29 games in San Antonio, a streak that dates back to February 1997. They showed they could win on the road in Round 1, but the Spurs are a different animal than the Nuggets. San Antonio has history on its side, is the higher seed and is simply a better team than Golden State. Oracle Arena should be good for one Warriors win, but that alone.


ESPN.com and the TrueHoop Network
J.A. Adande is a senior NBA writer for ESPN.com. Ethan Sherwood Strauss writes for ESPN Insider. Graydon Gordian, Andrew McNeill and Jack Winter are part of the TrueHoop Network.
• Follow the NBA on ESPN on Twitter | On Facebook | On Google+