Just like that, the Thunder's season and title hopes are over. Weakened by Russell Westbrook's injury in Round 1, OKC fell to the Grizzlies in five games in the West semis. What lies ahead for the franchise? Let's examine.
1. Was the Thunder's season a success?
Kevin Arnovitz, ESPN.com: Definitely not a success, but not a failure either. It's a mulligan, so go ahead and affix an asterisk in the shape of a meniscus next to the 2012-13 Oklahoma City Thunder. They were worse without Westbrook than they needed to be, but that's not a meaningful valuation for what they are when he's healthy.
Ramona Shelburne, ESPN.com: No. Not even close. The franchise has reached the stage in its development where, to quote Kobe Bryant, any year that doesn't result in a championship is "a wasted year of my life." It was Finals or bust for the Thunder. The injury to Russell Westbrook was an ugly face card when you cautiously hit on a 16.
Marc Stein, ESPN.com: No. Pretty much a lost season. They needed to see what this team looked like post-Harden when it really mattered so they could plot the follow-up moves. Westbrook's injury prevented that from happening.
Ethan Sherwood Strauss, ESPN.com: No, no, it was not. Everybody understands that the Westbrook injury lowered the ceiling on this season. Even given that, bowing out to Memphis in five games is a disappointment. Scott Brooks' tactical inflexibility was on full display once his talent level got compromised. It's now harder to trust that Brooks will make the right choices going forward.
Royce Young, Daily Thunder: With emphasis, no. This team had legitimate title aspirations and had not only recovered from trading James Harden, but excelled immensely. This was the West's top seed and a 60-win team with a near historic margin of victory. They're young and they'll have more chances, but the only way to define success for the Thunder right now is with a ring.
---
2. How far would the Thunder have gone with Russell Westbrook?
Arnovitz: They had the No. 2 offense and the No. 4 defense in the league, and home-court advantage throughout the West. But more than that, the Thunder had a pretty good idea of who they were, how to get the shots they wanted and how to exploit their length defensively. A healthy Thunder squad was projected to take the West, then fall to Miami in the Finals. Sounds about right.
Shelburne: NBA Finals, though I'm not sure they had enough to beat the Heat. But the Thunder showed enough in the regular season -- winning 60 games and outpacing the Spurs for the top seed in the West -- to pencil them into a return engagement with Miami. Westbrook's injury cost Oklahoma City another crack at the Heat, and who knows how many of those it has left.
Stein: No further than last season. Winning the West again was possible with 2012-13 Russ. Beating Miami was not. The regular season didn't expose OKC but the playoffs would have.
Strauss: I believe they would have made the Finals. The Thunder had the best point differential in all of basketball, thanks in large part to a much improved defense. They could get away with blunders such as extensive playing time for Kendrick Perkins and Derek Fisher. Once Westbrook got hurt, though, these flaws became fatal.
Young: To the Finals. The Thunder fell in five games to the Grizzlies, but all four losses were agonizingly close. Which not only made it easy to imagine the difference a player like Westbrook would've made, but also showed how good of a team the Thunder are in general.
---
3. Should the Thunder try to re-sign Kevin Martin?
Arnovitz: For the right price, absolutely. Martin can give them what they want offensively in that role, and he largely did this season. He led the team in offensive rating and had a true shooting percentage above 60 percent. This is no longer about James Harden, because he isn't coming back. If the Thunder pass on Martin, they'll have to find someone else who can deliver the production.
Shelburne: Yes, but only if the price is right. Martin did exactly what the Thunder hoped he would when he was acquired from Houston. He did a good impersonation of James Harden, the sixth man. Once Westbrook went down, however, he wasn't up to the challenge of replacing him. As nicely as Martin fit, his skill set is not unique. The Thunder can find a replacement at a reasonable cost fairly easily.
Stein: Yes. He fits in well there. Doesn't need a lot of touches to produce, which is a handy skill to have playing alongside Durant and Westbrook. But I suspect he'll attract the sort of interest, with so many teams possessing cap space this summer, that gives the Thunder pause.
Strauss: Sure. He's an efficient offensive player and a helpful player altogether in a situation where Russell Westbrook has full range of motion in his knee. Martin's off-ball defense can frustrate, but at the right price, he's worth bringing back. The devil is in the details, though. Martin's certainly not worth his former salary.
Young: Try? Yes, absolutely. Martin was a solid bench producer and while James Harden he is not, he fit extremely well as an off-ball option to Durant and Westbrook. But it's all about the dollars and the Thunder aren't going to pony up for Martin in the same way they were willing with Harden. That's why the trade with Houston was less about him and more about Jeremy Lamb's potential.
---
4. What do the Thunder need to add this offseason?
Arnovitz: Not a whole lot. Reggie Jackson is now a high-quality backup point guard, so that need has been addressed. Overall, the frontcourt is strong, though it might be nice to have a Carl Landry-ish energy scorer available. They need what every team needs -- an iron-clad guarantee that everyone will be healthy in the spring.
Shelburne: I'd like to see Oklahoma City develop a low-post threat that will make defenses at least think twice about trapping Durant and Westbrook. Kendrick Perkins is a great leader and still contributes defensively, but he has regressed as an offensive threat.
Stein: They need another big, for starters, who gives them a lot more than Kendrick Perkins did. One more offensive threat who can create his own shot wouldn't hurt, either, to counteract how stagnant the offense can get sometimes. Also wonder if they'll finally decide to start Nick Collison with Serge Ibaka up front -- or just commit to getting him on the court more -- because he's that good defensively.
Strauss: It's never too late to use the amnesty clause on Kendrick Perkins. He's paid through 2015, and the Thunder could stand to replace the barely anything he provides with myriad free agents. Jarrett Jack could be helpful, as the Thunder need someone to run the offense when Westbrook sits.
Young: A healthy Russell Westbrook -- that's really it. There are some offseason roster questions and an opportunity to (likely) draft a lottery player, but this Thunder team has a bunch of talent already in place. A bright side to Westbrook's injury was it allowed Reggie Jackson to blossom, potentially giving the Thunder a scoring/playmaking bench punch.
---
5. As of today, are the Thunder favorites in the West next season?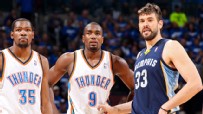 Arnovitz: Yes, barring seismic shifts in the Western Conference power structure. They were the incumbent champions, the No. 1 seed this season and young with an encouraging trend line. If Westbrook is restored to full health, that doesn't change.
Shelburne: Yeah, but some good it did them this year. Westbrook will be back and presumably just as good as ever once he recovers from knee surgery. Which puts OKC right back where they started this season -- contenders in the West, but still underdogs to unseat the Heat. Durant told Sports Illustrated he's tired of being second. That's where he'll start from again next year.
Stein: Nope. I'm inclined to say Memphis will be even stronger next season because those "rookie owners," as Rudy Gay dubbed them, are bound to add the perimeter threat(s) and depth to to finally complement the Grizzlies' big men and round out the rest of a quality core.
Strauss: So long as Russell Westbrook is coming back healthy, yes, OKC is the favorite. The injury obscures how they were so far ahead of the Western field in 2012-13. There still isn't another team in the West that compares to the talent of Durant-Westbrook-Ibaka.
Young: Yes. Durant, Westbrook and Ibaka are still all under the age of 25 and are only getting better. The West remains deep and there will be prime challengers, but the Thunder are the conference's most talented team overall ... as long as they're healthy.


ESPN.com and the TrueHoop Network
Kevin Arnovitz, Ramona Shelburne and Marc Stein cover the NBA for ESPN.com. Ethan Sherwood Strauss writes for ESPN.com. Royce Young contributes to the TrueHoop Network.
• Follow the NBA on ESPN on Twitter | On Facebook | On Google+