Heat-Pacers. Spurs-Grizzlies. The conference finals are underway with two heavyweight matchups. Our 5-on-5 crew examines the four teams remaining and more.
1. Which team left standing has been the most impressive thus far?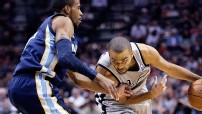 Jim Cavan, KnickerBlogger: Grizzlies. Sunday's stinker notwithstanding, the Grizzlies have taken not one, but two teams brim-loaded with high-flying talent and grounded them into sad submission. The Spurs are a different breed altogether, obviously, and it's safe to assume Pop & Co. won't be so easily solved. But if Memphis can somehow manage to steal Game 2, we could be looking at another script flip from the Grit & Grind crew.
D.J. Foster, ClipperBlog: San Antonio, where hot streaks go to die. The dwindling flame of the Los Angeles Lakers was stomped out easily, then red-hot Stephen Curry was held to 36.2 percent shooting in his last five games against San Antonio's rotating wet blankets. Now it appears to be Zach Randolph's turn to cool off. After torching the Clippers and Thunder, Z-Bo was held to just one lonely bucket in Game 1.
Kevin Pelton, ESPN Insider: Heat. No, Miami hasn't faced difficult competition to date, but the Heat have dominated. Relative to the regular-season performance of playoff opponents, nobody has been better in the playoffs than Miami.
Ramona Shelburne, ESPN.com: Is it the team that has dominated? Or the team that has surprised in getting this far? The Heat dropped that first game to the Bulls, but look to be at top form now despite Dwyane Wade's troublesome knee. But to me, Indiana and Memphis have been the most impressive in that neither was a lock to even get out of the first round.
Michael Wallace, Heat Index: Spurs. That's not only because of their blowout victory in Game 1 of the Western Conference finals against Memphis on Sunday. The Spurs completely annihilated the Kobe-less Lakers in the first round like they were supposed to, and also took out a very good Golden State team in the second round. They're peaking at the right time.
---
2. Are these conference finals the best possible matchups?
Cavan: Yes. What San Antonio-Memphis lacks in sizzle, it more than makes up for in grass-fed substance: San Antonio's poetic offense against Memphis' lunch-pail defense makes for an NBA wonk's dream. I'd be lying if I said New York wouldn't make for some serious fireworks, but Miami-Indiana will be much better than people think -- a battle of contrasting physicalities with the potential to go the distance.
Foster: Yes. If you want to see the Heat actually challenged, this was the best possible field. The Pacers, Grizzlies and Spurs might not bring the star power or drama Kevin Durant or Carmelo Anthony would, but these were the three best defensive teams in the regular season. From here on out, Miami will have to earn it.
Pelton: Yes. As the healthiest elite teams in the Western Conference, the Grizzlies and Spurs were the best possible series in the West. Out east, I was intrigued by the idea of seeing whether the Knicks could bury the Heat under a barrage of 3s, but the Pacers' defense is a better test for Miami.
Shelburne: No. I'm one of those who thinks it's always better when the Knicks, Lakers and Celtics play deep into the playoffs. No way the Lakers were getting past the Spurs in their weakened condition, but either the Knicks or Celtics could have gone further. So, no, these aren't the most sizzling matchups, but they should be good series, nonetheless.
Wallace: Yes. The media hype might not be as good as the playoffs could have offered. And, aside from Miami, these aren't your typical big-market or overspending teams. But from a basketball junkie perspective, there's no doubt that we've got the four best teams here, considering all the circumstances. You could make a case for Oklahoma City, but still…
---
3. Which team eliminated in Round 2 has the brightest future?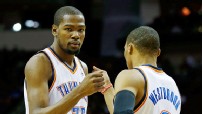 Cavan: Thunder, obviously. OKC's premature demise should put Russell Westbrook skeptics on permanent ice; without a reliable secondary scoring option, Kevin Durant looked like the late '80s Jordan, only with a worse defense. With those two at the helm, banners are more a matter of when than if, even if James Harden's departure remains the biggest "if" of all.
Foster: Thunder. It's tempting to be drawn in by the return of Derrick Rose to a suddenly promising younger core, but I wouldn't bet against Durant and Westbrook's chances of winning a championship in the near future. Time is probably chief among Oklahoma City's assets, and it's hard to see how the trajectory is pointing any direction but up.
Pelton: Thunder. As disappointing as the early end to the Thunder's season was, it said more about Russell Westbrook's value than about Oklahoma City's future. With Westbrook healthy, questions about Kendrick Perkins, Scott Brooks' offense and the bench will not loom nearly so large going forward.
Shelburne: Thunder. They'll easily resume their spot as the favorites in the West once Russell Westbrook gets healthy again. Until then, we're left to wonder whether this just felt like a wasted year or actually was one. I love the Warriors and what the Splash Brothers might one day become, but there's a reason Golden State finished sixth in the Western Conference standings in the regular season.
Wallace: Warriors. They are young, and they have a budding superstar in Stephen Curry, quality role players, a late-blooming big in Andrew Bogut and financial flexibility to get even better via free agency or trades. And to top it off, they're moving into a new arena in San Francisco soon. The Bulls are a close second with the return of Derrick Rose next season.
---
4. Will the Knicks ever be title contenders with Carmelo Anthony?
Cavan: Just because "2011 Mavs Redux" backfired doesn't mean New York's last, best chance has past. Glen Grunwald proved himself a capable successor to Donnie Walsh; a GM willing to think as much on his feet as outside the box. I expect the Knicks to take their new template -- the floor spacing and 3-point shooting -- and augment it with a dash of youth.
Foster: Not while Amar'e Stoudemire is on the books. You just can't sink 25 percent of your cap space into a player who produces essentially nothing. The Knicks made great strides this year by developing a style and using Anthony correctly, but Stoudemire's max deal through 2014-15 is a serious albatross.
Pelton: Yes. Depending on how exclusive your definition is, they might already have been there this season. Although the cast will have to change because of New York's precarious cap situation, the most important thing the Knicks did this year was establish a style of play -- built around Carmelo Anthony at power forward -- that can make them winners.
Shelburne: Go ask Amar'e Stoudemire. This year's failure wasn't on Carmelo. It was on everyone else. The Knicks are constructed with three main stars -- Carmelo, Amar'e and Tyson Chandler. They take up the majority of New York's salary cap and are expected to deliver. A healthy Amar'e and Chandler are the only way the Knicks become a true contender.
Wallace: Yes. Ultimately, Carmelo Anthony isn't the problem. It's the rest of that roster that's holding the Knicks back. Anthony needs to diversify his game and become more than a scorer. But the Knicks are too old and too slow and lack a dynamic enough supporting cast. They won't be a championship contender until they solve the Amar'e Stoudemire issue.
---
5. What's the most interesting storyline of the conference finals?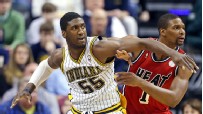 Cavan: Frank Vogel was able to run whiteboard circles around Mike Woodson by consistently getting New York's skipper to blink first and exploiting the mismatches. Erik Spoelstra won't be fooled so easily. Can Indy keep its big lineups on the floor -- and Roy Hibbert vertical -- or will Miami's more amorphous attack get the Pacers to bend just enough at just the right times? Color me intrigued.
Foster: Grit & Grind against Wit and Mind. The Grizzlies absolutely steamrolled two teams that couldn't adapt, but the Spurs aren't of the same ilk and will make adjustments in scheme and in personnel. Can the Grizzlies still get where they want to go with Gregg Popovich and the Spurs regularly changing the terrain?
Pelton: Can the Grizzlies' frontcourt dominate the Spurs like it did with Memphis' first two opponents? The Grizzlies got off to a poor start in Game 1, particularly Zach Randolph. With a pair of 6-foot-11 starters, San Antonio presents a much more formidable challenge -- one Randolph and Marc Gasol will have to figure out to keep Memphis' run going.
Shelburne: To me, it's whether Tim Duncan has another run in him. We all kind of counted the Spurs out at the end of the regular season and in the first part of the Warriors series. But this proud, veteran team refuses to stay down. If Duncan pulls this one out and has a chance at his fifth NBA title, I dare you not to root for him.
Wallace: There's the Spurs going on one final title run with Duncan, Tony Parker and Manu Ginobili. There's Memphis finally breaking through despite the midseason trade of its leading scorer. And you've got Indiana looking to pull off the biggest upset of the postseason. But LeBron chasing a second straight title to go with his fourth MVP in five seasons trumps them all.


ESPN.com and the TrueHoop Network
Kevin Pelton, Ramona Shelburne and Michael Wallace cover the NBA for ESPN.com. Jim Cavan and D.J. Foster contribute to the TrueHoop Network.
• Follow the NBA on ESPN on Twitter | On Facebook | On Google+