King James or King George? Our panel breaks down the Eastern Conference finals between the Miami Heat and Indiana Pacers. The series begins tonight (ESPN Radio, 7:30 ET).
1. Who faces the most pressure on the Pacers?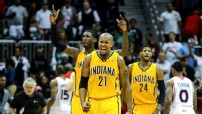 Tim Donahue, 8 Points, 9 Seconds: Paul George. He will spend pretty much every second he's on the floor guarding LeBron James or Dwyane Wade, and he'll be asked to provide offense at the other end. He played a great defensive series against the Knicks but a problematic offensive one. He'll have to do better for the Pacers to have a chance against Miami.
Tom Haberstroh, ESPN.com: Roy Hibbert. The big man in the middle holds the most responsibility on both ends of the floor for the Pacers, so the Heat will try everything in their power to get the 7-foot-2 wall in foul trouble. If Hibbert can plug the middle and keep LeBron James and Dwyane Wade out of the basket area, that's half the battle.
Jared Wade, 8 Points, 9 Seconds: David West. The media and fans won't rake him over the coals if Indiana loses, but he is the team's veteran leader. The team's identity galvanized once he arrived, and he is coming off a bad series against New York. Nobody will feel the loss harder than West if his team fails to produce.
Michael Wallace, ESPN.com: David West. He's a pending free agent who stands to earn -- or lose -- big money based on his performance in this series. West has a clear advantage against Udonis Haslem and Shane Battier, and he needs to put up Karl Malone-type numbers for the Pacers to shock Miami.
Brian Windhorst, ESPN.com: Roy Hibbert. He has the ability to swing some advantages in the Pacers' direction but only if he stays out of foul trouble and is able to effectively defend the rim. Hibbert had a golden chance to carry Indiana a year ago when Chris Bosh went down and the Heat were throwing people like Dexter Pittman at him. Miami is better positioned and deeper now, but Hibbert has been a completely different player in the playoffs.
---
2. Who faces the most pressure on the Heat?
Donahue: LeBron James. It's always LeBron. Chris Bosh will get the most hipshot criticism and Wade may be the one most susceptible to struggling, but this Heat experiment remains all about LeBron.
Haberstroh: Chris Bosh. He watched the series from the couch last season, but he'll be right in the middle of the action this time around. He better be equipped with his sharpened 3-point shot, because he'll need it to stretch Hibbert to the perimeter and open up the paint for James and Wade. The Heat would love to see his rebounding surge continue against the Pacers' front line.
Wade: LeBron. Always LeBron. Even though he got the monkey off his back last year, the tables could turn if he fails to win when it is expected of him. The machine always needs a new fall guy to crucify, and James could become its mark again if Miami doesn't complete a back-to-back title run that seems preordained.
Wallace: Chris Bosh. It probably should be Wade, but James tends to do enough to cover for him when he struggles. But the Heat have no alternative when Bosh isn't producing. Bosh was lost to injury in Game 1 against the Pacers last season but vows to have a huge impact this time.
Windhorst: LeBron. He will always face the most pressure. You could make cases for other players for various reasons, but let's be honest: When it comes to the playoffs, the eyes will always be on LeBron.
---
3. What's the most intriguing matchup in this series?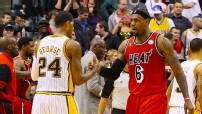 Donahue: Dwyane Wade versus Lance Stephenson, if for no other reason than that Lance is the most intriguing player in the series. Wade could exploit Stephenson offensively, but Stephenson could be a difference-maker for the Pacers if he rebounds and pushes the tempo.
Haberstroh: David West versus Shane Battier. You thought Carlos Boozer grappling with Battier was entertaining? It will look like child's play compared to West and Battier on a bigger stage. If the Heat want to succeed playing small, Battier must play big inside defensively and outside on the other end of the floor.
Wade: LeBron James versus Paul George. George did a great job flummoxing Carmelo Anthony last series, and the Pacers will need a similar effort against James. The four-time MVP is much more dynamic, so it will require an all-hands-on-deck approach from Indiana, but the Pacers' All-Star must play huge on both ends.
Wallace: LeBron says Bosh versus Hibbert is the key clash, but I'm leaning toward Wade versus Stephenson. We know Wade's knee is an issue again, but he won't catch many breaks against Stephenson, who dominated the Knicks at times with his athleticism, strength and confidence. He's already had some run-ins with Wade, so it'll be interesting to watch.
Windhorst: LeBron James versus Paul George. I could talk X's and O's about the Pacers' big lineup versus the Heat's small lineup, but George was fantastic in using his size and quickness the last series to limit Anthony. James is a more complex challenge, and the budding star did not perform that well on LeBron and Wade in last year's playoffs. We'll see just how much he's developed.
---
4. Who or what is the X factor in this series?
Donahue: Turnovers. In the Pacers' two wins versus the Heat in the regular season, they committed only 12 and nine turnovers, respectively. They coughed up 16 in the loss. Look for the Heat to aggressively trap Roy Hibbert and David West. If the two can't handle it, it means plenty of easy points for Miami and probably a short series.
Haberstroh: Ray Allen. The 37-year-old was held scoreless in two games this season, and both were double-digit losses to the Pacers. Locking down the 3-point line has been the calling card of the Pacers' defense this season, so Allen's ability to find space and capitalize will be pivotal in this series. When he gets hot, the Heat are nearly impossible to beat.
Wade: Lance Stephenson. The world saw what he is capable of in Game 6 against New York. If Indiana is to pull off an upset, it will be in large part because Stephenson is able to replicate that intensity in a few games.
Wallace: The Heat's shooters. Battier, Chalmers and Allen haven't exactly been lighting it up on a consistent basis this postseason, but they tend to turn things around in a hurry. At some point, the Heat will shift to their small lineup, which means Battier's ability to stretch the floor alongside Bosh will create matchup dilemmas for the Pacers.
Windhorst: Lance Stephenson. It's been a breakout year for Stephenson, who is coming off the best game of his career (25 points, 10 rebounds) in a series-clinching win over the Knicks. But he is also a little unstable at times and can disappear. If he continues to play well and gives the diminished Wade problems, Stephenson could really help the Pacers' cause.
---
5. Who wins the series and in how many games?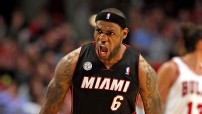 Donahue: Heat in 6, but 5 is probably more likely. In the Pacers' first two series of this postseason, they boasted five of the top six or seven players. In this one, Miami will have the top three, and that advantage is prohibitive. Short of some magic, there's really no one in this year's playoffs that should give Miami trouble.
Haberstroh: Heat in 6. Same teams, different personnel, same result as last year.
Wade: The same result as the last time these teams met in the postseason: Heat in 6.
Wallace: Heat in 6, but I won't be stunned if it goes the distance. In fact, I'd be more surprised if it goes five than I would be to see it go seven.
Windhorst: Heat in 6. After West and Hibbert scolded me in the locker room last week for picking the Knicks in the last series, I'm picking against Indy again. As a reminder, the Heat are 45-3 since losing to the Pacers on Feb. 1. So giving the Pacers and their great home crowd two wins is a sign of respect.


ESPN.com and the TrueHoop Network
Tom Haberstroh, Michael Wallace and Brian Windhorst cover the NBA for ESPN.com. Tim Donahue and Jared Wade are part of the TrueHoop Network.
• Follow the NBA on ESPN on Twitter | On Facebook | On Google+