The Grizzlies head home to Memphis looking to dig themselves out of a 2-0 hole. Will the San Antonio Spurs give up any ground? We weigh in on the big questions of the series heading into Saturday's Game 3 at the Grindhouse.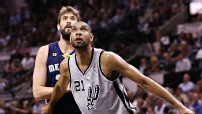 Kevin Arnovitz, ESPN.com: Duncan was the most productive two-way big man in the league this season, at 37 years old. He scored more points per 48 minutes than he has in eight seasons and had his best rebounding season of the past five. Gasol isn't far from claiming the mantle -- and might already be there defensively -- but he needs to hunt shots more aggressively, especially when things get gummy on the offensive end for Memphis.
Chip Crain, 3 Shades of Blue: Yes. Duncan is one of the top 50 players in NBA history; Gasol has had a great season. If you need someone to play 40-plus minutes and carry the team at the defensive end, I'd take Gasol. But Duncan is better for the first 40 minutes.
Andrew McNeill, 48 Minutes of Hell: Yes. Although Gasol rightfully received the Defensive Player of the Year award, Duncan was the better two-way player this season. Duncan averaged more points, rebounds and blocks per game, and his PER was almost five points higher. This while anchoring a defense that finished just one spot behind Gasol's in defensive efficiency.
Danny Nowell, Portland Roundball Soc.: No. Duncan's first-team All-NBA selection was a legacy call, and I'm fine with that, but Gasol is the better player at this moment. And that's no knock on Timmy, as I think Gasol is currently the world's best center. Or, "power forward," if we're indulging Duncan.
Darius Soriano, Forum Blue and Gold: No, give me Marc Gasol. Duncan has aged like fine wine, but Gasol's the better defensive player and is just as skilled offensively (even though he's not the post player Duncan is).
---
2. Who is the most disappointing Grizzly so far?
Arnovitz: Zach Randolph, although the Grizzlies' rally in Game 2 was fueled largely by his production. Memphis can't just dump the ball in to Randolph on the right block in this series because the Spurs' defense anticipates everything. But if the Grizzlies can play away from Randolph, then work the ball over to him through reversals, and have Randolph run to the rim early, he should be able to sustain that success.
Crain: Tayshaun Prince. Sure, Randolph had a terrible Game 1, but his 15 points and 17 rebounds in Game 2 made up for that. Prince has been ignored by the Spurs defensively and still hasn't made an impact. The Grizzlies already have a hole on offense with Tony Allen. They can't play 3-on-5 and expect to win.
McNeill: It has to be Randolph. Z-Bo is shooting 7-for-26 so far in the conference finals and has yet to make a major positive impact. And while he continues to struggle offensively, the Spurs are exploiting him on defense on the pick-and-roll. Not a good two games so far.
Nowell: Tony Allen. He's never been a shooter, but Memphis' offense so depends on spacing in the lane. Even by TA's standards, a 2-for-11 night like he had in Game 2 is a disaster, and Lionel Hollins needs to figure out a different way to use him or play him less with Gasol and Randolph.
Soriano: Zach Randolph, though it's not entirely his fault. The Spurs masterfully sandwiched him in the post and pushed him away from the basket to make his catches, which has led to too many long jumpers. But he still must find ways to be productive if the Grizzlies are to come back in this series.
---
3. Do the Grizzlies miss Rudy Gay in this series?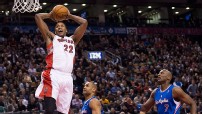 Arnovitz: Right, because what Memphis really needs right now is a ball-stopping wing who eats possessions with every meal and is, at best, an average team defender. At some point, we're going to have to realize that every time a pothole appears on Poplar Avenue, it isn't because the Grizzlies traded away Rudy Gay.
Crain: Judging from my Prince comments above, you'd expect me to say yes. But the Grizzlies wouldn't be in this series with Gay on the team. When Gay left, Gasol and Mike Conley became better players and leaders. The Grizzlies don't need their small forward to be their leading scorer. They just need some scoring.
McNeill: I'm leaning toward no. What Memphis needs more than anything are perimeter threats capable of knocking down open 3s. Although a better offensive player than most the Grizzlies have right now, Gay was only a 32 percent 3-point shooter this season. He wouldn't open things up for Z-Bo and Gasol.
Nowell: No. They miss shooting, yes, but most of the evidence that Gay was the shooter they needed came from his own willingness to shoot.
Soriano: No. Although he's more of a threat on the wing than Allen or Tayshaun Prince, Gay too often hijacked possessions with his isolation-heavy attack, which plays right into the Spurs' strength. Memphis needs crisp offensive execution and adherence to its game plan, not Gay's ad-lib attack that takes touches away from Conley, Gasol and Randolph.
---
4. What do the Grizzlies have to do to get back in the series?
Arnovitz: When the Grizzlies came home down 0-2 to the Clippers last month, they found their footing by getting back to what works best for them -- eating away at their opponents on the margins. For Memphis, that means getting beneath the Spurs' paint-focused defense, gambling a little bit in the passing lanes and on the offensive glass, and moving more readily in the half court with some sharp roll-and-replace sets.
Crain: In my best Lionel Hollins imitation: Just make shots, play defense and win games. It's not as if the Grizzlies lost two home games last week. The Grizzlies are undefeated in Memphis in the playoffs. So take care of business now and try to take one of two in San Antonio.
McNeill: Score points. The difference between this year's Spurs team and the past couple is that this squad has top-notch defense to go along with its dynamic offensive. If the Grizzlies are to win four of the next five games, they're going to have to see the ball go through the basket.
Nowell: Find somebody to knock down shots. It sounds reductive, I know, but Memphis has gotten this far because a rotating cast of Quincy Pondexter, Jerryd Bayless and Mike Conley has done just enough to balance the offense. If they can't regain their form, this series won't be a long one.
Soriano: They must find a way to slow Tony Parker defensively. The key to San Antonio's wins has been Parker's brilliance in creating shots for himself and teammates via his dribble penetration. If Parker can be contained, the Spurs' vaunted offense struggles and Memphis has a chance to grind out some wins.
---
5. Who will win Game 3?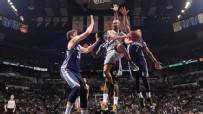 Arnovitz: The Grizzlies have been a resilient home team (5-0 in the playoffs) and have made solid adjustments on both ends in each of their previous two series.
Crain: I wouldn't be much of a Grizzlies blogger if I didn't say Memphis. On offense, the team needs Allen and Prince to play better, and defensively the Grizzlies need to play their game. If they do this, they should win.
McNeill: I'm thinking Memphis. The combination of slight desperation coupled with the boost of energy provided by the Grindhouse should be enough to propel them to a close win. Either way, I'm thinking San Antonio gets a split in Memphis and heads back to the AT&T Center up 3-1.
Nowell: Memphis. I have a lot of faith in the Grizzlies' ability to suck the air out of an opposing offense at home, so I imagine they'll get their first win even if they haven't left all their struggles in San Antonio.
Soriano: Memphis. They're back at home and can expect better play from their role players, especially offensively. I also expect some of Randolph's shots to start to fall, opening up the Grizzlies' offense, which should translate to better flow on that end.


ESPN.com and the TrueHoop Network
Kevin Arnovitz covers the NBA for ESPN.com. Chip Crain, Andrew McNeill, Danny Nowell and Darius Soriano contribute to the TrueHoop Network.
• Follow the NBA on ESPN on Twitter | On Facebook | On Google+