After a dominant performance by the Miami Heat in Game 3, where do we stand in the Eastern Conference finals? Our crew fills in some of the holes heading into a big fourth game in Indiana on Tuesday night (ESPN Radio, 7:30 ET).
1. Through three games, the Heat are ____________.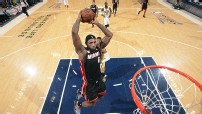 Tom Haberstroh, Heat Index: Versatile. And that's the way you need to play when you employ LeBron Raymone James. In Game 3, the Heat flexed their inside-out offense with James in the post, using their bigs as shooters. What other team can do that?
James Herbert, Hardwood Paroxysm: Clicking. In Game 3, they put together an almost perfect offensive game. While we'll remember LeBron James' dominance down low, every Miami starter scored at least 14 points. Two years ago, Dallas' Finals victory over the Heat was seen as a victory for "team basketball." The way the Heat share the ball these days, that's a distant memory.
Tom Sunnergren, Hoop76: Exactly where they should be. The 1995-96 Bulls lost Game 4 of the Finals by 21 points. The 1991-92 Bulls fell to Cleveland by 26 in Game 2 of the Eastern Conference finals. In 1972, the Lakers were blown out of their own arena in the opener of the Western Conference finals. Point being: Even for the "capital G" Great Teams, nothing comes easily. The Heat have their hands full, but they'll be fine.
Jared Wade, 8 Points, 9 Seconds: In command. The Heat's offense was off-kilter at times in Games 1 and 2, but they have discovered a way to become unguardable by putting James on the block, and now the Heat's role players are making shots. So the Pacers are scrambling for answers. If Indiana can't adjust -- immediately -- this series could be all but over on Tuesday.
Michael Wallace, Heat Index: Just getting to their preferred game. While it's unlikely Miami will duplicate its franchise record-setting first half from Game 3, when the Heat scored 70 points and had just one turnover, it is possible that the team could pick up where it left off in terms of the pace and space dynamics. The Heat clearly played at Indiana's tempo through the first two games.
---
2. Through three games, the Pacers are ____________.
Haberstroh: Hanging tough. No way the Heat should feel good about being up 2-1 when they easily could be down 2-1 in Indiana for Game 4. The Pacers shouldn't feel disheartened about where they are. This is the start of something bigger.
Herbert: Growing up. The first two games showed they belong here and will be a worthy foe for Miami going forward. The third game was a reminder of why the Heat were overwhelmingly favored to win the series. Indiana took quite the punch on Sunday. Let's see if it can learn something from it and hit back.
Sunnergren: Growing on us. Paul George is a formidable two-way player who, at 23, is on the cusp of superstardom. Roy Hibbert might be the most disruptive defensive player in the sport. George Hill is playing well enough that no one's longing for Kawhi Leonard. The Pacers have youth, a tremendous roster and a knack for finding talent and coaching it up. They'll be with us for a while.
Wade: Deflated, but in good shape. Beating the Heat was expected to be an uphill climb. The team's excellent play in Miami blurred that reality, but being in a position to head back to Florida tied with the champs is a fine place to be. If the Pacers take care of business in Game 4, they retain an outside shot of making the NBA Finals.
Wallace: Not giving up that easily. The Pacers are still confident -- and almost cocky to a fault. They believe they can bounce back from their first playoff loss at home this postseason and get right back into this series. They also believe there was a bit of a fluke factor to Miami's hot start. But this is where Indiana must prove its mental toughness.
---
3. This season, Chris Andersen has been ____________.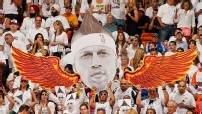 Haberstroh: Historic. Andersen has shot 35-for-41 (85 percent) in the playoffs, which is the best field goal percentage in NBA playoffs history with at least 40 shots. If it were easy, everyone would shoot 85 percent. Andersen has been everything the Heat bargained for and more.
Herbert: Unbeatable. Well, almost. The Heat are 49-5 when Andersen has played this season. His athleticism on defense and his ability to move without the ball and finish on offense have been exactly what Miami needed coming off the bench.
Sunnergren: Redefined. As soon as he enters the game, you can see that he's not quite like everyone else. A hush falls over the crowd: How did that man get so ... efficient? But while Birdman's efficacy has peaked during the playoffs -- where he's shooting an impossible 85.4 percent -- he was no slouch in the regular season, either, finishing second on a pretty good team in the "win shares/48" stat.
Wade: A revelation. He brings to the Heat what they sorely lacked: energy and activity around the rim. The team's spacing and shooting were superb all season, so the void largely went unnoticed. But since Birdman migrated south for the playoffs, beating Miami in a series seems nearly impossible.
Wallace: Pat Riley's best acquisition this season. Sounds crazy, considering the Heat landed Ray Allen, the best 3-point shooter in NBA history, last offseason. But while Allen added depth to a team stocked with shooters, Birdman's midseason arrival provided the interior defense, athleticism, energy and ability to finish what Miami had been lacking the past two seasons.
---
4. In Game 4, the Pacers must ____________.
Haberstroh: Defend. This is the calling card of a Frank Vogel-coached squad, and they just gave up one of the most efficient halves of basketball ever (70 points on 44 possessions before halftime for Miami in Game 3). That won't cut it. They need to stop LeBron in the post, and that might mean David West.
Herbert: Make Miami uncomfortable. The Heat looked at ease offensively throughout Game 4, as if they'd gotten a feel for the Pacers' defense and knew how to exploit it. Indiana needs to give the Heat some different looks and make them start thinking again.
Sunnergren: Pitch a perfect game. Indiana has a chance if it can manage to do the following: chase the Heat off the 3-point line; frustrate their interior game with a monster effort from Hibbert; get a herculean, LeBron-neutralizing performance from Paul George; control the glass; and continue shooting 3s successfully. That is, unless Birdman and Udonis Haslem shoot 12-for-13 again.
Wade: Win. It's obvious, but it's all that matters. To do so, Indiana must slow down LeBron in the post. If the Pacers cannot come up with an answer, they can spend more time planning their best nightlife options in South Beach than game-planning for Game 5. Because if they lose Tuesday, their season is over.
Wallace: Stop hemorrhaging points in the paint. Indiana is the bigger and supposedly more physical team, but the Heat have dominated the scoring down low. Miami has averaged 50.6 points on 67 percent shooting in the paint. As Vogel said, the Pacers must do a better job of making Miami feel their defensive presence in the lane.
---
5. The winner of Game 4 will be the ____________.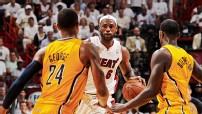 Haberstroh: Heat. As I said after Game 3, it feels as if they discovered a cheat code with LeBron in the post in this series. Throw multiple bodies at him and the Pacers finally might have lit the spark for Ray Allen and Shane Battier. Pick your poison.
Herbert: Heat. While it's sometimes foolish to place too much emphasis on the most recent game, in this case it felt like the series took a turn when James took to the post. Expect Indiana to throw multiple defenders at him this time. Also, expect him to make the proper play.
Sunnergren: Heat. The Heat are, it goes without saying, a much better team -- Miami has won 47 of its past 51 games; Indiana won two more than that in the entire regular season. But it also seems plain that the Game 3 mini-meltdown was something of a wake-up call for LeBron & Co. They should win out.
Wade: Pacers. Miami is the best team in the NBA, but after the way this series started, I have to think that it can't become this one-sided this quickly. They are still playing in Indiana, where the Pacers should be able to keep the Heat from scoring so easily again. For entertainment's sake, let's hope the series remains competitive.
Wallace: The team that scores the most points. Is that Gregg Popovich-ish enough for you? This question has made a fool of me going into the past two games. I picked the Heat in Game 2. They lost. I picked the Pacers in Game 3. They lost. I'd like to think I'm smart enough to get up from the table when I'm on a roll like that. So yes, I'm punking out.


ESPN.com and the TrueHoop Network
Tom Haberstroh and Michael Wallace cover the Heat and the NBA for ESPN.com. James Herbert, Tom Sunnergren and Jared Wade are part of the TrueHoop Network.
• Follow the NBA on ESPN on Twitter | On Facebook | On Google+