Game 4 between the Miami Heat and Indiana Pacers had everything: Roy Hibbert's dominance in the paint, plenty of flops and a few controversial calls. Our experts set the stage for Thursday night's Game 5 in Miami (ESPN Radio, 7:30 ET) and make their picks.
1. Did LeBron, D-West and Lance Stephenson deserve fines for flopping?
Henry Abbott, TrueHoop: By the standards of the NBA's rule, as written, absolutely. Probably Dwyane Wade, Shane Battier and some others, too. By the tradition of how these things have been policed all season, though, who knows? Hundreds of plays just like theirs have been ignored. Seems almost arbitrary to start cracking down now that a flop or two made the highlight package.
Tim Donahue, 8 Points, 9 Seconds: Under the purported policy, probably yes. Otherwise, no. The entire flopping conversation is exhausting and disingenuous. Fines are what the NBA does when it wants to look like it's doing something without actually having to do something. They offer little deterrence and do nothing to remedy in-game harm, if any was actually done.
Israel Gutierrez, ESPN.com: Yes. But what does it matter? Honestly, even these "harsher" penalties for flopping in the postseason don't mean much when a trip to the NBA Finals is on the line. The players could easily pay the fine and still do the exact same things in Game 5. Even Wade had a strong case for a fine against him. But the acting won't go away.
Aaron McGuire, Gothic Ginobili: Sure. Their flops were particularly striking examples of the craft. I'm glad that LeBron James didn't escape the fine simply because he's got a big name, and I'm glad they reviewed it and legislated to their rulebook. Flopping isn't a big deal to me, but this was reasonable.
David Thorpe, ESPN Insider: Yes. All were guilty of not flopping so much as "faking."
---
2. What's your take on the officiating in Game 4?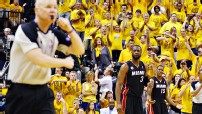 Abbott: Joey Crawford is fire. That's his deal. He brings heat to the refereeing profession. And fire can be handy! Everybody knows he'll stand up to anybody -- which has a certain appeal, especially to those who are convinced stars intimidate officials. Not this guy! But here's the thing about fire: It's all-consuming and imprecise. Rewind to watch Game 1, when the more measured Monty McCutchen (here he is talking about his approach to his job) ran the show. The referees had better control of that game, and to my eyes the calls were, all in all, more accurate.
Donahue: It was confusing, which may be more damning than any other way I could describe it. Officiating an NBA game is incredibly hard, so the most successful jobs are done by crews that establish how they're calling the game early and allow the players (and fans) to adapt. It was often impossible to guess what was or wasn't going to be whistled Tuesday night.
Gutierrez: I never thought the officials decided the game. It was a difficult game to call given all the unnecessary flailing going on. These teams are willing to take any advantage to get to the NBA Finals, and as LeBron James pointed out before Game 4, flopping is an unfortunate part of the game. The two late calls against the Heat -- LeBron's sixth on a screen and Dwyane Wade's travel -- were questionable but not horrible calls.
McGuire: The officiating was astonishingly poor in Game 4, but it wasn't the kind of poor that flipped the game. For every befuddling call in Indiana's favor, the referees missed an easy call in Miami's. The missed calls loomed over the proceedings, but they didn't unduly favor either team. It was just a slog to watch.
Thorpe: I rarely think about the refs, but in this game, they stunk. Getting the right call is all that should matter, and they just missed too often.
---
3. Is Pacers-Heat the best series so far this postseason?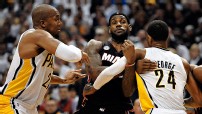 Abbott: Yes. Every Warriors and Bulls series was crazy fun to watch, and the Grizzlies took us on a special ride. But this is almost like a museum piece, where you want to frame every game and hang it on a wall. If they played best-of-35, I'd keep tuning in.
Donahue: It is to my eyes, but I'm biased. These are two teams that offer plenty of red meat for the viewers. It's a clash of styles that has produced some great play and three games that could have gone either way. Not sure how much more you could ask when you get this late in the postseason.
Gutierrez: I'll say yes, just a notch ahead of Spurs-Warriors. The Warriors eventually ran out of magic with their shooting, but these two Eastern Conference finalists won't fade. The Pacers have an advantage so large -- literally -- that even the best player in the world can't easily carry Miami past Indiana. Roy Hibbert has been such a presence in this series, it completely makes up for Indiana's shortcoming in offensive talent.
McGuire: Personally, I'm partial to Golden State's electric upset of the heavily favored Nuggets. That series was poorly defended, of course. But the offense flowed freely and the Stephen Curry show captivated a nation. This series is efficient and tense, but the poorly paced free-throw game and odd calls loom. And the defense has been strangely lacking. It's a phenomenal series. But Golden State one-upped it.
Thorpe: Most competitive? Probably. Most intense? No, that was Bulls-Heat. And most fun? No chance, as the Warriors-Spurs matchup was great to watch -- skills galore and upsets.
---
4. Is Roy Hibbert the best player against Miami in the Big Three era?
Abbott: The most effective offensive weapon in the game is a LeBron James drive, and James almost always shelves that attack when Hibbert is patrolling the paint. And Hibbert has spells when he scores easily against the Heat's generally excellent defense. I can't come up with another NBA player who similarly bothers the best player and team in the NBA. If I were building a squad to stop the Heat, he's the first guy I'd get.
Donahue: This is difficult to answer. Hibbert was actually pretty pedestrian against the Heat in their past three regular-season games (10 PPG, 8 RPG, 38 percent shooting). But he has never played better than he has over the first four games of this series -- 23 PPG, 12 RPG, 54 percent shooting -- and I struggle to recall another player reaching this level against Miami.
Gutierrez: No, not Hibbert alone. Russell Westbrook was a nightmare. Rajon Rondo, too. Obviously Dirk Nowitzki was a menace in the 2011 NBA Finals. What makes Hibbert unique is he's not alone in punishing the Heat inside. It's the entire Indiana style of play, including the toughness of David West. That makes Hibbert even more of a force, but there have been other individuals who have done more against Miami.
McGuire: Achtung! No. Heard of a German sharpshooter named Dirk Nowitzki? Lest ye forget, our flopsy-haired German averaged 26 points and 10 rebounds in a six-game series win. His defense wasn't half bad, either. Hibbert's had a phenomenal series, but barring a vintage 2009 Game 6 Dwight Howard throwback by Hibbert to win the series, Dirk was better.
Thorpe: This version of Hibbert, yes. Huge and skilled with lots of heart, he's the perfect foil against a team absent a player with that makeup.
---
5. Who wins Game 5?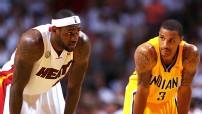 Abbott: The Heat are the better team. (Right? I mean, I think so. But unlike a week ago, now I know a lot of smart people would argue with me about that.) In the big picture, they have the deeper roster, the more proven ability to get wins, and more tactics to try. And they're at home. So I'll guess Heat, but I'd rather not guess, 'cause the real joy is in having no idea.
Donahue: Going back home, Miami has to be given the edge, but it's dependent on the supporting cast. When the Heat dominated Game 3, they did it on the strength of 26-for-39 shooting from Wade, Bosh, Mario Chalmers and Udonis Haslem. Anything approaching that kind of effectiveness would be too much for even Indiana's defense to overcome. Anything much less will make for a very interesting game.
Gutierrez: Going with the home team. Miami lost Game 5 at home in last year's Eastern Conference finals. And we remember the heroic effort it took from LeBron for Miami to advance. This will be as much about not repeating Game 5 history as it is about hitting back at Indiana. And when the Heat compete on the boards and attack offensively, they can still control the game, even against the Pacers.
McGuire: Miami. I felt the Pacers had at least a game's worth of pole position heading into Game 2. But after Game 3's massacre, I no longer feel the same. The Heat aren't playing very well, but the Indiana offense is playing about 20 leagues over their heads and LeBron simply isn't going to foul out again. I think the Heat finally wrest control tonight.
Thorpe: The Heat. They have a larger margin for error. But as we've seen, that does not mean they will win. I love what Erik Spoelstra said in a timeout early in Game 4: "It has to be who has the best team, not who gives the best effort." I'll be quoting that line for a decade.


ESPN.com and the TrueHoop Network
Henry Abbott, Israel Gutierrez and Daivd Thorpe cover the NBA for ESPN.com. Tim Donahue and Aaron McGuire are part of the TrueHoop Network.
• Follow the NBA on ESPN on Twitter | On Facebook | On Google+