The San Antonio Spurs edged the Miami Heat in Game 1 of the NBA Finals in a exciting opening act. Here's how our 5-on-5 crew saw things.
1. Tony Parker's buzzer-beater was ...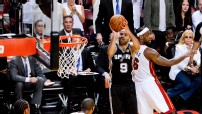 Israel Gutierrez, ESPN.com: The easiest part. It sounds crazy, but given all he did just to get a clean look, including one last fake with the shot clock dying, a leaning 18-foot banker was the reward.
Andrew McNeill, 48 Minutes Of Hell: Insane. I don't think it's possible to use any more of the 24-second clock than Parker did. That the officials were forced to let the call on the floor stand because replay didn't show anything definitive lets you know how close it was.
Marc Stein, ESPN.com: A bank shot, lucky or not, to make Tim Duncan jealous. Can't pay a higher compliment than that.
Ethan Sherwood Strauss, ESPN Insider: Epic. Not only was the shot high-difficulty, but the journey before it was like something out of a Tolkien novel. I like how LeBron characterized the adventure: "Tony did everything wrong, then did everything right on the same possession."
Michael Wallace, ESPN.com: Curly Neal-ish. That play had Harlem Globetrotter written all over it. It was the equivalent of the unassisted triple play in baseball. It was the backbreaker. After Parker made that shot over, around, under and through LeBron to beat the shot clock, was there any doubt from that point on that the Spurs would win? Not as far as I was concerned.
---
2. Fact or Fiction: The Heat need LeBron to score more.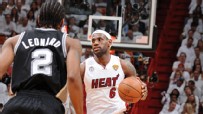 Gutierrez: Fact. The Spurs missed some good looks and shot 42 percent. Chances are the San Antonio offense will create more than 92 points per game from here on out. LeBron James specifically needs to think "score more" rather than letting the Spurs dictate who shoots.
McNeill: Fiction. Three other Heat players were in double figures in what turned out to be a fairly low-scoring game. Had a couple of plays gone the other way, we'd be talking about whether Parker and Tim Duncan need more help. It was that close a game.
Stein: Fact. In their current state, I'm afraid, that is a very factual statement. The problem, of course, is that Miami is playing a team that executes defensively as well as it does on the offensive end and has decided to swarm LeBron and live with the results when the ball finds its way to someone else. LeBron will score more in Game 2, but it won't be all that easy.
Strauss: Fact. It's nice to get others involved up to a point, but James generated only four free throw attempts in 41 minutes of play. With both Dwyane Wade and Chris Bosh ailing, LeBron has to drive a bit more and pass a bit less. Overall, he still played well. It's just that he didn't play optimally considering the situation.
Wallace: Fiction. They need Wade and Bosh to avoid another fourth-quarter disappearing act. It's hard to ask LeBron to do much more. The man had 18 points, 18 rebounds and 10 assists. He took over the defensive assignment on Parker late. Miami's problem was that Bosh and Wade combined for just two points in the fourth.
---
3. What were you most surprised by in Game 1?
Gutierrez: That there was little carryover from that intense and energetic Game 7 for Miami. LeBron & Co. went into feel-out mode rather than desperation mode. I'd expect a switcheroo for Game 2.
McNeill: Kawhi Leonard's defense on LeBron. It wasn't all Kawhi, mind you, but forcing James into 7-for-16 shooting from the field and allowing just 18 points is a win for the Spurs any way you look at it. Considering how little experience Leonard has defending James, it had to be a pleasant surprise for Gregg Popovich and his staff.
Stein: That the Spurs could have all that time off after the Memphis series, tell us all for days that the layoff was too long for their own good ... and then control the fourth quarter while committing just four turnovers overall as a team to pilfer Game 1. They were a lot sharper than pretty much anyone had imagined.
Strauss: I was most surprised when Bosh showed some burst after a shot fake and actually finished at the rim. That's been absent ever since he sprained his ankle against Indiana. It was the notable exception that proves the rule: Bosh isn't himself right now.
Wallace: That the Heat claimed to be fatigued down the stretch. LeBron and Wade were both on the bench to start the fourth quarter because they needed a rest. Both players said after the game that they were still feeling the effects of the seven-game series against Indiana in the Eastern Conference finals. You rarely, if ever, see elite players go there in the Finals.
---
4. Who was the best player of Game 1?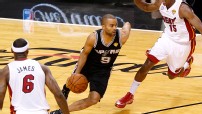 Gutierrez: Parker, because of when he delivered. It might've been more difficult to get 18, 18 and 10 like James did, but Parker's clutch shots after tirelessly directing the offense for four quarters gives him the edge.
McNeill: Duncan. If anyone showed rust from the long layoff for the Spurs, it was Duncan. But after an 0-for-5 start, Duncan seemed much more aggressive from the second quarter on. His 20-14-4-3 line is a classic Duncan Finals line, and his back-line defense was fantastic.
Stein: Parker. Or Duncan. I'd take either one even when taking another look at LeBron's sick triple-double stat line. This was one night, at least, when the LeBron Is Always The Best Player On The Floor mantra didn't apply.
Strauss: Duncan. He was spectacular around the rim. Although it's difficult to argue with LeBron's 18-point, 18-rebound, 10-assist stat line, Duncan's defense earned him the game ball on Thursday night. Timmy's 12-point second quarter also impressed, what with him faking the feathers off Chris Andersen.
Wallace: Parker. Sure, LeBron had the better overall game with that massive triple-double. But Parker was the best player on the court when the game was in the balance. He dominated the fourth quarter, with 10 of his team-high 21 points in the period. The Heat simply had no answer for Parker. Not even LeBron could stop him in the clutch.
---
5. Does this Game 1 loss for Miami feel more substantial than last year's?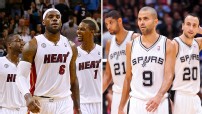 Gutierrez: Slightly, only because it came in a home game for Miami. But home-court advantage won't mean much in this series. Says LeBron: "We hate to lose before we get a little edge, but that's what happens."
McNeill: Yes, if only because Miami had home-court advantage in Game 1. The 2-3-2 format for the Finals puts so much pressure on the home team to avoid giving up Game 1 or 2. By getting Game 1 in Miami, the Spurs put the Heat in an extremely tough bind going forward this series.
Stein: For sure. Easiest question of the playoffs so far. Miami is playing a better Finals opponent … and this Game 1 was at home. Way more substantial.
Strauss: Not especially. It was certainly a better, more entertaining game this time around. The only reason the loss could be more substantial is that this year's Miami team is more banged-up than last year's. It might be tougher to recover, but I doubt it.
Wallace: Not really. But we won't really know the answer to that question until we see how the Heat perform in Game 2 on Sunday. For now, this completely follows the Heat's playoff script. They lose Game 1 and then get serious about the series. But these Spurs are battle-tested as four-time NBA champs, and they won't be fazed by the Heat's response.


ESPN.com and the TrueHoop Network
Israel Gutierrez, Marc Stein and Michael Wallace cover the NBA for ESPN.com. Ethan Sherwood Strauss writes for ESPN Insider. Andrew McNeill contributes to the TrueHoop Network.
• Follow the NBA on ESPN on Twitter | On Facebook | On Google+