One Spurs win is in the books. Will they add another before a trip back to San Antonio? Our panel looks at the big questions heading into Game 2 of the NBA Finals (8 p.m. ET, ABC)
1. What do you expect from LeBron James in Game 2?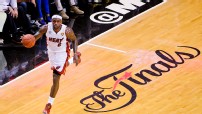 J.A. Adande, ESPN.com: A more aggressive scoring mentality. He looked happy to facilitate in Game 1, and his passes were impeccable, but if Chris Bosh and Dwyane Wade can't score 20 points, LeBron James has to do it. We've seen him do what the critics have asked before, going back to the 2007 conference finals, when he went from passing to Donyell Marshall in Game 1 to scoring 25 consecutive points in Game 5.
Sebastian Christensen, ESPN Deportes: I expect to see more of LeBron in the paint. Having said that, he is an effective player by nature and won't change his style of play. The Heat have a better chance of winning when he registers at least 10 assists (15-1 this season when he does) than when he scores at least 35 points (7-2).
Marc Stein, ESPN.com: LeBron can say he's not listening to any of us know-it-alls on the outside. Gregg Popovich can lecture us about how misguided we all are to think LeBron would pay any attention to media chatter. But you still have to believe that LeBron's approach will change. He's going to take more than 16 shots. He's going to be flying all over the court. It's a given with Miami openly desperate to win this game.
David Thorpe, ESPN Insider: More rim attacks. More Game 7 versus the Pacers kind of action. Challenges to Tim Duncan and Tiago Splitter. Create more chaos on defense. LeBron cannot wait until Game 6 against this team, like he did in the last series against Roy Hibbert. They'll be on vacation if he does.
Brian Windhorst, ESPN.com: I expect him to look to score a little more and attempt to finish some drives. He was more in reaction mode than aggression mode in Game 1. Some of that is because of the Spurs' defense and some of that is typical Game 1 stuff.
---
2. What do you expect from Wade and Bosh in Game 2?
Adande: More adjustments to their new roles as complementary players. If they're going to be this inefficient, they can't get the star luxury of shooting their way through slumps. They'll have to rebound, set up other players, then find points when they come their way.
Christensen: Wade had a decent Game 1 if we leave out the fourth quarter. I think he will get more rest early in the game and more touches in the end. Lesson learned for Erik Spoelstra, who won't have another lineup with both LeBron and D-Wade off the court. I also expect fewer 3-point attempts from Bosh. The Heat have to be in attack mode.
Stein: I don't have huge expectations. This has all the earmarks of a LeBron game. The reality is that LeBron will still need some help from somewhere even if he does bust out against San Antonio's sagging and/or swarming D. But let's see. Let's see if two days off between Game 1 and Game 2 is enough to recharge the Heat after Wade admitted on Thursday night they looked like a team that had just been dragged seven games by Indiana.
Thorpe: Similar to LeBron. Just because Bosh is left open for a long jumper does not mean he has to shoot it. If Miami attacks earlier, it'll find Bosh with enough time to shot-fake and drive. Or to back his man down and slither in for buckets or fouls. Wade looks bouncy again, and if he remains so, he'll get more chances in the fourth quarter. And the entire Heat defense has to try to put the Spurs on their heels some with blitzes, lane challenges and corner or post traps.
Windhorst: It's hard to expect a breakout. Wade, as he says, has felt the same for three months. Bosh's shooting slump -- he's shooting 38 percent over the past eight games -- has gotten so bad that it's hard to predict a sudden turnaround. The Heat are 4-4 in their past eight games. The competition has been good, of course, but there's also the reality that Wade and Bosh are not getting it done.
---
3. What do you expect from the Spurs in Game 2?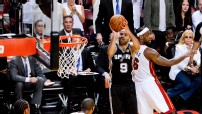 Adande: More of what we saw in Game 1, plus better shooting from Kawhi Leonard. We'll give Leonard a pass on his 3-for-9 shooting in his NBA Finals debut ... because it was his NBA Finals debut. Now that he's settled in, he won't miss every open 3-pointer as he did Thursday night.
Christensen: More efficiency from long range. Even though the Spurs played a solid game and committed only four turnovers, they missed a ton of open shots. Also, they should be able to outmuscle the Heat down low.
Stein: More than four turnovers. But better shooting from deep. And if the Spurs can stay poised in the face of the inevitable ramped-up defensive pressure Miami throws at them, we're likely in for another game that's close in the fourth quarter.
Thorpe: Steady as she goes. I think they will have an answer for a driving Bosh or LeBron. They will continue to try to dictate from whom and where shots come on defense. If Miami cooperates, the Spurs can easily stand tall again in Game 2.
Windhorst: To turn the ball over more but also shoot better. If they commit four turnovers, like they did in Game 1, they'll win this in a rout. But that's not going to happen. The Heat got away with leaving some of their shooters open, and that isn't likely to happen again, either.
---
4. Is it possible that the Spurs have the Heat's number?
Adande: It's not that succinct. Miami didn't trail for a 32-minute stretch of Game 1, so it was hardly a continuous uphill battle. It's just that the Spurs are so efficient they can be mentally taxing. Lose focus for just a bit, and the Spurs will capitalize the way they did in the opener. It will be tough for the Heat to maintain that level of concentration the entire series.
Christensen: No. This was the first meaningful game between them since the Spurs' stars took a mini-holiday during the regular season. The Spurs had to win one in Miami because it's so tough to win three straight at home. If the Spurs win two, the Heat are in trouble. Until then, everything is premature.
Stein: Very possible. The Spurs, as I will continue to say, have the versatility to play any style and change their approach on demand to suit the circumstances. Miami doesn't have the same luxury. The Heat's luxury is LeBron, who has to find an even higher gear to trump the Spurs' depth, ball movement, execution, etc. Yet there's simply no denying that, after stealing Game 1, San Antonio's chances of winning the series have undoubtedly spiked.
Thorpe: Yes, but not because of anything we've seen yet. Game 1 was a coin flip; Miami led for five minutes of the fourth quarter, and they can easily win the next three games, just as the Spurs can. Can Miami's speed rattle the poise of the Spurs in their half-court offense for a few positions? If not, then yes, the Spurs will prove to be too good.
Windhorst: Anything is possible, but I don't see how anyone can say that after just one game. These teams have played one truly meaningful game all season. No way to declare anything yet.
---
5. Who wins Game 2?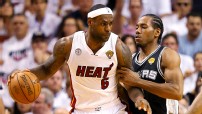 Adande: Heat. They've had 48 hours to wallow in their Game 1 loss, and I noticed the one expression that never appeared on their faces was panic. The rest of the world views Heat losses as a revelation of everything that's wrong with this roster and the way it was assembled; the Heat view them as fixable problems. I can see their run of avoiding consecutive losses coming to an end in this series, but not in Game 2.
Christensen: Heat. Erik Spoelstra keeps on talking about "burning the boats" in order for his team to show a sense of urgency. They have to treat this one like a Game 7. Nobody can be "tired," and they have to be aggressive from the start. If they are, the Heat will win Game 2 and this series might go the distance.
Stein: Heat. Pretty much everyone on Earth has the Heat finding a way to at least split these first two games at home. It's the natural assumption. So I don't think you'll find many folks willing to predict that the Spurs are about to go up 2-0 ... but it won't be me who says they can't.
Thorpe: Heat. LeBron is the game's best, and no factor counts more than that. It is on him -- then Wade, then Bosh -- to make a difference. Tony Parker, through most of this season, has been a top-five, maybe top-four player in the world. If he elevates his game yet again, and LeBron can't, that changes everything.
Windhorst: Heat. The more desperate team and the home team. The Heat are 5-0 after losses dating back to last year's Finals. They're good at adjustments and they also know if they go to San Antonio down 2-0, it's over. It wasn't like the Spurs crushed them in Game 1. This should be a close series.


ESPN.com and the TrueHoop Network
J.A. Adande, Marc Stein, David Thorpe and Brian Windhorst cover the NBA for ESPN.com. Sebastian Christensen writes for ESPN Deportes.
• Follow the NBA on ESPN on Twitter | On Facebook | On Google+