Not one, but two. The Miami Heat claimed their second straight title in their third straight NBA Finals appearance by outlasting the San Antonio Spurs in an instant-classic Game 7. How does another Larry O'Brien Trophy affect LeBron James & Co.'s place in history? Our crew opens up the annals and tries to put this win in context.
1. Was this the greatest series in NBA history?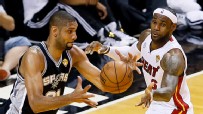 Marc Stein, ESPN.com: As a child of the '80s, having watched so many Magic-and-Larry duels as a teenager with a still-forming NBA brain, I can't go there. I just can't. This was an epic matchup in its own right -- and Game 6 was as good as it gets in the Finals -- but Heat-Spurs was never going to hit me the same way as some of those mythical old battles I remember so fondly.
Ethan Sherwood Strauss, ESPN Insider: I would rank 2013 first. We had the best player on the planet going against the best franchise of the past 15 years. We saw the 3-point record fall. We saw Tim Duncan submit one of the greatest halves in Finals history. We saw LeBron James ice the series with a jump shot that will be replayed for decades. We've never seen such an assured championship victory slip away and give way to a thrilling overtime.
Adry Torres, ESPN Deportes: In a perfect world, the Spurs and the Heat would be back at it Sunday, but someone had to lose. Miami's Big Three proved to be too much as the Heat won their second title in three tries and quieted the naysayers.
Michael Wallace, Heat Index: Right now, I'd have to say yes. Game 7. Established dynasty going up against a budding dynasty. Four-time champion versus four-time MVP. This one had all the storylines and drama necessary to be an all-time classic. For me, this was the best since Michael and Magic squared off 22 years ago.
Brian Windhorst, ESPN.com: I can't answer that, as I haven't seen most of them. A number of the games were blowouts, so I don't think it can be. But we did see a bunch of Hall of Famers competing and a seesaw battle where the series lead changed so much. It's an all-time great series; let's leave it at that.
---
2. What does this mean for the Heat's place in history?
Stein: It does more for LeBron's individual legacy than Miami's as a team. Even though the Heat had to take down an incredibly worthy opponent and became the first team to topple San Antonio in the Finals, their struggles in the last two rounds of the playoffs and the flaws in their roster that those struggles exposed knocked them out of the best-teams-of-all-time conversation for me. Had Miami mowed through the playoffs on top of the 27-game win streak, it'd be different.
Strauss: Well, they're among a select group of repeating champions. They validated the Big Three experiment to all but their most intractable, denialist critics. That's pretty good, right? It's hard to gauge how history will see this team because the journey isn't over yet.
Torres: This core group puts Miami in a special place in league history. Two titles in three years? Every team in the league would love to be in Miami's position. But it's going to be tougher going forward. Pat Riley will need to persuade the right role players to sacrifice money for a shot at a title.
Wallace: It solidifies the Heat as the best team in the league for a second straight season. And there appears to be no slowing down. At this rate, LeBron might actually get to his goal of not two, not three, not four ...
Windhorst: They're one of a small list of teams to win back-to-back championships. That's honorable; that's history; that's to be commended for a lifetime. More impressively, they came from behind seven times in a series over the past two seasons and survived three Game 7s. That is strong.
---
3. What does this mean for LeBron James' place in history?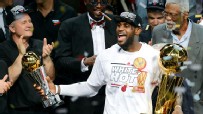 Stein: It's huge. As big, perhaps, for what this Game 7 victory allowed him to avoid as the achievement itself. He's a third of the way to Michael Jordan's six-ring zip code now ... but more importantly, he dodged a dreaded career record of 1-3 in the Finals that would have undone a fair bit of what he achieved stature-wise in that peerless 2012 that, by this past April, had made him an #nbarank Perfect Ten. The Heat's March invincibility is a memory, but LeBron solved his problems with San Antonio's defense midstream and absolutely CRUSHED a Game 7 at both ends with what we saw Thursday night. He's doing just fine.
Strauss: You know, the future will have as much bearing on this as the past. We keep comparing James to people like Michael Jordan and Magic Johnson, without acknowledging that whatever happens after James' career influences his historical status. Two titles is great right now, and it will look even better if this stringent collective bargaining agreement prevents future teams from racking up championships. We don't mock Jordan for coming up five titles short of Bill Russell because we grasp that the game changed over time. The same might happen with LeBron.
Torres: It's crazy to think where he will rank when he decides to hang it up. LBJ is going to be forever judged and linked to MJ, which is really unfair.
Wallace: LeBron's legacy was solid regardless of the outcome of Game 7. It's really time we realize that this man is still in the midst of his prime -- and will be for some time if he continues to stay relatively healthy. Let's just all agree to give him another four years or so before we start to fairly define his legacy -- and that still might be too soon.
Windhorst: He's one of the greatest and most clutch players the game has ever seen. He's now competing against ghosts, not contemporaries, and that is honorable.
---
4. What does this mean for Dwyane Wade's place in history?
Stein: It only adds to his legend as a big-game guy after he played so forcefully in Game 7. And a third championship makes Wade even more synonymous with the Heat than he already was. As bleak as things looked at times in this series because of his knee woes, D-Wade wound up getting a lot of the 2013 Finals.
Strauss: Oddly, very little. He was the best player in two NBA Finals (2006 and 2011), but those years are behind him. The extra hardware is a fantastic addition, but he was more a peripheral figure this time around. I credit him for gutting through knee trouble, but the Dwyane Wade we've come to know didn't play in these playoffs. He did, however, provide an awesome throwback Game 4, and ramped up defensive intensity late in this series.
Torres: Wade got his third ring, but will he ever be the same again? Injuries have robbed him of being the dominant player he once was.
Wallace: As Wade said while on the postgame podium, don't call him Dwyane any longer. He was done with the "Flash" nickname a couple of seasons ago. Now, he simply wants to be called "3" -- as in three titles. With three championships on his résumé over seven years, Wade is a top-five shooting guard of all time.
Windhorst: One of the greatest shooting guards ever. He has three rings and a darn good Finals résumé. You can nitpick his game but never his accomplishments.
---
5. Will Tim Duncan and Gregg Popovich make the NBA Finals again?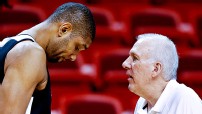 Stein: Yes! OK, OK: Maybe I'm just trying to convince myself. But why not? Kawhi Leonard is developing faster than anyone imagined. If the Spurs find one more impact player -- and who finds more players who outperform their draft slot than they do? -- I'm sticking to my story and saying that the window isn't shut.
Strauss: Probably not, sad as it sounds. Duncan, as great as he is, is middle-aged. Manu Ginobili, great as he was, is great no longer. The rise of Leonard gives San Antonio a shot at future titles, but asking him to compensate for the imminent loss of Duncan and Manu is a bit much.
Torres: Duncan, at 37, played at such a high level in these playoffs, but the West will only get tougher. With teams like Golden State, Memphis and the L.A. Clippers on the rise, letting Game 6 slip away may have shut the door on another title run. But with Popovich, it's all about the system, not the star. It's possible he could make another run at it down the road.
Wallace: My guess is this was their last rodeo in the Finals. There was no shame in losing to the Heat in Game 7 on the road. Duncan and Pop have four titles and established the Spurs as a legitimate dynasty over the past two decades. Both are surefire Hall of Famers. They may make another deep playoff run if they catch a few breaks, but the West will quickly close the gap next year.
Windhorst: Saying no feels disrespectful, but it's a no. The Thunder will be stronger with Russell Westbrook back, and some other Western teams are on the rise. It took them six years to get back for a reason.
---
BONUS: What will you remember most from this series?
Stein: Beyond the absolutely selfish bliss that comes with ESPN Radio's courtside sideline reporter seat in Miami? I'll never forget all the emotion Duncan unexpectedly showed us. Stoic, my eye! Timmy let us in as much as he ever has in these Finals. Before the series started, Duncan told us how much it would mean to win another ring after five seasons without one. After Game 6 and Game 7, Duncan didn't even try to hide his disappointment. He wanted this so bad and wasn't afraid to let us all know. Seeing how much it wounded him to fall short will stick with me.
Strauss: I'll always remember Ray Allen yelling, "Get those [expletive] ropes out of here!" after hitting the biggest shot of the series and negating the golden ropes needed for a Spurs championship celebration. It was as though the old man had beaten back the inevitability of time itself through ferocity and command of an enduring, incredible skill. What a moment.
Torres: I thought the Heat were cooked with 30 seconds to go in Game 6. But the Spurs couldn't muster up enough to overtake Miami and missed out on their fifth title.
Wallace: The final 20 seconds of Game 6. The Spurs blew a five-point lead with 28 seconds left, and that was the moment that their title hopes essentially vanished. Credit the Spurs for coming back with a strong effort in Game 7, but they simply ran out of steam at the end.
Windhorst: That the Spurs were five seconds from winning and the Heat five seconds from losing and it turned around with one shot. Bravo, Ray Allen.


ESPN.com and the TrueHoop Network
Ethan Sherwood Strauss, Marc Stein, Michael Wallace and Brian Windhorst cover the NBA for ESPN.com. Adry Torres writes for ESPN Deportes.
• Follow the NBA on ESPN on Twitter | On Facebook | On Google+