It's wide open in the Western Conference once again. The Thunder, with Serge Ibaka, have stormed back to even the series at 2-2. Are we in for some 2012 déjà vu, when Oklahoma City ripped off four straight wins after two opening losses? Or do coach Gregg Popovich and the Spurs have something left in their bag of tricks?
---
1. Fact or Fiction: For the Spurs, this is 2012 all over again.
J.A. Adande, ESPN.com: Fact. Just like then, the Spurs have gone from looking invincible to looking imminently mortal, Tony Parker stopped looking like the best player on the court, and they haven't found a counter to Oklahoma City's adjustments.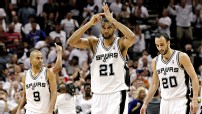 Marc Stein, ESPN.com: Faction. It undeniably feels a lot like 2012. In some ways, it has to feel worse for San Antonio, with everyone in black and silver undoubtedly aware that their only two wins this season in eight tries against the Thunder came with Ibaka in street clothes. But I hesitate to say full-on Fact because I see San Antonio winning Game 5. Do I have a great tactical explanation to back that claim? Not really. Just have a feeling San Antonio is going to play a lot better back home.
Ethan Sherwood Strauss, TrueHoop: Fact. I thought 2012 wasn't walking through that door, but Ibaka's unexpected return may have flipped the calendar back a few pages. The Spurs will play better at home, but their ineptitude in Oklahoma City doesn't inspire much confidence beyond a tepid "playing better." Also, it's hard to feel great about San Antonio's chances after hearing the uncommonly dejected tenor of their postgame comments Wednesday.
David Thorpe, ESPN Insider: Fiction. There's no James Harden. And the Spurs are probably a better team now than they were then, with more flexibility off their bench and an improved Tiago Splitter. OKC overran them then with athleticism, and some of that has been an issue in this year's series, but the Spurs have answers that they didn't have then.
Royce Young, TrueHoop: Fiction. It might seem that way, but the 2012 series played out quite a bit differently. Games 1 and 2 in San Antonio were mostly close, Game 3 was a blowout Thunder win and Game 4 was another tight one. This series has seen dramatic swings, with garbage-time crews cleaning up all four games. The Thunder clearly have momentum and confidence on their side, but the Spurs are better than that 2012 team.
---
2. Fact or Fiction: With Ibaka, the Thunder have the Spurs' number.
Adande: Fact. Speaking of numbers, it's up to seven victories in a row and 12 out of 14 for the Thunder over the Spurs with Ibaka in the lineup. Not only does he deny San Antonio shots at the rim, he gives the perimeter players confidence to gamble and go on stealing sprees, as Russell Westbrook did in Game 4. He also can hit the elbow jumper or run the floor for transition points, production the Thunder can't get from their other big men.
Stein: Faction. OKC has the Spurs' number with Ibaka and Westbrook. You can't leave out Russ, because guarding him has proved almost as problematic for the Spurs as getting Ibaka out of their heads at the other end. When you talk about the athleticism edge OKC has against San Antonio, you're talking about the both of them.
Strauss: Fact. It turns out that a guy who protects the rim on one end and stretches the floor on the other might be valuable. Ibaka's presence also helps OKC create the live-ball turnovers that really hurt the Spurs.
Thorpe: Fiction. The better way to say it is OKC is better than the Spurs with Ibaka playing. That does not mean that the Spurs can't win home games. Had Ibaka been healthy all series, the matchup would look a lot different.
Young: Fact. They have the Spurs' number, because a number says so. With Ibaka, the Thunder have beaten the Spurs seven consecutive times and 12 of the past 14. The Thunder went 4-0 against them this season, two in convincing fashion. Hard to argue with that.
---
3. Fact or Fiction: Russell Westbrook is a top-five player in the NBA.
Adande: Fact. As is this: Westbrook has won eight of the past 10 playoff series in which he has participated. That includes victories over Dirk Nowitzki, Kobe Bryant, Chris Paul and Blake Griffin, James Harden and Tim Duncan and Tony Parker. He has a shot to turn into the best player on the court in any game or series, even with the MVP playing alongside him.
Stein: Fiction. He's just not consistent enough on a daily basis to make it that high on my list. Knowing what you're going to get from a guy is a skill, too. Russ is an absolute force of nature and, as San Antonio knows all too well, devastating on most days. Not going to top five, though. Not for me.
Strauss: Fiction. He still takes a lot of shots to get those points. At his peak, though, there's no better guard. Fewer long 2-pointers with 20 seconds left on the shot clock and you could easily talk me into top five.
Thorpe: LeBron. Durant. Love. Howard. Davis. CP3. So no. But if we are talking top-five players for this postseason run, I'd say yes, most of the time. That disposition to dominate, and his athleticism, are forces of nature just as much as LeBron James' overall game and Kevin Durant's scoring talents are.
Young: Fact. We all know who Nos. 1 and 2 are, but after that, it's in the eye of the beholder. And while Westbrook has his faults and blemishes, he also has 2014 playoff averages of 26.6 points, 9.7 rebounds and 8.0 assists. Perception and reputation hold Westbrook back in the court of public opinion, but after LeBron and Durant, who else would you rather have?
---
4. Fact or Fiction: Popovich will make an adjustment to save the Spurs.
Adande: Fact, even if that adjustment simply consists of having the Spurs don their home white uniforms, which served them well in the first two games. (Or really switch things up and break out the alternate silver jerseys.) Or maybe he'll give some more playing time to the members of the lineup that outplayed the Thunder's starters in the fourth quarter of Game 4. Otherwise it's tough for a coach to ask his key players to become more athletic.
Stein: Fiction. The only available adjustment would seem to be going ultra small and moving Kawhi Leonard to power forward. But that would likely lead to other issues. Speaking purely for Game 5 -- as well as a potential Game 7 -- trusting their offense and shooting better from the outside at home might have to be enough.
Strauss: Fiction. If he has the answer, then why was he so fuming mad after Game 4? Setting aside the obvious "Pop's often mad" answer, I expect the Spurs to use more of Boris Diaw, less of Tiago Splitter. I just don't think that changes the dynamic here.
Thorpe: Absurdly fiction. He'll make adjustments, and OKC will counter. There is no magic bullet here. Better execution is the answer far more than any kind of X's and O's change.
Young: Fiction. Pop said it himself after Game 4 -- there isn't an adjustment to be made. The Spurs may still win the series, but the Thunder at their best are better than the Spurs at their best. But here's a free suggestion to take or leave: Put Leonard on Westbrook and a small, scrappy defender on Durant. Westbrook runs the Thunder's engine, and slowing him down slows everything else with it. Worth a shot, right?
---
5. Fact or Fiction: This series will go the distance.
Adande: Faction. It depends on the outcome of Game 5, which I've got as a tossup. If the Thunder win Thursday, they'll wrap up the series at home in Game 6. If the Spurs win, they assure themselves a Game 7 in their place, which they would win. But first they need to show they can hold off this Thunder charge.
Stein: Fact. I said "faction" in my first answer because both teams have played so well at home in this series. So it's not exactly unreasonable to expect San Antonio to win Game 5 and, at worst, guarantee a series decider at home Monday. Are the Spurs going to lose every single game they play with Ibaka on the other side?
Strauss: Fiction. Thunder in 6. I'm an idiot for many reasons. Today it's because I made a prediction that can be proved wrong within hours.
Thorpe: I picked OKC in seven before Ibaka got hurt. Then I chose the Spurs in seven. So now, with Ibaka back and the Spurs getting the next game at home, I'd guess, yes, it's going the distance.
Young: Fiction. I had it as Thunder in six, and that was even after Ibaka was supposed to miss the rest of the postseason. I've been thrown a life preserver, so I might as well ride this thing out.