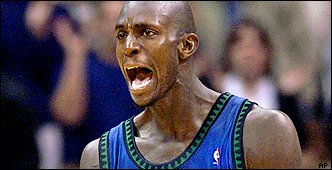 Feeling Garnett's pain
The Wolves' latest first-round exit has brought sympathy, not criticism, for Kevin Garnett.

With rout, Lakers one win away from eliminating Wolves
The Lakers picked up their second straight series win with a rout of the Wolves in Game 5.
Stein: New leading little big men
Point guards can't be typecasted for supporting roles, not with these performances so far.
Palmer: Spotlight falls on George
With Rick Fox out for the rest of the playoffs, it's time for Devean George to step forward.
Collectibles company sues Shaq for allegedly violating deal
A sports collectibles company has sued Lakers center Shaquille O'Neal, claiming he violated his contract.
• CLICK FOR MORE

Find out what others around the country are saying about your team. We surf the Web so you don't have to, bringing you personalized stories - just for Insiders.


Become an Insider today!