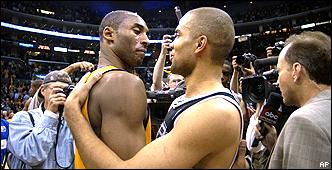 A fitting series finale
Both the Spurs and Lakers deserved what they got in San Antonio's series-clinching win.
• Dethroned! Spurs stun L.A.
Tim Duncan made 16 of 25 shots for 37 points in closing out L.A. in Game 6 at Staples Center.
• Jackson to return
Phil Jackson's most difficult season as an NBA head coach will not be his last -- health permitting.

Smith: Spurs' pleasant surprise
The Spurs have L.A. right where they didn't think they'd be: A win away from the West finals.
Bucher: Phil, Kobe winning 2-on-2
Phil Jackson and Kobe Bryant are proving their worth against the Spurs' award-winning duo.
Fred's Points: Road closures in L.A., Sacramento
The Spurs should press the Lakers, while the Mavericks must get physical with the Kings.
Stein: Lakers' magic might have run out
Robert Horry's big miss in Game 5 might be the sign that the Lakers' time is finally over.
• CLICK FOR MORE

Find out what others around the country are saying about your team. We surf the Web so you don't have to, bringing you personalized stories - just for Insiders.


Become an Insider today!