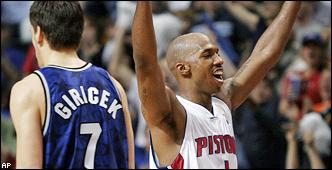 Pistons motor onward
Tracy McGrady was powerless in preventing the Pistons from capping their series rally from a 3-1 deficit.

Bucher: No comment from Pistons on Carlisle
By keeping quiet, the Pistons have said plenty about rumors over Rick Carlisle's job security.
Fred's Points: Finishing off the first round
The Magic, 76ers and Mavericks get tips on what they must do to finally close out their series.
Pistons stay alive with Game 5 rout of Magic
Richard Hamilton had 24 points to help Detroit cut its series deficit to 3-2 against the Magic.
Wallace sparks Pistons blowout
Ben Wallace backed up his words, dominating the glass as the Pistons throttled the Magic in Game 5.
• CLICK FOR MORE

Find out what others around the country are saying about your team. We surf the Web so you don't have to, bringing you personalized stories - just for Insiders.


Become an Insider today!



Sunday Conversation




Tracy McGrady discusses Michael Jordan's final season on Sunday Conversation.


Standard | Cable Modem


Budweiser Hot Seat




Doc Rivers on the Budweiser Hot Seat.


Standard | Cable Modem