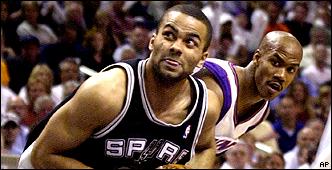 Spurs overcome pesky Suns
Tim Duncan's triple-double helped the Spurs end the Suns' season with a Game 6 victory.

Stein: New leading little big men
Point guards can't be typecasted for supporting roles, not with these performances so far.
Brown: Tim Duncan should shoot more
The Spurs' best shot at beating the Suns is to feed Tim Duncan the ball every chance they get.
Spur of the moment: Popovich top NBA coach
Gregg Popovich on Monday became the first San Antonio Spurs coach to be named NBA coach of the year.
Anthony: Top seeds in trouble
Orlando has turned Detroit's strength against it and the young Spurs have been inconsistent.
• CLICK FOR MORE

Find out what others around the country are saying about your team. We surf the Web so you don't have to, bringing you personalized stories - just for Insiders.


Become an Insider today!