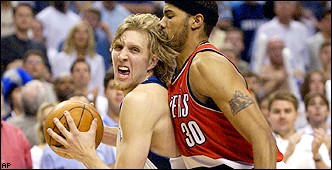 Disaster averted! Mavs win
The roller coaster stopped, and Dallas moves on after fending off Portland's shot at history.

Stein: Dallas' fission impossible
The Mavericks have found something worse than blowing a 30-point lead to the Lakers.
Fred's Points: Finishing off the first round
The Magic, 76ers and Mavericks get tips on what they must do to finally close out their series.
Wallace, Pippen's return spark Blazers over Mavs
Scottie Pippen's return helped the Blazers force Game 6 with a stunning 103-99 win over the Mavs.
Stein: Playoffs' 10 most painful injuries
Of the playoffs' biggest injuries, Scottie Pippen's knee problems have hurt Portland the most.
• CLICK FOR MORE

Find out what others around the country are saying about your team. We surf the Web so you don't have to, bringing you personalized stories - just for Insiders.


Become an Insider today!