PISTONS WON 4-1
Insider Sitelines
ESPN Radio Audio
Let The Gloating Begin
Dan Patrick Show: Braves closer John Smoltz is still celebrating the Detroit Pistons' championship.
Listen
The Tiger List
Dan Patrick Show: Charles Barkley appreciates the Pistons. But he doesn't appreciate not getting an invite to Tiger Woods' wedding -- like Dan.
Listen
'Phil Told Me He's Done'
Mike and Mike: Dr. Jack Ramsay says Phil Jackson told him that unless Shaq and Kobe ask him to return, he won't be back.
Listen
Five and Done
AllNight: Kings owner Gavin Maloof didn't think the rival Lakers could ever look this bad.
Listen
Final Piece
AllNight: Former Pistons forward Michael Curry cites the acquisition of Rasheed Wallace as the key to a title.
Listen
Stopping Show
AllNight: Pistons F Darvin Ham on the title approach: "We didn't depend on making shots, we depend on making stops."
Listen
A Jackson Reaction
Mike and Mike: Bill Laimbeer will not tolerate officiating bias complaints from Phil Jackson. "He's the biggest whiner in the history of professional sports."
Listen
Detroit Braintrust
GameNight: Pistons assistant coach Herb Brown, brother of head coach Larry Brown, sizes up the team's title quest.
Listen
'That Bothers Me'
Dan Patrick Show: Entering Game 5, Pistons coach Larry Brown reacts to broadcaster Mychael Thompson's anti-LA conspiracy theory.
Listen
Game's Breaks
AllNight: John Hammond, the Pistons' VP of basketball operations, says his team has prepared itself to take advantage of breaks.
Listen
Mooch's Tickets
Dan Patrick Show: Lions coach Steve Mariucci is enjoying watching his Pistons from close up. He's not sure if he'd use Shaq as a tight end or pass rusher.
Listen
Luke's Pop
GameNight: After witnessing Game 3, Bill Walton says the Pistons are the better team.
Listen
'Kobe Did What Kobe Does'
Dan Patrick Show: With plenty of energy to expend after getting off the bench, Luke Walton explains how Game 2 was won.
Listen
The Wallaces Factor
GameNight: Former NBA great Robert Parish sizes up the frontline challenge for the Pistons. He forsees a seven-game series.
Listen
Case for Detroit
GameNight: Former NBA great Clyde Drexler explains why he believes the Pistons have a chance.
Listen
R.I.P. Hamilton
The Herd: Colin Cowherd explains why the Pistons will be dismantled. And he stomps on the Eastern Conference for good measure.
Listen
'Very Difficult Time'
Mike and Mike: Jerry West says as good as Ben Wallace is, there's no way he can defend Shaq.
Listen
Flag Rock
GameNight: Kid Rock shares a moment of his Pistons celebration.
Listen
Foul Fairness Issue
Dan Patrick Show: Former longtime NBA referee Hue Hollins says the referees are aware of foul situations of star players.
Listen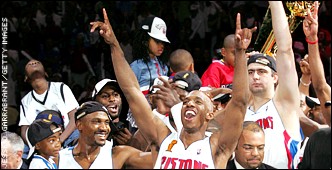 Billups can celebrate a total team effort as world champs.
Chauncey Billups played great, but almost every Piston had an MVP moment in Game 5.
More...
Neel: Storybook ending
Don't confuse these Pistons with the Bad Boys. As Eric Neel tells it, this championship story has a different ring to it.
Stein: Game 5 Side Lines
The man who signs the Pistons' paychecks and the Mag writer who picked Detroit got major props.
NBA Finals ratings average is highest in 3 years
Detroit's title-clinching win was the second-highest rated NBA Finals game since 1998.
The Pistons were very good in the NBA Finals, but they have the chance to be even better.

•

Pistons' bright future

Faced with questions about the future, the Lakers won't have answers until this summer.

•

What's next for L.A.?
TEAM STATS (Regular Season)
PISTONS
LAKERS
PPG
90.1
98.2
RPG
42.8
43.1
APG
20.8
23.8
FG%
43.506
45.357
FT%
75.265
69.345
3P%
.344
.327
More from ESPN
Stein: The NBA's new team to beat
It's been the Year Of The Team in the NBA. That's why the Pistons made such ideal champs.
Mailman in street clothes
Lakers forward Karl Malone sat out Game 5 with what he believes to be a torn medial collateral ligament in his right knee.
Lakers' future uncertain after Finals demise
Hundreds of people cheered and danced in downtown Detroit on Tuesday night moments after the Pistons won the NBA title.
Neel: Surprise party
How did everyone miss all the signs pointing to the Pistons? Eric Neel doesn't know, but he knows how they're winning.
Billups collects Finals MVP honors
Chauncey Billups was able to hold up two trophies after the Pistons won the NBA championship in five.
Smith: Taking the bad with Kobe's good
The Lakers wouldn't be in this predicament, or in the Finals, if it Kobe didn't shoot like he does.
NBA Finals Game 4 overnight ratings up
The overnight ratings for Detroit's Game 4 win over the Lakers in the NBA Finals on Sunday were up 66 percent from last year's fourth game of the series.
Mailman and GP seek ring, find steep odds
Karl Malone and Gary Payton didn't sign on for this -- an injury to one star and frustration for the other.
Malone won't be charged for feud with fan
Karl Malone will not be charged in a confrontation with a fan who said the Lakers' forward poked him in the face before Game 3 of the NBA Finals.
Lawrence: Brown chases own hoops history
Larry Brown is one win away from becoming the first coach to capture NBA and NCAA titles.
Kobe calls Lakers' shot: 'We'll win Tuesday'
Kobe Bryant predicts that the Lakers will stay alive in the Finals by winning Game 5.
Scout's Take: Pistons go for the jugular
It's too late for adjustments. The Lakers must match the Pistons' intensity or pack it in.
Neel: Brothers in arms
Eric Neel says to ask yourself: can you work as hard as the Pistons do when they play defense?
Stein: Game 4 Side Lines
The night belonged to Rasheed, who's enjoying Detroit's 3-1 lead over L.A. as much as anyone.
Rasheed shines in Game 4 win
Rasheed Wallace was acquired to put the Detroit Pistons over the top, to help transform a contender into a champion. He just might do it.
Lakers lose despite Shaq's monster game
Shaq did his share, and more. Kobe didn't. And neither did the rest of the Lakers, who are in big, big trouble in the NBA Finals.
Lago: No fouls, no harm to 'Sheed
Rasheed Wallace got to score because the refs finally gave him a chance to stay on the floor.
Jackson considered changing L.A. starters
Lakers coach Phil Jackson considered changing his starting lineup for Game 4 of the NBA Finals, then went with his usual unit, including the injured Karl Malone.
Bucher: Staring down L.A.'s best challenge
Chauncey Billups looked the Lakers' intimidator straight in the eye and walked away smiling.
Billups emerging as impact player
Pistons guard Chauncey Billups is averaging 22.8 points in the series -- on 50 percent shooting -- second only to Shaquille O'Neal's average of 28.3.
Have Pistons learned from past Game 4 letdowns?
The Pistons insist lessons have been learned from their lackluster effort in their past two Game 4s.
Magic: Lakers' finals mind-set is 'disrespectful'
Magic Johnson doesn't like what he sees from the Lakers, and he decided to speak up about it.
Lago: Hamilton's blessing in disguise
Rip Hamilton is chasing a title in Detroit, not wallowing in D.C., thanks to Michael Jordan.
Wojnarowski: The true measure of greatness
Phil Jackson must prove his worth in the Finals to legitimize his place as Red Auerbach's peer.
Kobe stopper? Prince doing a fine job so far
Kobe Bryant is finding out the same thing that NBA superstars such as Reggie Miller and Tracy McGrady discovered when they took on Tayshaun Prince.
Incident between Malone, fan under investigation
A fan's allegation that Lakers' forward Karl Malone poked him in the face before Game 3 of the NBA Final was being investigated by police Friday.
Lakers feeling down in Motown
As if the Los Angeles Lakers don't have enough to worry about with the Detroit Pistons, they're also dealing with injuries and outside distractions.
L.A.'s solution: More hustle, better execution
According to the Lakers, it's not so much what the Pistons are doing but what L.A. isn't doing.
Neel: Soul to the hole
The Pistons may be beating up on his Lakers, but Eric Neel still thinks Detroit is a joy to watch.
Stein: Lakers' latest dilemma
Can the Lakers recover from the first 2-1 deficit Phil Jackson has ever seen in the NBA Finals?
Pistons guards too much for Lakers in Game 3
Pistons guards Richard Hamilton and Chauncey Billups combined for 50 points to lead Detroit to an 88-68 win.
Malone plays in Game 3 despite knee problem
Lakers forward Karl Malone remained uncertain whether he would play in Game 3.
Lago: Picturing Pistons' total domination
The Pistons would be dominating the Lakers even more if Rasheed Wallace was scoring more.
In one game, Kobe goes from savior to flop
Kobe Bryant was held without a field goal until the third quarter of Game 3 and finished with just 11 points as the Lakers lost to Detroit 88-68 Thursday.
Dr. Jack: L.A., Malone in a world of hurt
If Karl Malone can't be a factor (and I don't see how he can), I don't know where the Lakers go.
Bucher: NBA Finals' identity crisis
People should be wondering how the Lakers, not the Pistons, can come back and win the title.
Detroit looks to upside after Game 2 loss
The Pistons returned home vowing to shake off Kobe Bryant's last-second, game-tying 3-pointer and the Lakers' Game 2 OT win.
Neel: Rise and shine
Game 2 seemed like a sad ending of sorts for Gary Payton, and a promising beginning for Luke Walton.
Aldridge: LB must prove his weight in gold
Larry Brown goofed in Game 2, but he's the best coach in the world to make things right again for the Pistons.
Stein: Detroit's lost opportunity
Given the chance to bury the Lakers on the West Coast, the Pistons let L.A. escape with new life.
Lago: Walton stirs up Lakers
Kobe Bryant hit the clutch 3-pointer. But Luke Walton made all the plays.
Neel: Snooze control
Game 1 was no fluke. Which means the story for Game 2 is whether L.A. can flip the switch.
Dr. Jack: Pistons lose heart-breaker in OT
With a good lead, the Pistons had time on the shot clock for either a high-quality shot or to get themselves to the free-throw line -- they did neither.
Bucher: L.A. needs George to score more
Devean George must make the Pistons pay for putting their weakest defender on him.
Tolbert: Mission impossible
Guarding Shaq is the most difficult task in the NBA. Here's what I tried to do against him (without success).
Question of the Day: L.A.'s adjustments?
It would behoove Phil Jackson to get two other future Hall of Famers involved in the Lakers' offense.
Huh? NBA fines GP $5,000 for NOT talking
The NBA fined Lakers guard Gary Payton $5,000 on Monday for skipping two media meetings.
Neel: What a letdown
Game 1 was tough to stomach as a Lakers fan -- especially if it was your first time at the NBA Finals.
Dr. Jack: Lakers need offensive output
To combat the Pistons' dominant defense, the Lakers need more offensive involvement in Game 2.
Stein: Kobe needs help guarding Rip
Kobe Bryant found out that guarding Richard Hamilton and dominating late in Game 1 ain't so easy.
Stein: Game 1 Side Lines
Marc Stein breaks down Game 1 of the NBA Finals from who said what to the telling numbers.
Lago: Detroit surprises from perimeter
The Pistons, known for their defense, showed an ability to sink perimeter shots in the 87-75 victory they scored over the host Lakers.
Lago: Mailman shoulders blame in loss
The Lakers' Karl Malone had a subpar night in Game 1, missed seven of his nine shots and managed to score only four points.
Darko still taking notes from Detroit bench
Darko Milicic spent much of his rookie season watching games, knowing many thought Detroit should have drafted Carmelo Anthony.
Bucher: Detroit's can't-lose situation
The Pistons have no chance at winning a title if they feed the Lakers' confidence in Game 1.
Billups the offensive spark for Pistons
Darko Milicic spent much of his rookie season watching games, knowing many thought Detroit should have drafted Carmelo Anthony.
Billups: Pistons 'ready to shock the world'
Chauncey Billups knows that few people outside the Detroit locker room think the Pistons can beat the Los Angeles Lakers in the NBA Finals.
Aldridge: The Finals analysis
The Pistons have one advantage at power forward but the Lakers will prevail in six games.
Stein: NBA's new greatest franchise
The Celtics have more titles, but the Lakers have replaced Boston as the NBA's most storied franchise.
Not just knee deep: Mailman, Fisher OK
Karl Malone and Derek Fisher returned to practice with the Los Angeles Lakers on Friday after sitting out the previous two days with sore right knees.
Lakers embrace 'burden' of being favored
As long as Shaquille O'Neal and Kobe Bryant wear gold and purple uniforms, the Los Angeles Lakers will never be a serious underdog in a playoff series.
Stein: Six Finals story lines to follow
Who'll win Finals MVP? Can Rip be stopped? Will the Wallaces bother Shaq? We're dying to know.
Spears: What if Carmelo was a Piston?
The Pistons wouldn't struggle to score 80 points if they had a rookie named Carmelo, not Darko.
NBA Finals tickets hot items in Detroit
Finding tickets for Games 3 and 4 at The Palace has been quite a scramble for Pistons fans.
May: Don't call them the Bad Boys
Detroit's title teams of yesteryear played rough but could also score, something today's Pistons can't do.
Whitlock: No contest
Larry Brown hasn't won an NBA title. But he's still a much better coach than Phil Jackson.
Zen Master seeks record 10th NBA title as coach
Lakers coach Phil Jackson is seeking a record 10th NBA title in his 14 seasons as a coach.
Govs. make wager on Lakers-Pistons series
The NBA Finals could lead to a long-distance dinner of Michigan or California favorites for the states' respective governors.
Brown mum on game plan vs. Lakers
Larry Brown -- who has coached with 10 franchises in 32 years -- normally takes over lackluster teams and makes them shine. But he has never won an NBA title.
Aldridge: Dumars gets the Finals say
Ridiculed by his critics, Joe Dumars got the last word with the Pistons' trip to the NBA Finals.
Legler: Why the Lakers will win it all
Shaquille O'Neal and Kobe Bryant are two big reasons why the Lakers will win another title.
Lago: Pistons hope to shackle Shaq
The Pistons' defense was good enough to win the East, but will it be able to stop Shaq and the Lakers?