PACERS WON 4-0
Insider Sitelines
ESPN Radio Audio
Miller's Views
Dan Patrick Show: Pacers G Reggie Miller's in the playoffs, but he's got all the sports scene covered. Such as, resentment Maurice Clarett must feel to NFL when he sees LeBron cashing in.
Listen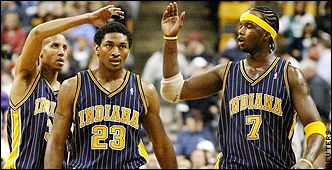 The Pacers will face the winner of the Hornets-Heat series.
After sweeping Boston on April 25, Indiana will not begin second-round play until May 6, an 11-day break.
More...
A look inside the numbers suggests the Kings will miss Anthony Peeler more than you think.

•

Kings' missing key

Which defensive specialist will have the most impact? And which defense will prevail? Vote now.

•

Pistons vs. Pacers
TEAM STATS (Regular Season)
CELTICS
PACERS
PPG
95.3
91.4
RPG
40.1
41.7
APG
20.5
21.6
FG%
44.318
43.546
FT%
75.036
76.365
3P%
.346
.351