LAKERS WON 4-1
Insider Sitelines
ESPN Radio Audio
Surging Lakers
GameNight: Heading into the playoffs, Lakers coach Phil Jackson tells Kendall Lewis about the Kobe trial effect, team defense and a dynamic rookie duo.
Listen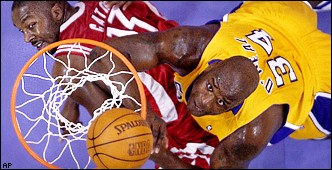 Shaq and the Lakers used Houston as a stepping stone.
Kobe Bryant had 31 points, six rebounds and 10 assists to help the Lakers finish off Houston and set up a rematch with the Spurs.
More...
Friend: 8 Ball

The Lakers can't win without Kobe Bryant, but they don't much like playing with him, either.
A look inside the numbers suggests the Kings will miss Anthony Peeler more than you think.

•

Kings' missing key

In the playoffs, they know what you do and how to stop it. So what are you gonna do about it?

•

Mission Impossible
TEAM STATS (Regular Season)
ROCKETS
LAKERS
PPG
89.8
98.2
RPG
42.6
43.1
APG
19.3
23.8
FG%
44.197
45.357
FT%
77.283
69.345
3P%
.366
.327