LAKERS WON 4-2
Insider Sitelines
ESPN Radio Audio
Rushing Wolves To Exit
Dan Patrick Show: After his Game 6 spree, Lakers guard Kareem Rush says he hasn't shot that well since college.
Listen
Shaq's Foul Check
Mike and Mike: After hearing the NBA on ESPNRadio call of referee Ed F. Rush's fourth-quarter inquiry into the number of fouls Shaq had, Dr. Jack Ramsay said that is an unusual practice.
Listen
Foul Fairness Issue
Dan Patrick Show: Former longtime NBA referee Hue Hollins says the referees are aware of foul situations of star players.
Listen
Rush To Finals
AllNight: Brent Musburger and Todd Wright look ahead to the Lakers' latest trip to the NBA Finals.
Listen
Shaq To The Rack
Mike and Mike: Former Knicks great Willis Reed sizes up the challenge of containing Shaq.
Listen
What Great Ones Do
Mike and Mike: Bill Walton sizes up how Kevin Garnett falls short in his game.
Listen
Mailman: Peterbilt or Kenworth?
The Herd: Colin Cowherd says the Lakers have some hard decisions to make -- about their victory parade.
Listen
Sock-cess
GameNight: After the Game 3 win, Lakers G Kareem Rush astutely points out that the team is 4-0 wearing purple socks.
Listen
He Bangs, He Bangs
Dan Patrick Show: Timberwolves backer Craig Kilborn says Shaq gets away with a lot on the court.
Listen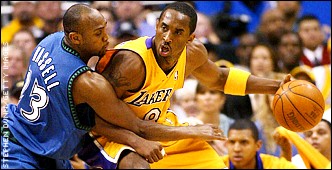 Kobe Bryant scored 20 points, and the Lakers advanced.
Shaquille O'Neal had 25 points and 11 rebounds, and Kareem Rush hit six 3-pointers in Los Angeles' 96-90 victory over the Timberwolves on Monday.
More...
Stein: Cassell's injury the difference?
Sam I Am is convinced that had he been healthy, the Wolves would be in the NBA finals.
Having lost his thin skin, Kevin Garnett finally has the Timberwolves going deep in the playoffs.

•

No Kidding

The longtime NBA assistant and scout identifies what's working and what's not working.

•

Scouting update
TEAM STATS (Regular Season)
LAKERS
TIMBERWOLVES
PPG
98.2
94.5
RPG
43.1
42.9
APG
23.8
23.0
FG%
45.357
46.157
FT%
69.345
78.084
3P%
.327
.363
More from ESPN
Medvedenko, Rush provide unexpected offense
With Shaquille O'Neal hampered by fouls and Kobe Bryant not playing his typical game, the Lakers had to look elsewhere for offense in the fourth quarter.
Wolves can't match bench firepower
Minnesota's Kevin Garnett and Latrell Sprewell played at least as well as Los Angeles' Shaquille O'Neal and Kobe Bryant.
Cassell out, but Wolves still like chances
Minnesota has a patchwork starting lineup that's missing an All-Star guard and making up schemes on the fly. Will they work Monday at Staples?
Stein: Lakers lack sense of urgency
"If necessary." As we've all learned throughout these playoffs: Those words mean something different to this particular group of Lakers.
Fisher plays despite pregame uncertainty
Lakers guard Derek Fisher has a sprained right knee and it was uncertain if he could play in Game 6.
'Closeout streak' ends at 12 for Lakers
The Los Angeles Lakers returned to Minnesota, hoping to finish off the Timberwolves with some history -- a streak of 12 straight wins in "close-out" games.
Cassell does not dress for Game 5
Wolves guard Sam Cassell did not dress for Game 5 on Saturday night because back spasms and an injured hip.
Stein: Wolves deserve credit in lost cause
Things might've been different for the Wolves if Sam Cassell and Troy Hudson were healthy.
Game-time decision: Cassell out for Game 5
Minnesota point guard Sam Cassell will be a game-time decision for Saturday's Game 5 between the Timberwolves and the Los Angeles Lakers in the Western Conference finals.
When chance is there, Lakers close the door
The Los Angeles Lakers need just one win in their next three games to advance to the NBA Finals. If recent history is any guide, they'll only need one attempt.
Kobe and Karl have forged strong friendship
When Karl Malone joined the Los Angeles Lakers last summer after 18 seasons with the Utah Jazz, he did so for one reason -- to finally be part of a championship team.
Kobe back from Colorado in time for Game 4
Kobe Bryant returned from his Colorado court date in plenty of time to be in the Los Angeles Lakers' lineup for Game 4 of the Western Conference finals Thursday night.
Cassell a late scratch from Game 4 starters
Sam Cassell was a last-minute scratch from the Minnesota Timberwolves' starting lineup before Game 4 of the Western Conference finals against the Los Angeles Lakers on Thursday night.
Kobe makes one last court-to-court trip
Kobe Bryant makes his last trip from a Colorado court to an NBA court. But will he show up in time for Game 4?
Stein: Wally gives Wolves a shot
Minnesota won't win any more games against L.A. without something good from Wally Szczerbiak.
Hobbled Cassell to continue playing on
Sam Cassell plans to hobble through the playoffs until the Minnesota Timberwolves are finished.
Saunders decries KG's lack of ref respect
Flip Saunders believes it might be time for the NBA's MVP to campaign for a fair deal from the referees.
Stein: Kobe's unselfish adventure
The Lakers had a blueprint for Game 3, even with Kobe Bryant taking only two shots in the first half.
Smith: Pointing out L.A.'s old problem
Another quick point guard is giving the Lakers problems. How will Gary Payton respond this time?
Penalty based on rep? Fine with Malone
Phil Jackson believes the $7,500 fine levied against Karl Malone for his flagrant foul was based on reputation.
Stein: The Mailman's risky business
By decking Darrick Martin, Karl Malone took a gamble that could've been costly to the Lakers.
Mailman plans to stay aggressive despite fine
Though both the Lakers and Wolves shrugged off the confrontations in Game 2, expect more of the same.
Cassell practices, says back feels 'little better'
After lasting 43 seconds in Game 2, Sam Cassell said he'll again try to play with a bad back in Game 3.
Aldridge: NBA's preferential treatment for L.A.
It's hard not to agree with the conspiracy theorists when Karl Malone is fined but not suspended.
Wolves adjust, shut down Shaq in Game 2
After Shaquille O'Neal dominated Game 1, the Wolves figured out how to quiet him down.
Shootaround: Kandi's bittersweet situation
Michael Olowokandi has a chance to make up for a forgettable season. Problem is, it's against Shaq.
Lakers, Wolves get physical in Game 2
With seven technical fouls, one knockdown and one ejection, the West finals got intense in Game 2.
Bad back forces Cassell into early Game 2 exit
Sam Cassell lasted just 43 seconds with a bad back, but Latrell Sprewell and the Wolves got the must-win.
Shaq Diesel gaining momentum
After a 27-point, 18-rebound, 4-block effort in L.A.'s Game 1 win, Shaq sees a clearer path to another title.
Cassell starts, then leaves Game 2 early
After resting his sore back, Sam Cassell said he intends to play in Sunday's Game 2 against L.A.
Timberwolves' Big 3 sputtering in Game 1
With KG quiet and Sam I Am resting his ailing back on the bench, the Wolves relied on Latrell Sprewell.
May: Lakers' stars finally aligned
All the forces are seemingly at work to make sure the Lakers celebrate a fourth title in five years.
Fisher relishes role of L.A. big shot again
Derek Fisher's clutch outside shooting lifted L.A. again and is elevating him to Lakers villain status.
Second opinions: Doc's and Dr. Jack's game plans
Doc Rivers and Dr. Jack Ramsay match wits with game plans for the Wolves and Lakers.
Hungry Wolves? Yes, but dog-tired too
There's no rest for the weary Wolves, who began preparing for the Lakers hours after ousting the Kings.
Slams and Dunks: Lakers in cruise control
The T-Wolves' Game 7 win was nice, but KG and Co. will be nothing but a speed bump for the rolling Lakers.
Insider Breakdown: Wolves vs. Lakers
Longtime NBA assistant coach and scout Brian James breaks down the Western Conference final.
Flashback: Wolves vs. Lakers in 2003
The Lakers came back from a 2-1 deficit to deal the Wolves their seventh straight first-round exit.