LAKERS WON 4-2
Insider Sitelines
ESPN Radio Audio
'Right In His Kitchen!'
NBA on ESPNRadio: Hear Mark Jones and Tim Legler call two big Laker plays in the clinching win over the Spurs.
Listen
'From The Top Of The Key!'
NBA on ESPNRadio: Hear the call of Tim Duncan's seeming game-winner by Jim Durham and Dr. Jack Ramsay in Game 5.
Listen
'The Lakers Win It!'
NBA on ESPNRadio: Hear the call of Derek Fisher's winning shot by Jim Durham and Dr. Jack Ramsay in Game 5.
Listen
A Best Player's Duty
Mike and Mike: Bill Walton says Tim Duncan needs to inspire his teammates to deliver a higher performance. "Your job is to lift everybody's spirit up," he says.
Listen
'What A Shot!'
NBA on ESPNRadio: Hear Jim Durham call the biggest plays by Spurs G Tony Parker in the Game 1 win over the Lakers.
Listen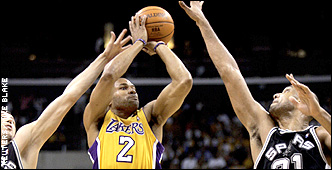 Because Fish saved L.A., the Lakers could reel in the title.
They started 18-3. So why did it take five months for the Lakers to regain their form as the team to beat?
More...
Stein Line: Spurs had the plan, but flawed shot
The Spurs were halfway there to beating the Lakers. Instead, San Antonio's troubleshooting for next season begins -- with a go-to shooter.
TEAM STATS (Regular Season)
SPURS
LAKERS
PPG
91.5
98.2
RPG
45.1
43.1
APG
20.4
23.8
FG%
44.172
45.357
FT%
68.101
69.345
3P%
.358
.327
More from ESPN
Kreidler: May Madness in the NBA?
Buzzer beaters, wild comebacks and a Cinderella team? Yes, the NBA has had quite a tourney in May.
Stein Line: Freaky May 13th strikes again
Same day. Same situation. A year after having the ball rim out, L.A.'s shot dropped to stun the Spurs.
Lakers-Spurs Game 5 highest-rated of playoffs
The Lakers' last-second win over the Spurs in Game 5 was the highest-rated game of the playoffs for ABC.
Spur-ned: NBA denies Spurs' protest of Game 5
The NBA ruled that the game clock 'started appropriately' on Derek Fisher's winning shot.
Bryant gets rare rest with travel day
Kobe Bryant wore a look of exhaustion Wednesday, some 15 hours after a most amazing performance.
Stein Line: The return of timely Tim
Unlike the Lakers, the Spurs are confident that their superstar will show up on time at Staples Center.
Stein Line: L.A. swarms Duncan
As great as Tim Duncan is, he can't beat the double team of Kobe and Shaq by himself.
Lakers hope intensity will emerge
The Lakers would like even the series after Sunday's win. Perhaps San Antonio was due for a loss, but expect the Spurs to be focused Tuesday.
Stein Line: Which Lakers will show up?
After the Lakers won Game 3 so easily, who would be surprised if they switched off again and relaxed?
A reversal of fortune for Spurs' dynamic duo
Tim Duncan and Tony Parker went from dominating duo to also-rans against the Lakers' defense Sunday.
Glove fit: Payton seethes over L.A. blame game
Gary Payton unleashed an emotional torrent, expressing frustration with his teammates, coaches and the media.
Legler: Adjustment period for Lakers, Nets
The Lakers and Nets need to make some quick fixes if they want to stay alive in the playoffs.
Stein Line: Spurs' unfunny punch line
The Spurs can keep joking about their free-throw woes, at least until they're no longer a laughing matter.
Stein: L.A. nears diaspora
After two losses in San Antonio, the Lakers' soap-opera season is firmly on the brink of an early summer.
Report: Shaq's stepdad rips Kobe for selfish play
The Lakers' problem: Kobe Bryant. At least that's how Philip Harrison, Shaq's stepfather, sees it.
Walton: The savior of Los Angeles
The fate of the Lakers against San Antonio now rests on the weary shoulders of Karl Malone.
Lakers need Payton, Malone to play better
Karl Malone and Gary Payton were outplayed by Tim Duncan and Tony Parker in Game 1.
Kreidler: When defense becomes offensive
The prospect of the Pistons and Spurs meeting in the NBA Finals is enough to already put you to sleep.
Stein Line: Lakers' work cut out for them
If the Lakers are going to have this much trouble scoring, the playoffs' marquee matchup won't last long.
Hughes: Payton vs. Parker? No contest
The matchup at point guard in the Lakers-Spurs series will be a lopsided affair. In favor of Tony Parker.
Dr. Jack: How Lakers can beat Spurs
If Shaquille O'Neal isn't active on defense, the Lakers won't move past the Spurs in the second round.
Bucher: Reading between Lakers' lines
L.A.'s public comments that it's looking forward to seeing the Spurs couldn't be further from the truth.
Friend: 8 Ball
The Lakers can't win without Kobe Bryant, but they don't much like playing with him, either.
Hughes: Trying to compare Spurs, Lakers
No All-Star spats. No media horde. San Antonio is nothing like L.A. and that suits Robert Horry just fine.