HEAT WON 4-3
Insider Sitelines
ESPN Radio Audio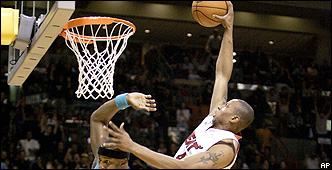 Caron Butler and Miami won their 16th straight at home.
Miami extended its home win streak to 16 by beating the Hornets 85-77 to advance to the East semis.
More...
Smith: New Orleans' deciding game
A Game 7 in Miami determines more than a series. The future of the Hornets' coach and franchise hangs on it.
The Sports Guy breaks down what will happen and won't happen in Round 2 of the NBA playoffs.

•

Fact or fiction?

A look inside the numbers suggests the Kings will miss Anthony Peeler more than you think.

•

Kings' missing key
TEAM STATS (Regular Season)
PELICANS
HEAT
PPG
91.8
90.3
RPG
42.8
41.5
APG
20.9
19.1
FG%
41.968
42.528
FT%
75.065
76.188
3P%
.319
.357