KINGS WON 4-1
Insider Sitelines
ESPN Radio Audio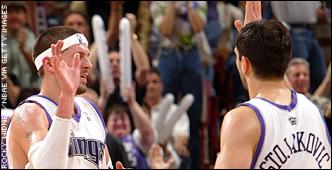 Brad Miller and Peja Stojakovic move on to Round 2.
Mike Bibby set career playoff bests with six 3-pointers and 36 points as the Kings advance.
More...
Stein Line: No 'Walk' in the park
No Mavericks player seems to have less of a future in Dallas than Antoine Walker.
The only way to play while in a 3-1 hole is to scratch, claw and fight for your playoff lives.

•

Advice for comebacks

A look inside the numbers suggests the Kings will miss Anthony Peeler more than you think.

•

Kings' missing key
Bembry: Down and dirty
Brad Miller has brought toughness to the soft Kings. But can he turn them into an NBA champion?
TEAM STATS (Regular Season)
MAVERICKS
KINGS
PPG
105.2
102.8
RPG
45.3
41.2
APG
23.9
26.2
FG%
45.947
46.238
FT%
79.558
79.550
3P%
.348
.401
More from ESPN
Stein Line: Mavs shooting blanks
Dallas faces a first-round exit and surprisingly it's their offense, not defense, that's taking the blame.
Top-scoring teams suddenly rely on defense
When this series began, defense seemed certain to be a dirty word. After all, the Mavericks and the Kings were the NBA's two highest-scoring teams.
League reviewing Game 3 skit parodying Kings
The NBA is reviewing a pre-game skit by the Dallas Mavericks to determine if it was demeaning to the Sacramento Kings.
Stein Line: Kings shot with Peja off target?
Peja Stojakovic isn't among the Kings' walking wounded, but his shooting eye has gone awry.
Report: Bibby (hip flexor) a game-time decision
The Sacramento Kings have battled injuries all season. Add Mike Bibby to the list of players nicked and bruised.
Benchmark: Jamison named top sixth man
Dallas Mavericks forward Antawn Jamison won the NBA Sixth Man award Friday, a tribute to how well the career-long starter accepted a reserve role and remained a valuable part of the offense.
Slams and Dunks: Big doubts over Dallas
A questionable late-game playcall in Game 2 turned up the heat on the Mavs and coach Don Nelson.
Slams and Dunks: Mavs' Harris for hire?
Yes, Mavs assistant Del Harris was approached by the Raptors. But not to be their head coach.
Stein Line: Sacramento's new super subs
Doug Christie or Anthony Peeler must fill the void left by ailing sixth man Bobby Jackson every game now.
Report: Kings' Jackson out for playoffs
Bobby Jackson is out of action for NBA the playoffs, the Sacramento Bee reported Monday.
Legler: Playoffs' possible upset specials
The Kings, Nets and Heat could be shown early exits courtesy of the Mavericks, Knicks and Hornets.
Insider Breakdown: Kings vs. Mavericks
Longtime NBA assistant coach and scout Brian James takes an in-depth look at the first-round matchups.