EXPERT PICKS

Anthony

Ford

Hollinger

Stein

Walton

Pistons
4-2


Pistons
4-3


Heat
4-3


Pistons
4-2


Heat





STEIN'S LINE

Detroit 4, Miami 2:
The Heat need a full-strength Shaq to neutralize the best starting lineup in the world. The Pistons, meanwhile, still have two Wallaces to make Shaq work in one-on-one coverage. Which means Dwyane Wade will have to work much harder for his points than he did against the Nets and Wiz.



ELIAS SAYS ...


Only five players on Miami's active playoff roster have ever appeared in a postseason game beyond the second round of the playoffs: Shandon Anderson, Eddie Jones, Alonzo Mourning, Shaquille O'Neal and Steve Smith.
PLAYOFF HISTORY
Championships: 3
Championships: 0
Last Championship: 2004
Last Championship: N/A
Last Season:
Won NBA Championship
Last Season:
Lost in Conference Semifinals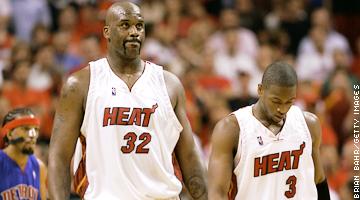 Too Hot To Handle
The Heat had home court and Dwyane Wade in the lineup. But the Pistons ensured a return to the Finals with an 88-82 Game 7 win.
Story
BRIAN JAMES' SCOUTING REPORT

These are the defending champs because defense is important to them and they play unselfishly at both ends. They have no individual star on offense, move the ball from side to side and make the extra pass. But is their second unit good enough this year?



In two games with Shaquille O'Neal on the floor, the Heat beat the Pistons by 11 once and lost on a last-second shot in the other meeting. With Dwyane Wade reaching new heights, Miami knows it can compete with the champs. But will Shaq be ready?




R. Jackson

PG
J. Winslow

L. Kennard

SG
K. Nunn

T. Snell

SF
J. Butler

B. Griffin

PF
M. Leonard

A. Drummond

C
B. Adebayo