EXPERT PICKS

Anthony

Ford

Hollinger

Stein

Pistons
4-2


Spurs
4-3


Spurs
4-2


Spurs
4-2




STEIN'S LINE

San Antonio 4, Detroit 2: The Pistons might have the better starting five, but not by much. The Spurs, meanwhile, have the better bench and offensive variety Detroit can only dream of. The Spurs, in other words, have a little bit more, as well as the home-court advantage. Which is why they'll dethrone the champs and claim their third title in the past seven seasons.



ELIAS SAYS ...


Can the Pistons go the distance? All five of their regular starters played at least 2,600 minutes during the regular season. Over the last 30 years, only two other teams had five 2,600-minute players: the 1983-1984 Washington Bullets and the 1993-1994 Denver Nuggets.

The Pistons' regular starting lineup (Chauncey Billups, Richard Hamilton, Tayshaun Prince, Rasheed Wallace and Ben Wallace) played 1,397 minutes together this season --more than any other five-man combination on any NBA team.

Detroit has held six opponents to 66 points or fewer in playoff games over the last five years. All other teams combined have done so three times during that span.

With their 111-108 win at Phoenix in Game 2 of the Western Conference finals, the Spurs became only the third team in NBA history to win the first two games of a playoff series on the road after having trailed entering the fourth quarter in each game.

Source: Elias Sports Bureau
PLAYOFF HISTORY
Championships: 3
Championships: 2
Last Championship: 2004
Last Championship: 2003
Last Season:
Won NBA Championship
Last Season:
Lost in Conference Semifinals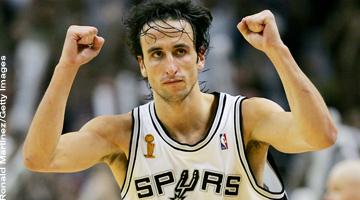 Super Spurs
Manu, Big Shot Bob and TD led the Spurs to a gritty 81-74 Game 7 victory for the title. Marc Stein reviews.
Story
BRIAN JAMES' SCOUTING REPORT

These are the defending champs because defense is important to them and they play unselfishly at both ends. They have no individual star on offense, move the ball from side to side and make the extra pass. But is their second unit good enough this year?



The Spurs come in rested and ready, having swept through the tough Western Conference playoffs with only four losses. With Tim Duncan getting back to health and Manu Ginobili at the top of his game, they are the team to beat.




K. Hayes

PG
D. Murray

C. Cunningham

SG
D. White

S. Bey

SF
D. McDermott

J. Grant

PF
K. Johnson

I. Stewart

C
J. Poeltl