PLAYER MATCHUPS
MAVERICKS
SPURS
L. Doncic

PG
D. Murray

J. Richardson

SG
L. Walker IV

T. Hardaway Jr.

SF
D. DeRozan

D. Finney-Smith

PF
K. Johnson

K. Porzingis

C
L. Aldridge

TEAM STATS (Regular Season)
MAVERICKS
SPURS
PPG
99.1
95.6
RPG
42.2
41.5
APG
18.0
20.9
FG%
46.243
47.193
FT%
78.295
70.175
3P%
.374
.385
PLAYOFF HISTORY
Championships: 0
Championships: 3
Last Championship: N/A
Last Championship: 2005
Last Season:
Lost in Western Conference semifinals
Last Season:
Won NBA finals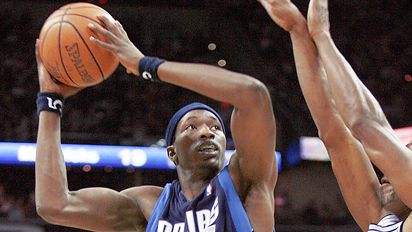 Mavs Dethrone Spurs
After wasting a 3-1 series lead and blowing a 20-point lead Monday night in Game 7, the Mavericks finally ended the Spurs' reign as NBA champions, winning 119-111 in overtime to advance to the Western Conference finals.
Story
|
Highlights

|
Elias
Scouts Inc.
It was not an accident that the Mavs had their most inefficient offensive game in Game 6 with the absence of Jason Terry. Terry opens up the floor for the Mavs with his deadly shooting and the Spurs will not be able to sag and clog the lane on Nowitzki as they did without Terry in the lineup.

Watch for Keith Van Horn to be an X factor. He can stretch the Spurs defense and he had 10 big points and two 3-pointers in only his second game back from injury.

• Full Game 7 scouting report | Entire Mavs-Spurs scouting report
EXPERT PICKS

Anthony

Broussard

Hollinger

Sheridan

Stein

(In 6)

(In 7)

(In 7)

(In 6)

(In 6)
ESPN RESEARCH
• Spurs notes: Gregg Popovich is one of ten NBA coaches with at least 70 career postseason wins. Popovich got playoff win No. 73 in Sacramento on Friday night.

• Mavericks notes: Dallas has 29 postseason wins in the last six seasons after winning only 21 playoff games in the previous 21 years of its history.


MORE FROM ESPN.com
Nowitzki expects to play despite ankle injury

Robert Horry credits his career of clutch shots to a positive thinking class he took in high school. And now would be a good time for the San Antonio Spurs to think positive.

Stern says Spurs got short end of scheduling stick

NBA commissioner David Stern acknowledged that it was a mistake to schedule the Spurs to open the Western Conference semifinals with an early game Sunday.

Bowen's defense creating headaches for Nowitzki

Bruce Bowen has carved his niche in the NBA as San Antonio's perimeter shutdown specialist, doing the dirty work on the outside while Tim Duncan protects the paint.