PLAYER MATCHUPS
CLIPPERS
SUNS
P. Beverley

PG
C. Paul
Points: 16.1
Rebounds: 5.1
Assists: 7.8

P. George

SG
D. Booker

K. Leonard

SF
M. Bridges

M. Morris Sr.

PF
J. Crowder

S. Ibaka

C
D. Ayton

TEAM STATS (Regular Season)
CLIPPERS
SUNS
PPG
97.2
108.4
RPG
43.1
41.8
APG
20.8
26.6
FG%
46.454
47.858
FT%
79.085
80.610
3P%
.344
.399
PLAYOFF HISTORY
Championships: 0
Championships: 0
Last Championship: N/A
Last Championship: N/A
Last Season:
Did not qualify
Last Season:
Lost in Western Conference finals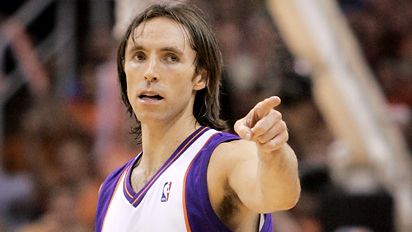 Overwhelming Win
In the end, the Suns were too much for the Clippers. Phoenix got big games from Steve Nash and Shawn Marion on Monday night and pulled away in the second half for a 127-107 win over Los Angeles in Game 7 of their second-round series.
Story
|
Highlights

Scouts Inc.
The Suns have to find a way to make the Clippers bigger players, Elton Brand and Chris Kaman play small. Phoenix can create space in the half court game by using Shawn Marion as a shooter when he is defended by Kaman. They can also use Boris Diaw as a distributor from the high post area when he is defended by Elton Brand.

These defensive assignments leave a smaller player on Tim Thomas. The Suns had some success running a play using Thomas and Raja Bell where the result was Sam Cassell guarding Thomas in the post. The Suns want to run a fastbreak offense but their success is based on spacing.

• Full Game 7 scouting report
| Entire series scouting report
EXPERT PICKS

Anthony

Broussard

Hollinger

Sheridan

Stein

(In 6)

(In 7)

(In 6)

(In 7)

(In 6)
ESPN RESEARCH
• Suns notes: Phoenix advanced to the conference finals last season for the seventh time in team history.

• Clippers notes: Mike Dunleavy is trying to become only the third coach in franchise history to win a postseason game. In Buffalo, Jack Ramsay was 9-13. In Los Angeles, Larry Brown was 4-6.


MORE FROM ESPN.com
Bill Walton sees similarities between Steve Nash and of one of the greatest centers to ever play the game.

Suns face challenge in 'other' L.A. team

Just 48 hours after dispatching the Lakers in a Game 7 first-round blowout, the Suns play the Clippers in the Western Conference semifinals.

Dunleavy returning to Clippers bench next season

Mike Dunleavy will return to coach the Clippers next season, ESPN's Jim Gray reported on Saturday.