PLAYER MATCHUPS
GRIZZLIES
MAVERICKS
M. Conley

PG
D. Williams
Points: 10.8
Rebounds: 2.4
Assists: 4.5

T. Allen
Points: 7.2
Rebounds: 2.2
Assists: 1.3

SG
W. Matthews

C. Parsons

SF
H. Barnes

J. Green

PF
D. Nowitzki
Points: 26.6
Rebounds: 9.0
Assists: 2.8

M. Gasol

C
A. Bogut
Points: 9.4
Rebounds: 7.0
Assists: 2.3

TEAM STATS (Regular Season)
GRIZZLIES
MAVERICKS
PPG
92.2
99.1
RPG
39.2
42.2
APG
19.3
18.0
FG%
44.833
46.243
FT%
71.064
78.295
3P%
.374
.374
PLAYOFF HISTORY
Championships: 0
Championships: 0
Last Championship: N/A
Last Championship: N/A
Last Season:
Lost in Western Conference first round
Last Season:
Lost in Western Conference semifinals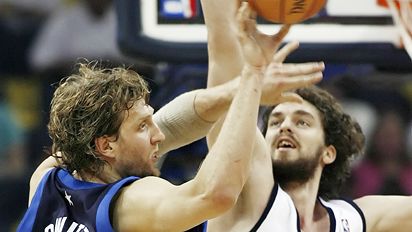 Simply Mav-elous
Up nine at the half, the Mavs rode a 31-point third quarter to a first-round sweep -- and the Western Conference semis. Dallas beat the Grizzlies 102-76 on Monday to advance.
Story
|
Highlights

Scouts Inc.

Dirk Nowitzki up top, Jerry Stackhouse in the post, Jason Terry for three or Josh Howard in transition. Take your pick.

If the Mavericks get into to any offensive slump, they can get points in transition, setting up their shooters with great spacing as it has looked like the Grizzlies have had trouble setting up their defense off a miss.

• Entire Game 4 scouting report
| Full series scouting report
EXPERT PICKS

Anthony

Broussard

Hollinger

Sheridan

Stein

(In 5)

(In 6)

(In 6)

(In 6)

(In 5)
ESPN RESEARCH
• Grizzlies notes: Memphis is 0-8 all-time in postseason games.

• Mavericks notes: Dallas has 25 postseason wins in the last five seasons after winning only 21 playoff games in the previous 21 years of its history.


MORE FROM ESPN.com
With a long wait between playoff games, Mavericks coach Avery Johnson tried keeping his team sharp by putting them through a tough practice Thursday.
Mavericks forward Dirk Nowitzki was fined $15,000 and assessed a flagrant foul penalty two on Wednesday for a foul against Memphis' Pau Gasol in the final game of Dallas' first-round series sweep.
Down 0-2 in their playoff series with Dallas, the Grizzlies took a break Thursday to contemplate their elusive search for a postseason victory. And they needed a day off.

Avery Johnson was honored as the NBA's coach of the year Tuesday after leading the Mavericks to a 60-win season in his first full season as coach.
It's little wonder why Dallas' Avery Johnson is the rare coach not tightening his rotation now that the playoffs are under way.