PLAYER MATCHUPS
HEAT
MAVERICKS
G. Vincent

PG
L. Doncic

T. Herro

SG
K. Irving

J. Butler

SF
J. Green

K. Love

PF
R. Bullock

B. Adebayo

C
D. Powell

TEAM STATS (Regular Season)
HEAT
MAVERICKS
PPG
99.9
99.1
RPG
43.1
42.2
APG
20.6
18.0
FG%
47.821
46.243
FT%
69.957
78.295
3P%
.345
.374
PLAYOFF HISTORY
Championships: 1
Championships: 0
Last Championship: 2006
Last Championship: N/A
Last Season:
Lost in Eastern Conference finals
Last Season:
Lost in Western Conference semifinals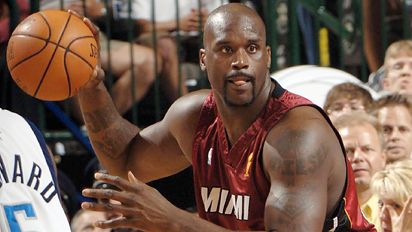 Heat Of The Night
Shaquille O'Neal promised an NBA championship to the city of Miami. Dwyane Wade helped him make good on that pledge. Wade scored 36 points, his fourth straight game with 35-plus, and the Heat beat the Mavs 95-92 in Game 6 for Miami's first world title.
Story
Scouts Inc.
Miami should look to attack more with their dump downs into Shaquille O'Neal to start the offense. The emphasis that Dallas puts on stopping him opens up so many lanes for cutters and drives on closeouts after the ball is thrown out of the post.

Avery Johnson played the percentages and started fouling Shaq with 4:44 left in the fourth quarter, and again in overtime. With Shaq shooting 17 percent for the game, there is no doubt in my mind that Johnson will utilize this tactic again in Game 6 if Shaq cannot approach at least 50 percent from the line.

• The full Game 6 scouting report | Entire series scouting report
EXPERT PICKS

Anthony

Broussard

Hollinger

Sheridan

Stein

(In 6)

(In 6)

(In 6)

(In 7)

(In 6)
MORE FROM ESPN.com
If the Heat win a championship, the scenario of Alonzo Mourning saying he's accomplished all his basketball goals and retiring certainly seems plausible. If they fall short, the Heat probably would ask Mourning to returm.

Stein: Riley's remake will have an unhappy ending

The Heat have proven their doubters wrong, but the Mavs might prove to be too tough for Miami, writes Marc Stein.

Forde: King might wear foreign crown

Foreign players have won NBA titles. But Dirk Nowitzki has a chance to lead his team to one, writes Pat Forde.

Something old, something new in this NBA Finals

Dwyane Wade and Dirk Nowitzki are in the NBA Finals for the first time. For Shaquille O'Neal and Pat Riley, it's just another June.

After 26 years, Mavs reach NBA's grandest stage

Avery Johnson has been telling the Dallas Mavericks what it takes to win a championship. Now, they've reached the final step -- in an unforgettable way.