PLAYER MATCHUPS
SUNS
MAVERICKS
C. Paul
Points: 16.1
Rebounds: 5.1
Assists: 7.8

PG
L. Doncic

D. Booker

SG
J. Richardson

M. Bridges

SF
D. Finney-Smith

F. Kaminsky

PF
M. Kleber

D. Ayton

C
K. Porzingis

TEAM STATS (Regular Season)
SUNS
MAVERICKS
PPG
108.4
99.1
RPG
41.8
42.2
APG
26.6
18.0
FG%
47.858
46.243
FT%
80.610
78.295
3P%
.399
.374
PLAYOFF HISTORY
Championships: 0
Championships: 0
Last Championship: N/A
Last Championship: N/A
Last Season:
Lost in Western Conference finals
Last Season:
Lost in Western Conference semifinals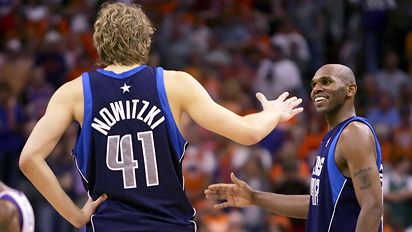 Bring On The Heat
The Mavs find themselves in uncharted territory: the NBA Finals. Dallas climbed out of an 18-point hole to cool off the Suns 102-93 in Game 6 to win the first West title in franchise history. Next up for Dirk Nowitzki and the gang: the Miami Heat.
Story
|
Watch

Scouts Inc.
In a big game look for the little things like free throws, turnovers and rebounds to be the deciding factors. The Mavs and Suns have been consistent in the free throw shooting and turnover categories. However the Mavs have a big edge on the glass. In Game 5 the Mavs attacked the glass and got 16 offensive rebounds. When you allow your opponents that many extra possessions in such a close game, it can be costly. Look for the Mavs to continue to pound the glass the rest of this series.

The Dallas bench has been strong throughout this series, and the Mavs will need more strong performances from Jerry Stackhouse, DeSagana Diop and Adrian Griffin to close out the Suns. Stackhouse provides minutes and scoring punch; Diop a formidable inside presence; and Griffin, defense and rebounding.
EXPERT PICKS

Anthony

Broussard

Hollinger

Sheridan

Stein

(In 6)

(In 6)

(In 5)

(In 7)

(In 6)
MORE FROM ESPN.com
Mavs' Mbenga suspended for entering stands

Dallas Mavericks center DJ Mbenga has been suspended six games without pay for entering the spectator stands, the NBA said Thursday.