PLAYER MATCHUPS
WIZARDS
CAVALIERS
J. Wall

PG
D. Rose

B. Beal

SG
D. Wade
Points: 27.2
Rebounds: 5.7
Assists: 6.7

O. Porter Jr.

SF
L. James
Points: 31.4
Rebounds: 7.0
Assists: 6.6

J. Smith

PF
J. Crowder

M. Gortat

C
K. Love

TEAM STATS (Regular Season)
WIZARDS
CAVALIERS
PPG
101.7
97.6
RPG
41.2
42.3
APG
18.6
19.0
FG%
44.697
45.352
FT%
75.681
72.865
3P%
.357
.339
PLAYOFF HISTORY
Championships: 1
Championships: 0
Last Championship: 1978
Last Championship: N/A
Last Season:
Lost in Eastern Conference semifinals
Last Season:
Did not qualify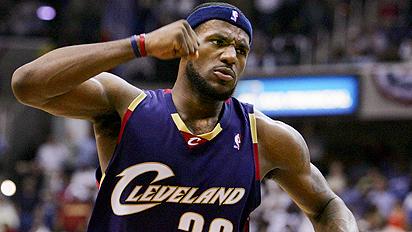 Series Of Thrills
LeBron James had two gamewinners and a triple double for the Cavs. Gilbert Arenas poured in the points for the Wizards. So of course, the man to settle things in this classic series was ... Damon Jones? The Daily Dime's Patrick Hruby was there.
Story
Scouts Inc.
As bad as the Wizards defended James at the end of Game 3, what they did in overtime of Game 5 was worse. The Wizards can't allow any player to get the inbound pass going towards the basket. It is hard to believe that with three players defending James none could prevent his penetration. By the time Washington recovered it was too late. The Wizards should just sell out on him and make him shoot from the outside or pass. Two game winning hoops from two feet away is inexcusable. • Entire Game 6 scouting report
| Full series scouting report
EXPERT PICKS

Anthony

Broussard

Hollinger

Sheridan

Stein

(In 7)

(In 7)

(In 6)

(In 7)

(In 6)
ESPN RESEARCH
• Cavs notes: This is Cleveland's first postseason appearance since 1998. They haven't won a playoff series since 1993 (lost five straight series).

• Wizards notes: This is the third postseason appearance for Washington dating back to 1989 ('97, '05, '06). Beat the Bulls last year in first playoff series win since 1982, but were swept by the Heat in the conference semifinals.


MORE FROM ESPN.com
LeBron James' game-winning shot did more than put the Cavs up 3 -2 in their series against the Wizards: It cost Gilbert Arenas a shot at a new nickname.
As far as the Wizards are concerned, LeBron James' first NBA playoff game-winning shot came with an assist from the officials.
Gilbert Arenas wouldn't mind upstaging LeBron James as the Cavaliers-Wizards series moves to DC tied at 1-1.
Brian Windhorst details LeBron's career firsts, from high school frosh to NBA superstar to playoff stud.
Chris Sheridan writes that LeBron James' first playoff game was one that eyewitnesses won't soon forget.