Power Rankings: Charging Bulls
Updated:
December 29, 2014, 5:29 PM ET
By
Marc Stein
| ESPN.com
Monday, Dec. 29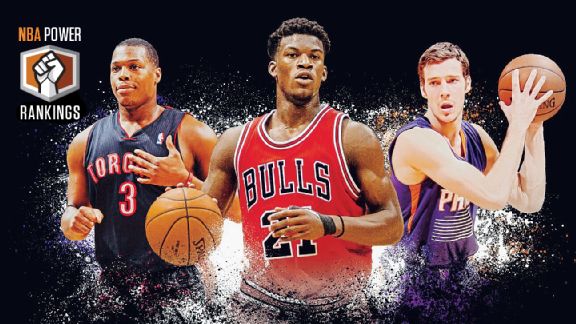 ESPN Illustration
The door was opened by an empty two-game trip to Hollywood for the Golden State Warriors. And an Eastern Conference team, believe it or not, has taken advantage.
The Chicago Bulls have unexpectedly risen to the top of ESPN.com's weekly NBA Power Rankings, riding their league-high-tying 13 road wins and an overall surge of 9-1 to jump six spots and bump the Warriors off the top spot for the first time in six weeks.
With Golden State, Portland and Memphis all dealing with injuries to varying degrees and the Bulls getting as healthy as they've been since the season began, Tom Thibodeau's crew has capitalized on its supreme depth to jump to a heady No. 6 in offensive efficiency after ranking in a tie for 27th in OE last season. That'll soften the blow from missing out on Carmelo Anthony in free agency, as well as Chicago's uncharacteristic slip to No. 9 in the latest defensive efficiency table, if it holds all season.
With Atlanta and Toronto joining the Bulls in a suddenly East-heavy top five, we'll delve further into this week's ladder in Stein Line Live. You can also comment below on our 1-to-30 order, which as always was assembled with the usual helpful dishings we get from ESPN Stats & Info and the Elias Sports Bureau.
2014-15 Power Rankings: Week 9
RANK
TEAM / RECORD
TRENDING
COMMENTS
1

6




Last Week: 7

Forget the MIP. Perhaps we should have had Jimmy Butler listed in the East MVP discussion for Trimester purposes. He's up to five 30-point games already this season ... after zero in his first three NBA seasons. P.S. -- Derrick Rose's December numbers are looking increasingly Derrick Rose-like.
2

1




Last Week: 1

The Dubs are a tidy 18-2 with Andrew Bogut healthy but have finally tumbled out of the top spot thanks largely to a bad loss to the Kobe-less Lakers without him. The good news? Golden State is just one game into a six-game homestand after playing 17 of its first 28 games on the road.
3

--




Last Week: 3

Remember when Damian Lillard supposedly started the season in a funk? We can't, either. Lillard suddenly leads the league in scoring in the fourth quarter and overtime with an average of 7.4 points, which has helped hike Portland to a robust plus-9 when you subtract home losses from road wins.
4

--




Last Week: 4

Only one game left in a 13-2 December that has triggered the best 30-game start in Hawks history since a 23-7 launch in 1993-94. (That's the season Atlanta, just 10 days into a certain someone's L.A. Daily News beat-writing career, dealt the iconic Dominique Wilkins to the Clips for Danny Manning.)
5

1




Last Week: 6

What's the Raptors' magic number to clinch the Titanic Division? Doesn't seem like such an outlandish question when you see Toronto -- playing without DeMar DeRozan for the past 15 games -- has established a 10-game lead over second-place Brooklyn before we even get to New Year's Eve.
6

1




Last Week: 5

The sting of a summer that didn't pan out as planned is fading faster than expected thanks to the arrivals of Corey Brewer and Josh Smith at a minimal cost in a span of about 10 days. This helps, too: Houston is 7-0 in games decided by three points or fewer ... and 4-0 in games that stretch into OT.
7

5




Last Week: 2

The Grizzlies' recent four-game skid, in the wake of their stunning triple-overtime W over the Spurs, isn't causing any real concern on Beale Street. The state of Zach Randolph's right knee, which has caused him to miss Memphis' past four games despite a "clean" MRI, is the more significant worry.
8

1




Last Week: 9

Dropping to No. 2 in offensive efficiency doesn't bother Dallas at all. Not after Sunday night's home win over Oklahoma City in which Rajon Rondo spearheaded a team scheme, without the injured Tyson Chandler, that helped hound Russell Westbrook into a 6-for-23 evening from the floor.
9

1




Last Week: 10

The Spurs' lives aren't supposed to get complicated until the Rodeo Trip every February. Instead they're 7-9 in December with two games to go in a month containing no fewer than seven back-to-backs. The champs are 12-4 when Timmy, Tony, Manu and Kawhi all play; 7-9 when at least one is missing.
10

2




Last Week: 8

They've dropped five straight road games and followed up a statement win over Golden State on Christmas Day with a home L to Toronto that (A) brought a halt to their seven-game winning streak at Staples Center and (B) gave the Raps their first win over a .500-or-better team without DeMar DeRozan.
11

--




Last Week: 11

New Year's Day 2010 was when we learned about the Gilbert Arenas/Javaris Crittenton locker-room mess that decimated this franchise. A half-decade later, led by the relentless John Wall, Washington has rebounded to the point it won 20 games before Christmas for the first time since 1978-79.
12

2




Last Week: 14

Wait a sec. Is it actually working? The Suns have rebounded from a scary six-game skid with six straight W's -- five on the road -- in which Goran Dragic, Eric Bledsoe and Isaiah Thomas logged 50 minutes of court time together and outscored the opposition by 35 points per 100 possessions in that span.
13

--




Last Week: 13

According to ESPN's Basketball Power Index, New Orleans enters the final few days of 2014 with a mere 21.6 percent chance to make the playoffs despite that .500 record. No. 8 Phoenix (27.9 percent) visits the No. 9 Pels on Tuesday night, then heads to No. 10 OKC (67.1 percent) on Wednesday night.
14

1




Last Week: 15

The Christmas Day win in San Antonio was Oklahoma City's first triumph in six tries this season against teams currently at or above .500. The Thunder had previously suffered road losses to the Trail Blazers, Clippers, Raptors, Pelicans and Warriors and then added another one Sunday night in Dallas.
15

3




Last Week: 12

LeBron James' 30th birthday just got pushed off the front page. The culprits: Cleveland's second home loss by 23-plus points, compared to zero such L's during LeBron's four seasons in Miami, along with fresh questions about David Blatt's status on a day that typically belongs to endangered NFL coaches.
16

--




Last Week: 16

Quite a 48-hour education for the young Bucks. They mustered a 30-point rout of the soaring Hawks, on Atlanta's floor no less, in their performance of the season, only to come home and lose to Atlanta on Jabari Parker Bobblehead Night ... with the injured Parker, of course, forced to spectate.
17

1




Last Week: 18

Bad time for the longest homestand of the season. A run of seven straight home games coincided with a calf injury that has forced Chris Bosh to miss the first six of them, putting Miami on a pace to become just the third team in the past 30 years to finish below .500 after reaching the NBA Finals.
18

1




Last Week: 17

Don't think DeMarcus Cousins is buying the notion that his 11-game absence caused by that scary bout with viral meningitis has snuffed out his All-Star chances. He's averaged a beastly 29.3 points, 11.0 boards and 4.3 assists in his first four games and has likewise lifted the play of teammate Rudy Gay.
19

3




Last Week: 22

Can't tell you what possessed Kevin Garnett to blow in David West's ear on Saturday night. Just as we can't tell you what prompted Lance Stephenson to do the same to LeBron in the playoffs. All we can conclude is that the Pacers apparently have to be involved in these incidents for some reason.
20

1




Last Week: 21

We've talked a lot here about the way Gordon Hayward has lived up to his new max contract, as well as Rudy Gobert's flashes of potential as a defensive anchor, but we've been delinquent in highlighting the strides Derrick Favors has also made. Favors is Utah's PER pace-setter at a booming 23.1.
21

1




Last Week: 22

The Nets have been better with Jarrett Jack and Mason Plumlee starting over the still-healing Deron Williams and Brook Lopez ... or so we thought until they lost by 25 at home to 10-20 Indiana. Don't even ask: Sacramento won't be taking D-Will with it after playing in Brooklyn on Monday night.
22

1




Last Week: 23

Message delivered: Charlotte won its first four games without Lance Stephenson and looked happier as a group. But the Hornets will have to figure out how to work Lance back in eventually if they can't trade him, and they suddenly have an Al Jefferson groin injury to manage, as well.
23

2




Last Week: 25

We all know now that some ill-advised words from Tobias Harris detached LeBron James from what he described as "chill mode." The mystery in the Magic Kingdom that persists is why LeBron would opt for "chill mode" (and openly admit it) after a bad Christmas loss to the Chris Bosh-less Heat?
24

5




Last Week: 19

The Nuggets have dropped their past six road games by an average margin of 15.5 points and are 5-10 in December. So one overdue big game from the freshly re-signed Kenneth Faried, even if was the first 25-and-25 performance in franchise history, could only lift so much gloom.
25

2




Last Week: 27

Who else spent the weekend counting down until lunchtime Monday to see what sort of bombshell surprise Stan Van Gundy has in store for us this week? Not that you can quibble with the results after seeing how liberated the Pistons look -- Andre Drummond in particular -- post-Josh Smith.
26

--




Last Week: 26

For all the debate about Kobe and his shot counts, his Lakers have beaten three division leaders (Golden State, Toronto and Atlanta) as well as 19-win San Antonio. Not sure that's such great news, though, when L.A. needs one of the NBA's five worst records to keep its first-round pick in June.
27

3




Last Week: 24

Celtics fans will have had to wait a mere 15 days for Rajon Rondo's return to Boston this Friday. Then we can all join them in spending the next 48 days on Danny Ainge Watch, awaiting potential deals involving Jeff Green, Brandon Bass, Brandan Wright, etc., leading into the Feb. 19 trade deadline.
28

1




Last Week: 29

One of the strangest stats of the season so far: Philly is 4-11 on the road (Charlotte, Detroit and New York are all worse) but will have to wait until 2015 before recording its first home win of the season. Another good one: Philly awoke Monday tied for 10th in the league in defensive efficiency.
29

1




Last Week: 28

The Knicks' slide has reached 1-18 in their past 19 games thanks to a league-worst mark of 3-13 in games decided by six points or fewer. And none of that, of course, is as disconcerting as the worsening state of Carmelo Anthony's left knee that has been troubling Melo since Game 2 of the season.
30

--




Last Week: 30

A little surprised at Wolves fans baying at me on Twitter for not considering Shabazz Muhammad for Most Improved Player of the First Trimester. Players in their second seasons are almost always excluded from consideration here, since you're supposed to make a leap between Year 1 and Year 2.